Introducing the Moneual Sonamu G100
One of the joys of doing case reviews is getting to see more exotic designs from smaller vendors looking to make their mark. Some of them are like ASRock has traditionally been with desktop motherboards, innovating in new (and often strange ways) and adding features or going after markets bigger names don't traditionally gun for. Such is the case with Moneual's Sonamu G100, an enclosure designed specifically to reduce standby power consumption of not just your desktop, but reduce or even eliminate the power consumption of the peripherals plugged into it. That's the theory at least, but how does it work out in practice?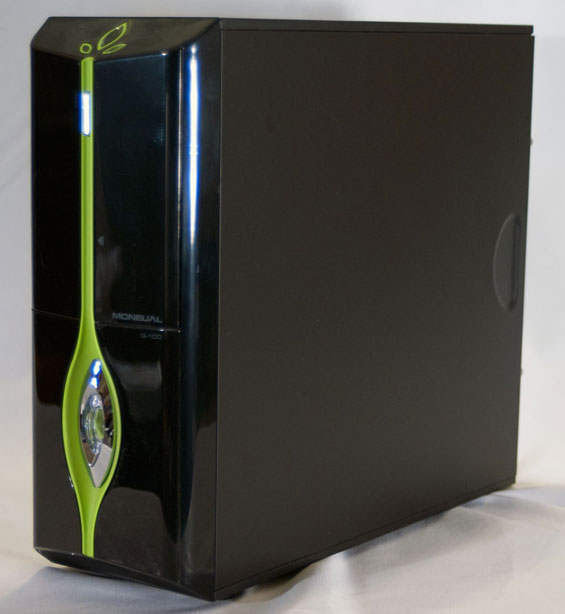 Judging from the press pamphlet, Moneual's claim to fame with the Sonamu G100 is that it can substantially reduce the amount of wasted power drawn by peripherals connected to it. This is handled by a power outlet on the back of the case and toggled using the "Green Button" at the front top. And yes, I said "power outlet." As you'll see later, there's the usual input power, but there's also a three-pronged power outlet that allows you to effectively put the Sonamu G100 directly between the wall and your peripheral hardware.
Moneual Sonamu G100 Specifications
Motherboard Form Factor
Micro ATX, Mini ITX
Drive Bays
External
1x 5.25"
Internal
3x 3.5"
Cooling
Front
-
Rear
1x 60mm exhaust fan, 1x 60mm fan mount
Top
-
Side
-
Bottom
-
Expansion Slots
4
Front I/O Port
2x USB 2.0, mic and headphone jacks, SD/MMC card reader
Top I/O Port
-
Power Supply Size
Micro ATX; 300-watt power supply included
Clearance
8" (Expansion Cards), 105mm (CPU HSF)
Weight
11 lbs.
Dimensions
16.5" x 5.75" x 14"
Price
$139
The Sonamu G100 includes a 300W Logisys brand micro ATX power supply, rated for "250W average, 350W peak," which can be swapped out and replaced with a bit of work. This power supply is honestly pretty dire, and you'll see more once we really get into it.