AnandTech Storage Bench 2011—Light Workload
Our new light workload actually has more write operations than read operations. The split is as follows: 372,630 reads and 459,709 writes. The relatively close read/write ratio does better mimic a typical light workload (although even lighter workloads would be far more read centric).
The I/O breakdown is similar to the heavy workload at small IOs, however you'll notice that there are far fewer large IO transfers:
AnandTech Storage Bench 2011—Light Workload IO Breakdown
IO Size
% of Total
4KB
27%
16KB
8%
32KB
6%
64KB
5%
Despite the reduction in large IOs, over 60% of all operations are perfectly sequential. Average queue depth is a lighter 2.2029 IOs.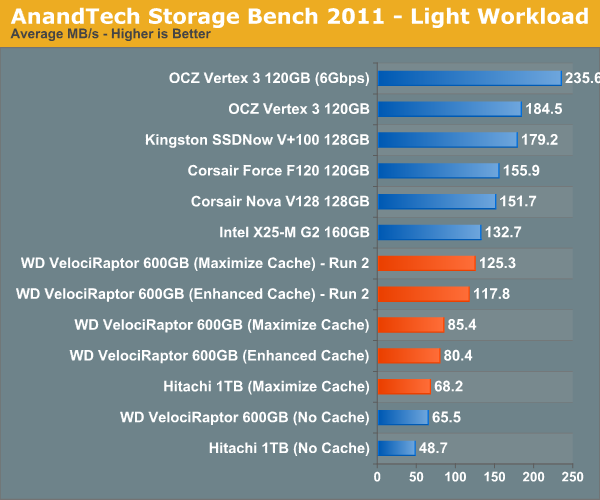 While the heavy workload was long enough to not show any benefit in performance by running it multiple times, our light workload boasts serious gains if we run it a second time with the cache active. With a light enough workload the SSD 311 as a cache can actually bring hard drive performance up to the level of an Intel X25-M G2, which is exactly what Intel was targeting with Smart Response Technology to begin with. For light users you can get an SSD-like experience at a fraction of the cost and without having to manage data across two drives.