TRIM Performance
In practice, SandForce based drives running a desktop workload do very well and typically boast an average write amplification below 1 (more writes to the device than actual writes to NAND). My personal SF-1200 drive had a write amplification of around 0.6 after several months of use. However if subjected to a workload composed entirely of incompressible writes (e.g. tons of compressed images, videos and music) you can back the controller into a corner.
To simulate this I filled the drive with incompressible data, ran a 4KB (100% LBA space, QD32) random write test with incompressible data for 20 minutes, and then ran AS-SSD (another incompressible data test) to see how low performance could get:
OCZ Vertex 3 240GB - Resiliency - AS SSD Sequential Write Speed - 6Gbps
Clean
After Torture
After TRIM
OCZ Vertex 3 240GB
284.4 MB/s
278.5 MB/s
286.3 MB/s
OCZ Vertex 3 120GB
162.1 MB/s
38.3 MB/s
101.5 MB/s
The 240GB drive is simply more resilient when faced with the same length of workload than the 120GB drive. It's possible that the extra physical spare area the 240GB drive has is responsible for its better behavior after torture. The larger drive may simply have to be tortured for longer in order to see a similar drop in performance. However 20 minutes of incompressible 4KB random writes would still fill up all of the drive's spare area and force the SSD into block recycling in only half that time. SandForce's block cleaning algorithm might do very well on the first pass of filling the drive but fall short after multiple passes where the spare area is overwritten. Either way, a desktop user is highly unlikely to ever encounter any serious slowdown with the 240GB drive.
Power Consumption
Power consumption is in line with the 120GB Vertex 3. Our earlier sample had issues with idle power consumption which have since been resolved in the final shipping firmware. Note that all of our tests are conducted with LPM disabled, a feature that seems to be problematic on some combinations of chipsets and SF-2200 hardware.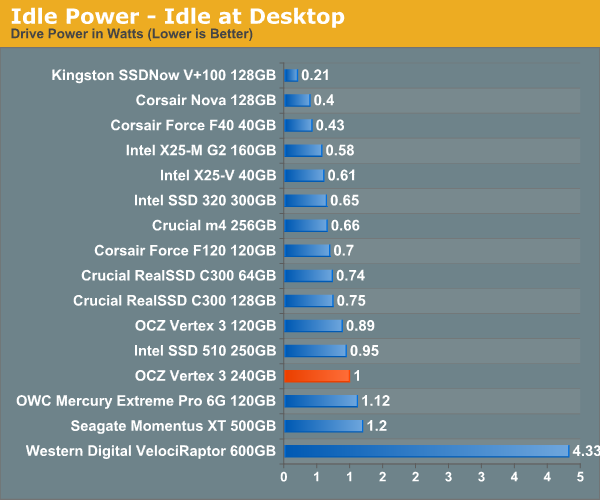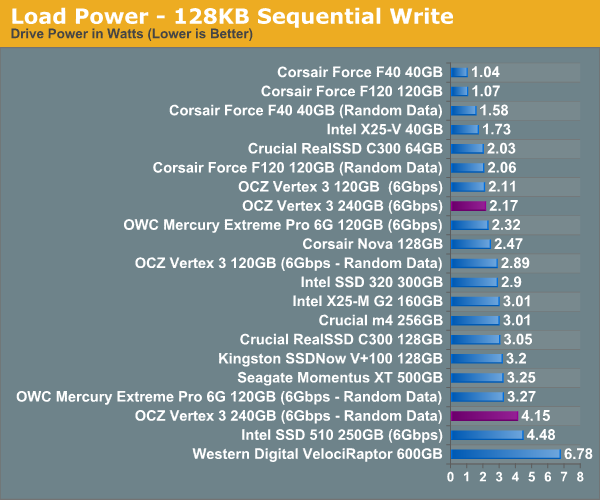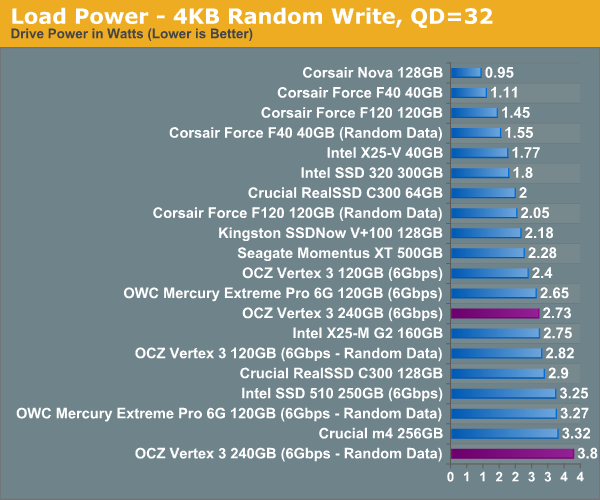 Final Words
When we previewed the 240GB Vertex 3 it looked like game over for the SandForce competitors this round. With the final hardware tested, I have to agree with our original conclusion. If you're spending $500 on a drive, the 240GB Vertex 3 is your best bet.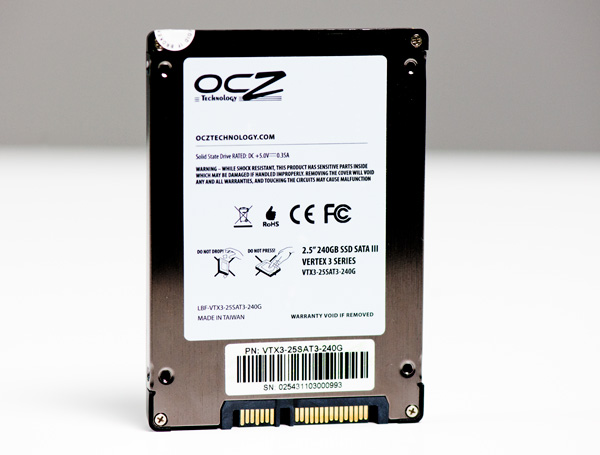 There are some mild changes in the results here and there but nothing significant (other than lower power consumption compared to the pre-release sample). Intel's SSD 510 and Crucial's m4 are the closest competitors. The only reason I can see going for Intel's 510 over the 240GB Vertex 3 is the reliability aspect. Intel has typically had lower return rates than OCZ and while OCZ tends to take care of its customers very well, many would just rather not have an issue to begin with. I will say that SandForce reliability has come a long way in the past year but there's still a lot of proving that both SF and OCZ have to do with the Vertex 3 to really cement themselves as a top tier player in the SSD space.