Round 2 - Usability
This is an interesting one. We have two screens here that have the same resolution, but really don't feel like it. One of the things that Samsung did with the TouchWiz UI on the Galaxy Tab is that they made all of the UI elements a lot bigger. It's like taking Windows and changing the DPI of the icons to 120 or something. Side-by-side with the unchanged Nook Color, you almost feel like the screen resolution is significantly lower, until you put the same image or website on both.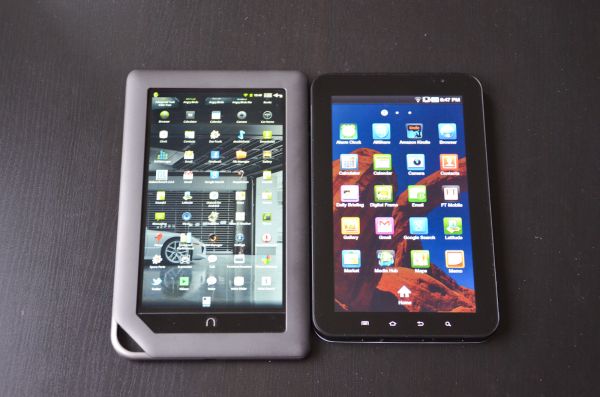 It's not a good thing or bad thing, it's just different. I personally liked having the smaller icons on the Nook, but at the same time, the Galaxy had a larger keyboard that was easier to use, so it was a bit of a tradeoff.
The Galaxy was smoother to use than the Nook; the same stuttering and lost frame issues I saw in Nook OS were still there in Gingerbread. I've heard that a lot of that can be fixed through overclocking, installing different launcher applications, and the like, but I wanted to get a feel for how a quick root would be. And overall, I must say it was pretty good. I enjoy the stock Android UI, especially in Gingerbread. It's a refreshing experience compared to some of the things that Motorola, Samsung, and HTC tend to do to Android.
With that said, there are still some bugs. I ran into a weird one where I locked the device, came back 10 minutes later, and the phone-menu-browser launcher at the bottom had somehow lost the phone and browser buttons. Not that I necessarily minded, since the phone part of it was completely useless to begin with. The weird part was that after I ran the battery life test and rebooted the device, the application menu button was gone too. Another lock/unlock fixed that, but it's a little weird. Unfinished, probably, would be the best way to describe it.
Which is how most of these community projects go - if you follow the nightly builds closely, I'm sure a lot of these little things will be fixed. If you're not on top of those things, you just have to learn to deal with those issues.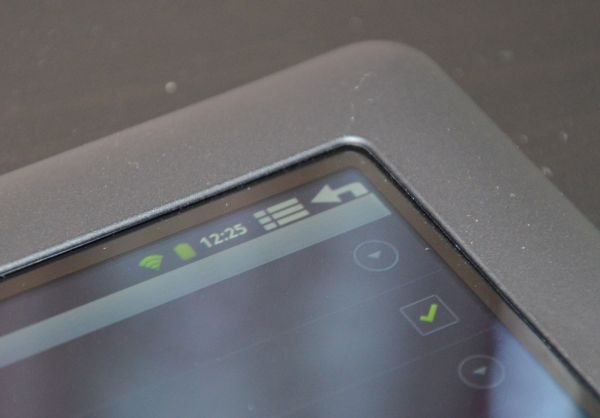 I did like that the Android community had seen fit to give the Nook ROM software buttons for menu and return (located in the right corner of the top bar in Android), but the lack of hardware buttons wasn't necessarily optimal. You get used to it, yes, but compared to the Galaxy, it just feels unfinished.
Honestly, I like the stock Gingerbread ROM better than anything running TouchWiz, but for lack of polish, I think I'll give Samsung the small victory here too.