Rooting the Nook Color
When you boot the Nook, you're taken to this lovely 5 step process that registers you with B&N's site (there's no way around this unless you avoid the stock ROM entirely) and gets your device on to the internet. When you get through this, you're taken to a startup page that lets you select whether you want a tutorial on how to use the Nook Color or whether you actually just want to use it. Uhhhhh, yeah, I think I'll just go to the home screen, thanks.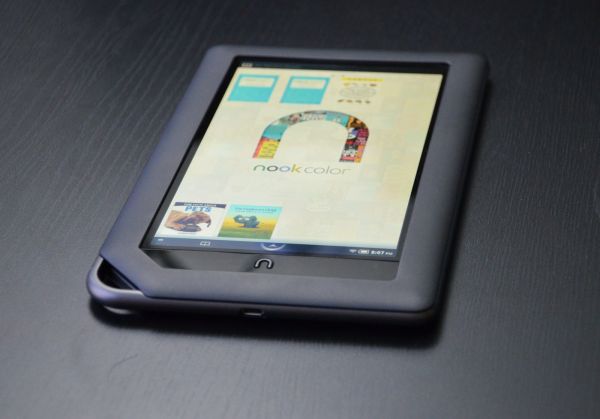 The homescreen gets you thumbnails of the book covers you have downloaded, and bringing up the menu (with a soft button at the bottom of the screen) gives you the option to go to settings, the browser, market, list of applications, etc. You can tell it's running Android, but it's relatively dumbed down, presumably so that the general non-techy public doesn't find themselves confused by the inner workings of Android.
The only thing that surprised me about the Nook OS in general is the amount of stuttering I saw. The original OS was pretty bad, and the update to Nook 1.2 (read: Froyo) fixed some of that, but you could still see the occasional dropped frame as you navigated through the OS. But I got sick of the Nook OS in about 5 minutes, so I went straight to XDA to get me some CM7.

CyanogenMod 7 is basically a community-built and supported ROM based on Gingerbread, and it's pretty sweet. The rooting process was fairly straightforward, first installing ClockworkMod Recovery, then flashing CM7 and the associated Google apps (Mail, Market, Talk, etc) onto the device. The XDA developer forums are very helpful with rooting and flashing different ROMs onto these devices, and there's a number of different customizations you can do, including overclocking (the Nook Color supports up to 1.2GHz) and various skins and enhancements.
I have to commend Barnes and Noble in all of this for being not discouraging rooting or hacking the device, when I talked to some of the Nook reps, they definitely understood that the NC was developed for people who weren't tech enthusiasts, but the enthusiast market could do whatever they wanted with it. Unlike some of the larger handset manufacturers who go out of their way to discourage jailbreaking or rooting, this was a refreshing mindset for them to take.
So now that our Nook Color is all nice and Gingerbread-ified, let's see what Samsung has in store.