The Trusty Old 4.3" WVGA
The above headline read "The Good Old 4.3" WVGA" until I realized that HTC's 4.3" WVGA LCD panel is pretty mediocre at this point. It has size on its side, but brightness and contrast are middling at best. It's not bad, but compared to the cream of the modern smartphone crop, it's just not that competitive.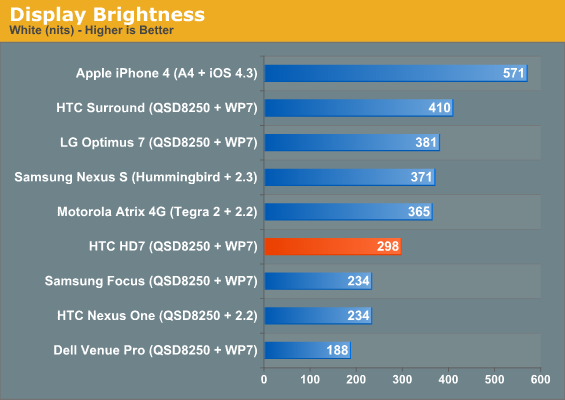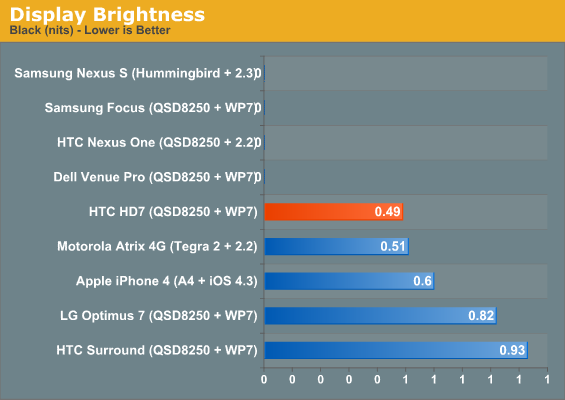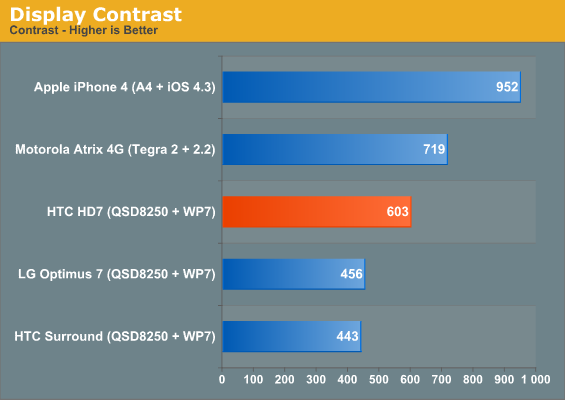 The upcoming HD7S for AT&T changes that, with a Super-LCD version of the same 4.3" display (the S stands for Super). We've seen pretty good performance out of S-LCD displays in the past, and assuming the HD7S continues that trend, it'll have a decent display.
Thankfully, HTC is moving to S-LCD for the 4.3" qHD devices (Sensation and EVO 3D), but that brings up a larger question for Microsoft—with most of the high end Android devices moving to dual core processors and higher resolution qHD displays and Apple already with a high res screen and moving to a dual core SoC in the near future, when will Microsoft decide to take the next step to compete on the bleeding-edge hardware level?
1GHz Snapdragons and WVGA displays were high end in mid-2010. A year later, they're still good enough for most smartphone users, but what about the high end market now? Most indications I've seen out of Microsoft seem like there will just be a bump to the 2nd generation 45nm Snapdragon chips for the second generation WP7 devices. Those will probably hit late this year, around the same time as the 5th generation iPhone and the next wave of dual-core Android phones (not to mention quad-core tablets), so WP7 handsets will still be lagging far behind the competition.
It's a twofold problem. One is that Microsoft's tight control of the system is creating the reverse effect of the fragmentation problems afflicting Android. While there's a lot of software diversity in Android phones, there's an equal amount of hardware diversity. With WP7, there's zero software diversity, and correspondingly little hardware diversity as well. HTC has five different WP7 handsets on the market—one has a slide-out keyboard, one has a slide-out speaker, one has a marginally larger screen, but other than that, they're all practically the same. The biggest differentiating factor from device to device is the type of screen it has; beyond that, all ten WP7 devices have nearly identical hardware.
Microsoft's desire to keep a consistent experience across all Windows Phones is an admirable goal, but there's only one way to do that and stay with the times technologically, which brings me to the second problem. They need to iterate faster, and not just on the software end (though I'll address that on the next page). Microsoft is still playing catch up in the smartphone game, and matching Apple's release schedule will not get them caught up. There either needs to be a large number of smaller iterations (Google-style, a new OS revision and new handsets every four months) or, really significant steps forward every 12 months. The former is where NoDo comes in.