vApusMark II Response Time
Each tile in vApusMark II demands 18 virtual CPUs: four for the Oracle OLTP test, eight for the MS SQL Server OLAP test, and six for the three web application VMs (two CPUs each). Therefore, a four tile test will require 72 virtual CPUs. A quad Xeon E7-4870 contains 40 cores and 80 threads with Hyper-Threading enabled. With a test that puts 72 virtual CPUs to work, you cannot measure the total throughput of the quad Xeon E7. In fact, some of those 72 virtual CPUs are not working at 100% all of the time. For example, the CPU load caused by the web VMs shows a lot of spikes. Thus, we can not interprete the throughput numbers without a look at the response times.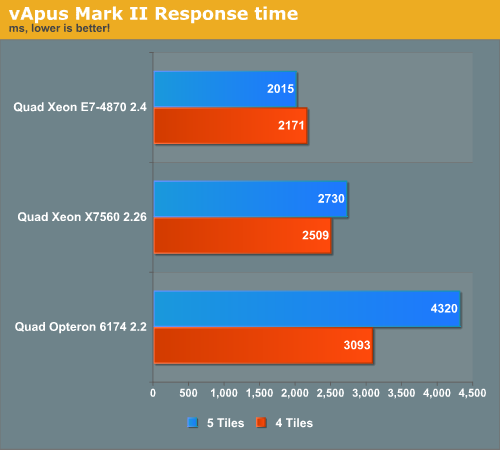 Back to our benchmark or throughput scores. Ideally, we should measure throughput at exactly the same response times. But with our current stress testing software, trying to keep response time the same would be an extremely time consuming process.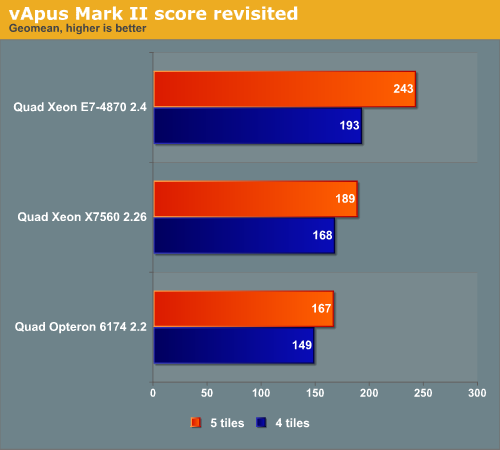 Since the quad Opteron shows a 40% increase in response time from 4 to 5 tiles (or from 20 to 25 VMs), we believe that the four tile score (149) is more representative of the "real performance". The extra throughput that the five tile test delivers comes at a response time price that is too high.
The response time of the Quad Xeon 7560 increases 9% when we try to load it with five extra VMs. In this case, the "real and fair" throughput score is a little bit harder to determine. It is somewhere between the score of 4 tiles and 5 tiles, probably around 180 or so.
In case of the Quad Xeon E7, however, things are crystal clear. Running 20 or 25 VMs does not make any difference: the response times stay in the same league. In this case we take the highest score to be the real one.
So if we take response times into account, the quad E7-4870 is about 35% faster than its predecessor (243 vs 180) and about 63% faster than the AMD system in our test (243 vs 149). AMD's fastest processor is the 2.5GHz 6180SE now. This CPU is clocked around 13% higher and should thus be able to reach a score of around 168. That means the Xeon E7-4870 should still have a 44% (or more) advantage over its nearest but much cheaper competitor in this particular workload.