Compute & Tessellation
Moving on from our look at gaming performance, we have our customary look at compute performance, bundled with a look at theoretical tessellation performance.
Our first compute benchmark comes from Civilization V, which uses DirectCompute to decompress textures on the fly. Civ V includes a sub-benchmark that exclusively tests the speed of their texture decompression algorithm by repeatedly decompressing the textures required for one of the game's leader scenes.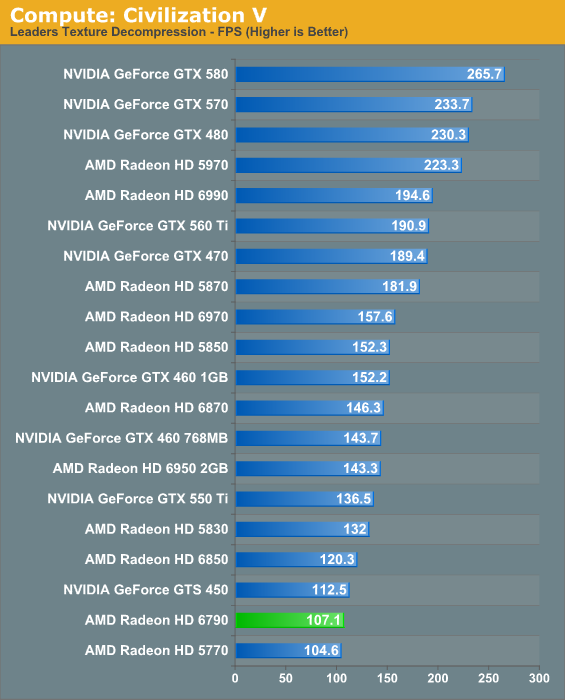 Civilization V's compute benchmark cares little for memory bandwidth or the architectural differences between Barts and Juniper; SPs and clockspeed are what matter here. As a result the 6790 narrowly averts a tie with the 5770 of all things, and the performance relative to NVIDIA's cards isn't any better.
Our second GPU compute benchmark is SmallLuxGPU, the GPU ray tracing branch of the open source LuxRender renderer. While it's still in beta, SmallLuxGPU recently hit a milestone by implementing a complete ray tracing engine in OpenCL, allowing them to fully offload the process to the GPU. It's this ray tracing engine we're testing.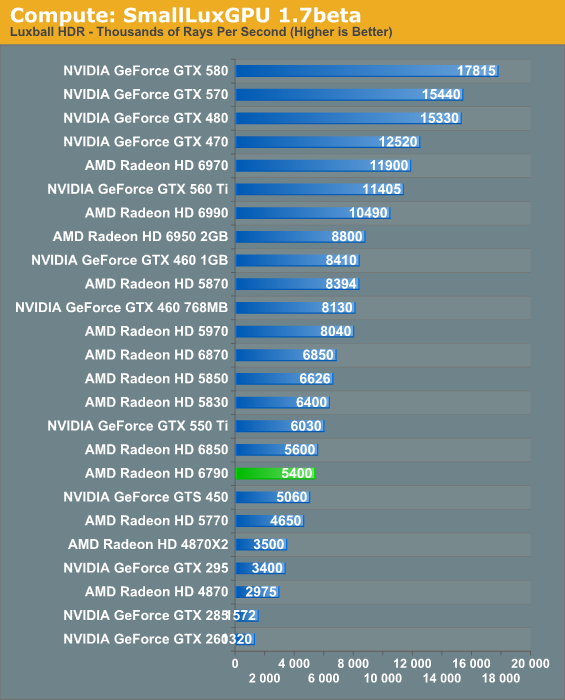 SmallLuxGPU ends up being one of the best showings for the 6790, as while it's obviously compute bound, it definitely benefits from the architectural differences between Barts and Juniper. The 6790's performance relative to the 6850 almost identically matches the theoretical performance difference, and in spite of the 5770 having a slight theoretical advantage of its own, the 6790 easily beats the 5770 by 16%. This opens up a small window for the 6790 as a lower-priced GPGPU product, but it's a very small window – the program would need to excel on AMD cards and on Barts over Juniper. Otherwise we see SLG where the 6790 does well versus the 5770, but very poorly compared to NVIDIA's cards.
At the other end of the spectrum from GPU computing performance is GPU tessellation performance, used exclusively for graphical purposes. Barts' tessellation improvements should give it an edge over the 5770, but it still has to contend with the 6800 series.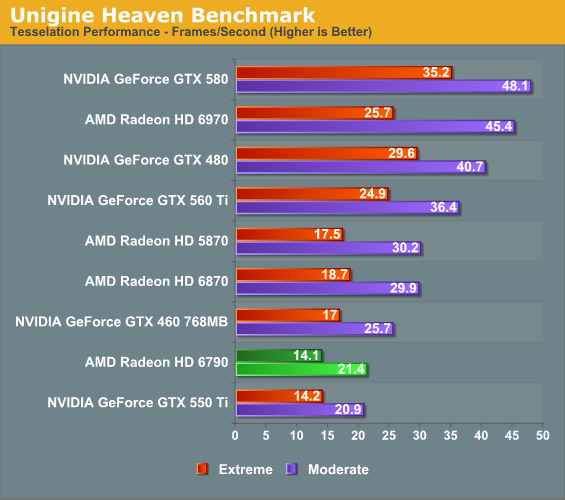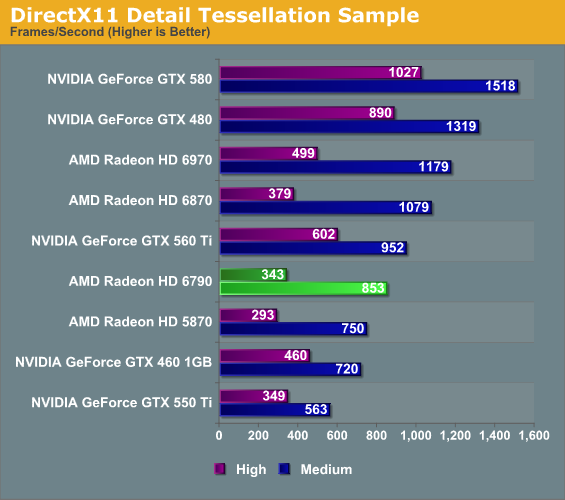 At this point in time none of our games closely match our tessellation results, which shouldn't be a surprise given the low usage of tessellation. Although Barts isn't a tessellation monster it could do quite well in the future if tessellation takes off in a manner similar to how these benchmarks use it, but that's a very big if.