So how much does 4G LTE affect battery life? Now is as good a time as ever to segue into battery results for the Thunderbolt. Unfortunately things here don't paint a good picture for LTE and smartphone battery life.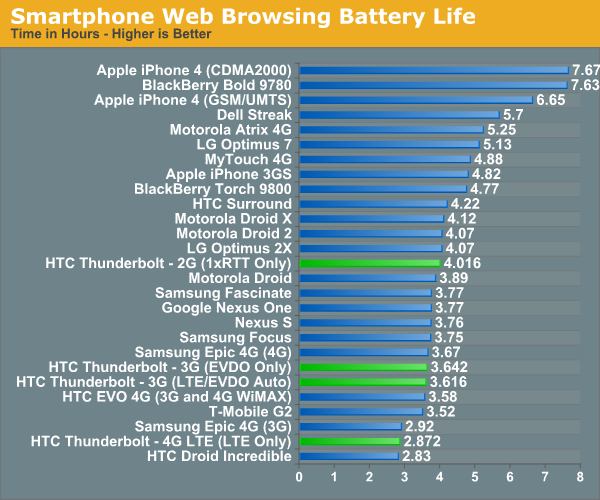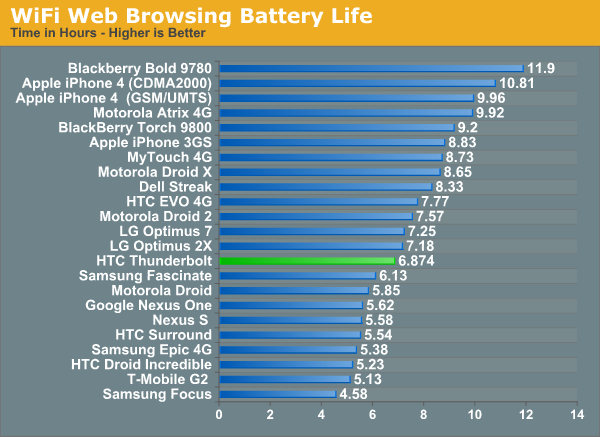 I ran four tests on the Thunderbolt. Again this is our standard smartphone battery life test, with the display set to 50% brightness always on, loading our page load suite until the battery dies. In LTE only mode I ensured the phone stuck on LTE coverage in a good coverage area. I also did tests on both EVDO (3G) and 1xRTT (2G) only to illustrate the difference those make. Lastly, there's been a persistent rumor for some time that allowing the modem to periodically search for LTE (like you would in the default "CDMA + EVDO/LTE auto" mode) negatively impacts 3G battery life. I ran a test with it in this auto mode and EVDO only to illustrate that the MDM9600 searching periodically doesn't really affect battery life to an appreciable amount. Remember that 3-5 minute handover time? It's clear that the polling index is sufficiently infrequent that this isn't a big problem.
In a 4G LTE market, the Thunderbolt does drain pretty fast. I think it speaks volumes that Verizon stores are stocking a first party 2750 mAh extended battery and cover. That's almost exactly double the size of the Thunderbolt's default 1400 mAh battery. I didn't get to play with the extended battery or inductive charging door that comes with it, but expect it to double battery life numbers.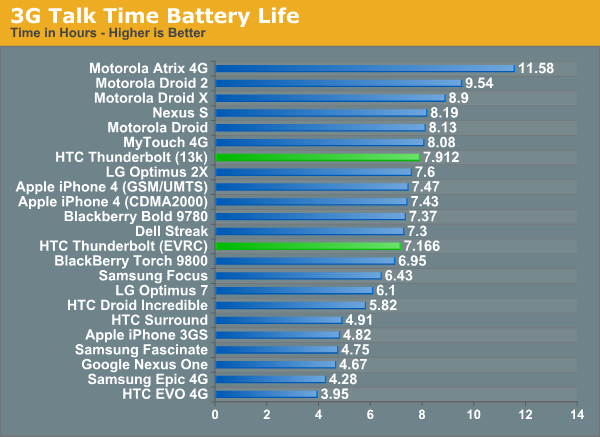 The two other tests we usually run are the same as ever, though I did something interesting on the Thunderbolt by running with two different vocoders set. CDMA2000 phones are interesting since most of the Qualcomm enabled devices come with EPST, which lets you switch between EVRC, EVRC-B, and QCELP 13k. There's a subtle but detectable difference in audio quality between the three, but even then lot of that is still subjective. EVRC supports bitrates of 8.55, 4.0, and 0.8 kbps, while EVRC-B builds upon this with some better silence and noise coding, in addition to offering a quarter rate, 2.0 kbps for better QoS. In newer phones and networks, EVRC is far and away the most common (default for the Thunderbolt as well), with EVRC-B an up and coming second.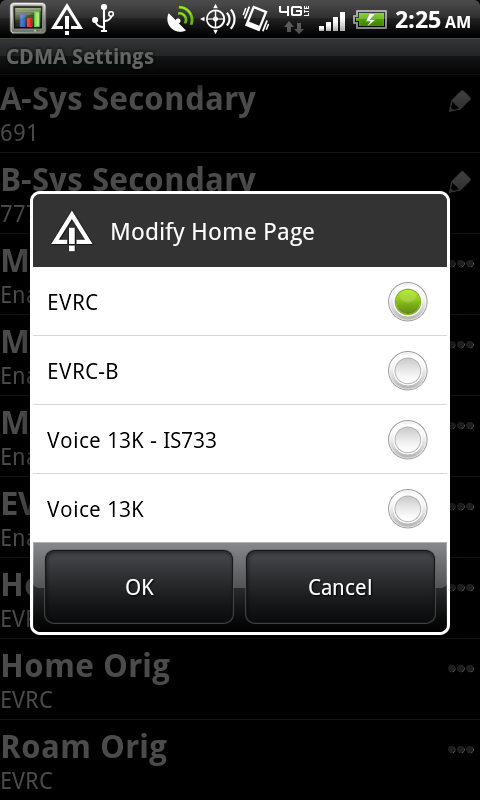 Though EVRC and EVRC-B definitively offer better quality per bitrate (which helps carriers pack more voice capacity on the network), there's another option that improves voice quality further. QCELP is an older voice coder, but allows for 13.3, 6.2, 2.7, 1.0 kbps streams. In theory, QCELP 13k can offer better voice quality in good coverage areas and network conditions. Carriers have moved away from QCELP to EVRC again for the implicit purpose of supporting more voice capacity with the same amount of bandwidth.
Interestingly enough, battery life does change subtly between 13k and EVRC on the Thunderbolt. I was somewhat surprised to see things swing this way, considering that EVRC is a more complicated codec than QCELP, and thus requires slightly more instructions per frame. It's possible that at my test location, the Thunderbolt on QCELP negotiates a lower bandwidth stream than EVRC, and thus we see less data transacted.
Whether or not you can distinguish the differences between the three vocoders depends on a variety of factors. It's undeniable however that EVRC-B doesn't have the potential to sound better than EVRC in some conditions due to the presence of a quarter bitrate mode, and 13k even better still. I've taken audio recordings of the Thunderbolt calling the local weather ASOS and recorded output both using the line out jack. I also recorded two using a Blue Yeti microphone with the Thunderbolt kickstand open and closed to give a feeling for how different sound is in both configurations.
Voice Coder Comparison
HTC Thunderbolt - Headphone - 13k by AnandTech
HTC Thunderbolt - Headphone - 13k IS733 by AnandTech
HTC Thunderbolt - Headphone - EVRC by AnandTech
HTC Thunderbolt - Headphone - EVRC-B by AnandTech
Kickstand Comparison
HTC Thunderbolt EVRC Kickstand Closed by AnandTech
HTC Thunderbolt EVRC Kickstand Open by AnandTech
WiFi Hotspot
Like every Android phone, the Thunderbolt also includes phone as WiFi hotspot functionality. It's the same HTC app we've seen before bundled with HTC sense, except this time the phone is on LTE. There have been a number of complaints about the Thunderbolt switching back and forth between EVDO and LTE and completely suspending WiFi connections during handover. This is more of a software problem that HTC should be able to fix by tweaking their hotspot software. Again the LTE handovers seem to briefly break connectivity, and the 4G status indicator briefly goes away. The HTC hotspot software as a result thinks the connection has been lost entirely, and suspends or drops WiFi connections. For now, the problems can be mitigated somewhat by forcing LTE only, and while I didn't encounter any deal breaking instability this is something that can definitely be fixed with better AP management software.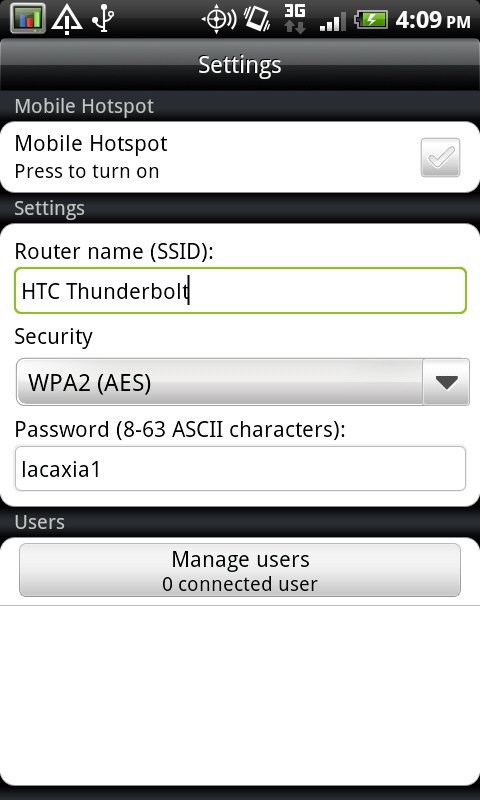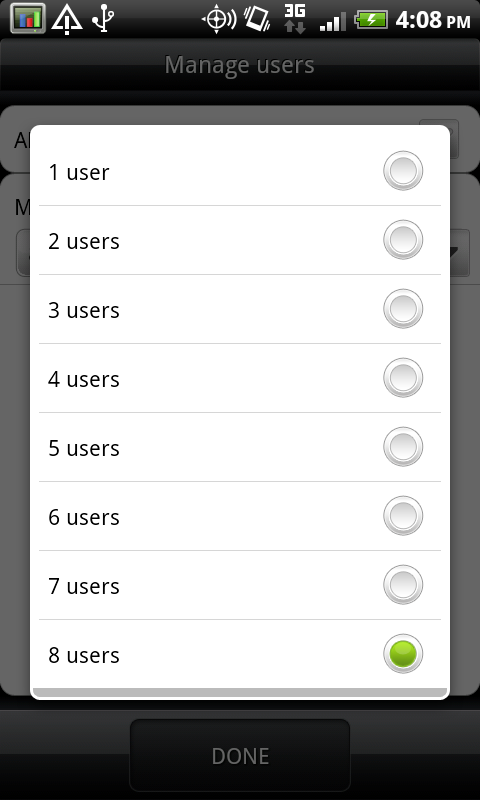 The Thunderbolt ships by default with the hotspot only set to allow 5 users to connect. Dig into the menus, and you can easily change this to 8. Eight seems a bit arbitrary (as do all of these limitations, at this rate), but it's there if you want it. Apparently some other LTE phones coming out will enable 10. If that's seriously a deal-making feature, I think something is wrong. Just make it 10 everywhere, especially if it's the same exact cellular modem.
For a while now, I've been secretly (well, not really secretly) running a fourth test on phones and wireless devices to measure WiFi hotspot battery life. Historically, WiFi tethering has been brutal on battery life, and I devised a test that I think is reasonably representative. For this test, I have two tabs of our standard page load test, and another two with flash, for a total of four tabs loading through a few dozen pages every 10 seconds. In addition, I have a 128 kbps MP3 audio stream from smoothbeats.com playing in the background to keep data active constantly. There's just one wireless client with a 802.11n WiFi card connected, though all this traffic reasonably approximates a few wireless clients all transacting data.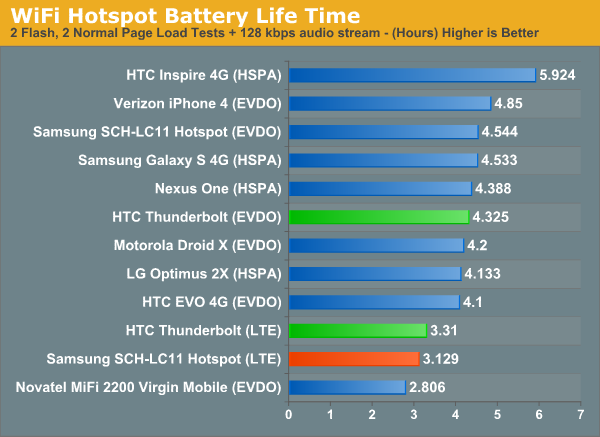 The results here are interesting, and the Thunderbolt actually doesn't do too bad, actually besting the standalone LTE enabled Samsung hotspot. Unsurprisingly, EVDO battery life is right where it should be at just over 4 hours. LTE data on Verizon is unlimited as of this writing, though that's sure to change soon. If you can get it, the Thunderbolt certainly is a viable way to connect to the internet pretty speedily.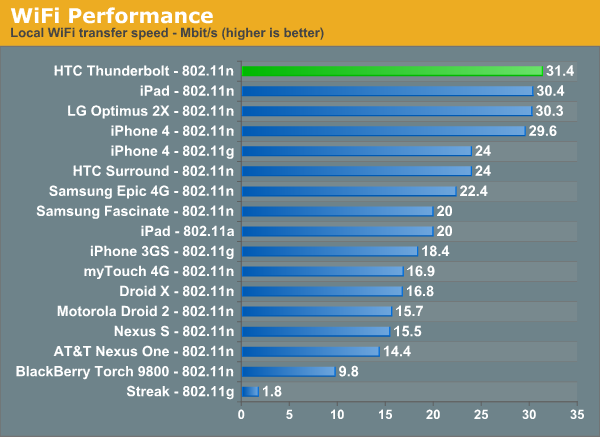 WiFi throughput on the Thunderbolt is class leading. I was impressed by its performance in our test, which consists of loading a 100 MB PDF over the network. I saw brief spikes over this average result.
WiFi performance on the Thunderbolt I guess actually is a bit of a surprise. I guess it shouldn't be a huge surprise that the the smartphone with the best overall connectivity also delivers in the WiFi department. The Thunderbolt pairs at the same 72 Mbps we've seen before with 802.11b/g/n. Sadly, no 5 GHz 802.11a/n is present. I seriously hope 5 GHz support starts showing up in more smartphones going forward, because it really is impossible to reliably use 2.4 GHz anything at trade shows. Range on the Thunderbolt is right where it should be, though a tiny bit better than the Desire HD/Inspire 4G.