Camera Connection Kit
We've had a few requests to double check and see whether the iPad's original camera connection kit works, and sure enough it still does. We put together a simple yet representative benchmark comparing how fast it took an iPad 1 and iPad 2 to import 40 NEF (Nikon RAW, lossless compression enabled) photos shot using a Nikon D300s.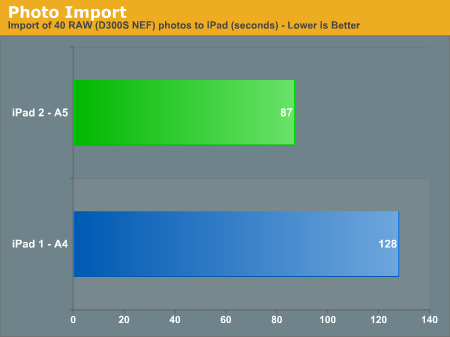 The iPad 2 bests the iPad 1 by a considerable margin at import speed, it's 47 percent faster. Subjectively, initial image previews also rendered much, much quicker on the iPad 2.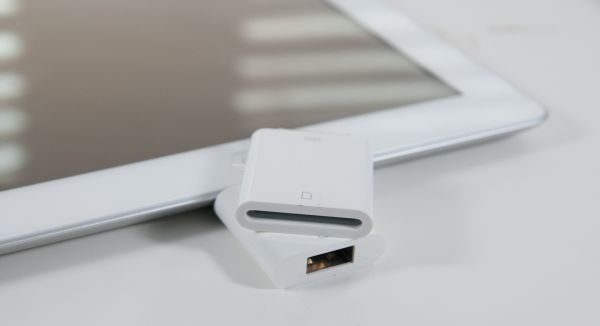 I always felt like speed was honestly what kept me from using the camera connection kit more than once in a blue moon on the original iPad, coupled with the relatively limited 16 GB of storage on the WiFi model I opted for. Though this time around I still went with 16 GB, it's now fast enough to import a substantial number of photos even from the most competent of cameras very quickly.
The other gems that are enabled by the USB Host port bundled with the camera connector kit also still work. You can still connect a keyboard and use it as an input device wherever text fields are, mice still don't work (not a huge surprise there), and 16-bit USB audio class devices work.
I connected my Logitech USB headset and microphone combo to the iPad through the camera connector kit. Audio played back through the headsets from all applications. In apps that use recording, the microphone also worked.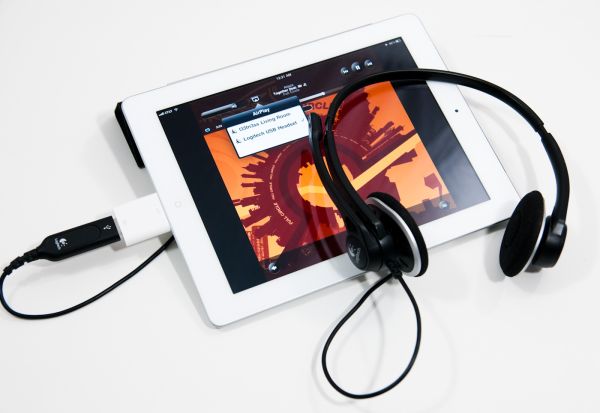 The interesting caveat is that you apparently can't use both at the same time, at least not this pair. I fired up FaceTime in the hopes that I'd be able to use the headsets in their entirety - callers could hear me through the microphone (and noted I sounded excellent), however audio played back through the iPad's internal speaker instead of the headphones. I connected through a powered hub and experienced the same thing. There are anecdotal accounts that other devices which support simultaneous audio input and output do work, but I lack more hardware to test with. Additionally, I can't test whether devices with higher power budgets (like the Blue Yeti microphone for example) work.
There's definitely potential for the iPad 2 to be a shockingly competent mobile podcasting platform, especially coupled with some built-in Garage Band editing.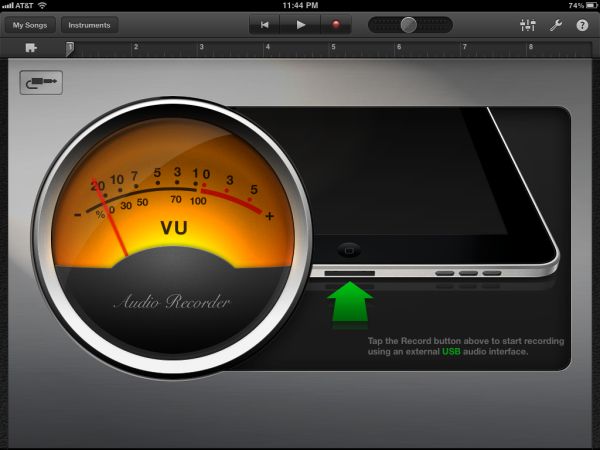 You can already record audio through a USB source natively in Garage Band with the camera connector kit. We tested it and it sounds excellent.