Power, Temperature, & Noise
Last but not least as always is our look at the power consumption, temperatures, and acoustics of the GTX 550 Ti. As a result NVIDIA's tinkering with both power efficiency and clocks, performance has gone way up but power has also gone up too: the official TDP has gone up by 10W.
Please note that as we don't have a true reference card our testing methodology has been slightly tweaked. We've tested the AMP at both GTX 550 Ti reference clocks and at its factory overclock for all metrics, however noise and temperature in particular are going to significantly vary from manufacturer to manufacturer.
GeForce GTS 450 & GTX 550 Voltage
GTS 450
Zotac GTX 550 Ti Amp
Idle
1.05v
1.1525v
0.95v
The load voltage on our Zotac AMP is 1.1525v, which compared to GF106/GTS 450 ends up being quite high. No doubt Zotac has given the card some more voltage to handle the factory overclock, however this will also skew our power results for load. Idle however remains unchanged at 0.95v.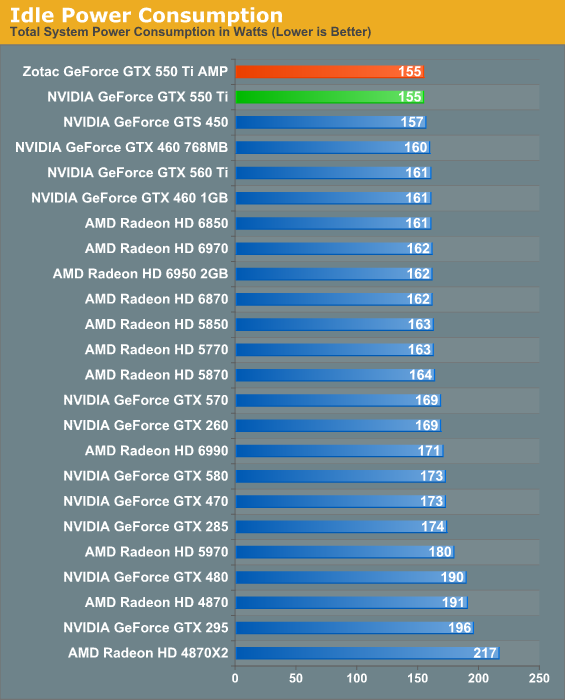 Right off the bat, idle power consumption looks good. At 155W the Zotac GTX 550 AMP beats even the reference GTS 450 by 2W, and the gap with the Radeons is much larger. Here we're looking at a 6W advantage over the 6850, and 8W over the 5770. This is no small feat given how hard it is to reduce idle power usage, and showcases the benefits of NVIDIA's transistor tinkering.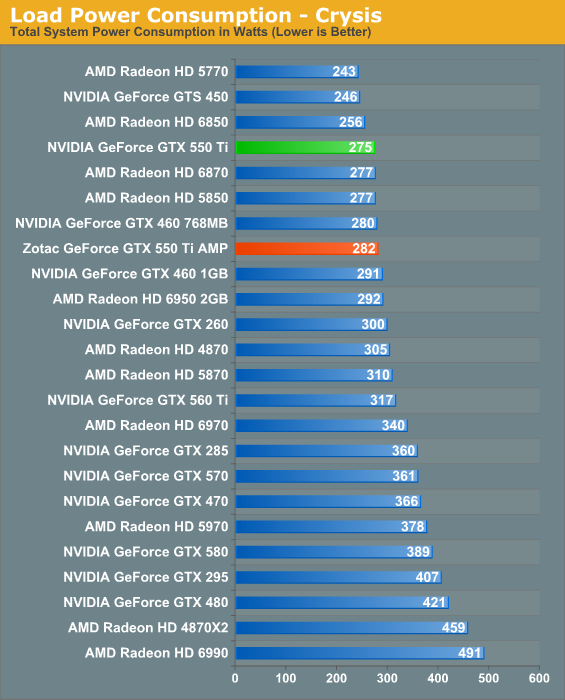 Power consumption leaves much to be desired however, and it's at this point that we can't easily separate the GTX 550 Ti from the Zotac GTX 550 AMP. If the Zotac card did not have an overclock, perhaps it would have a lower load voltage, and as such lower power draw under load. But in this case it does not, which leads to a total system power draw difference of 19W over the 6850, never mind the 5770.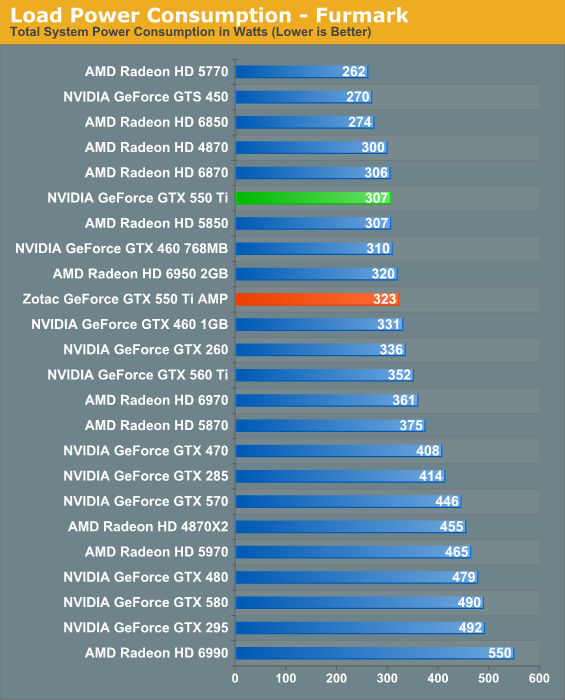 The GTX 550 Ti does not have any kind of overcurrent protection like the rest of the GTX 500 series, so here we can get straight numbers without forcibly disabling it. The results, like with Crysis, are understandably poor for the card; 33W over the 6850, more for the card when it's running at factory clocks. If a more reference style GTX 550 Ti is anything like this, it bodes poorly for the card compared to the already faster 6850.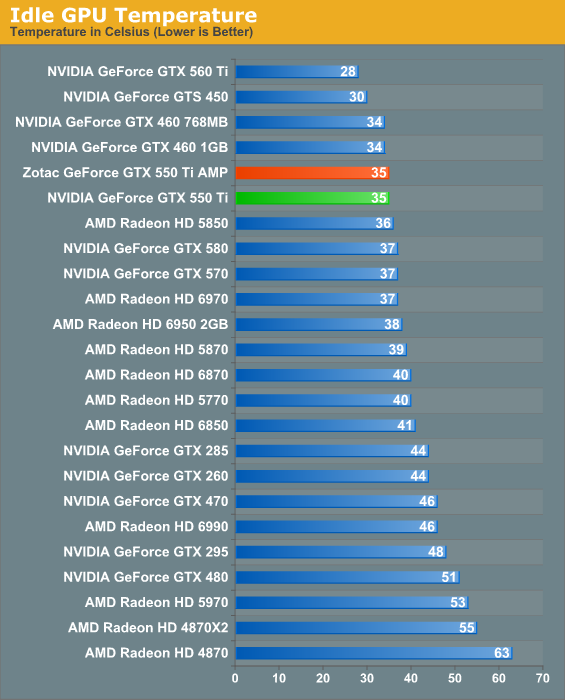 The king of our idle temperature charts is composed of NVIDIA reference cards, and while the Zotac GTX 550 AMP gives a decent performance, it can't keep up. 35C at idle is still quite good, but we saw better on the GTS 450, and would likely see something similar on a reference GTX 550 Ti.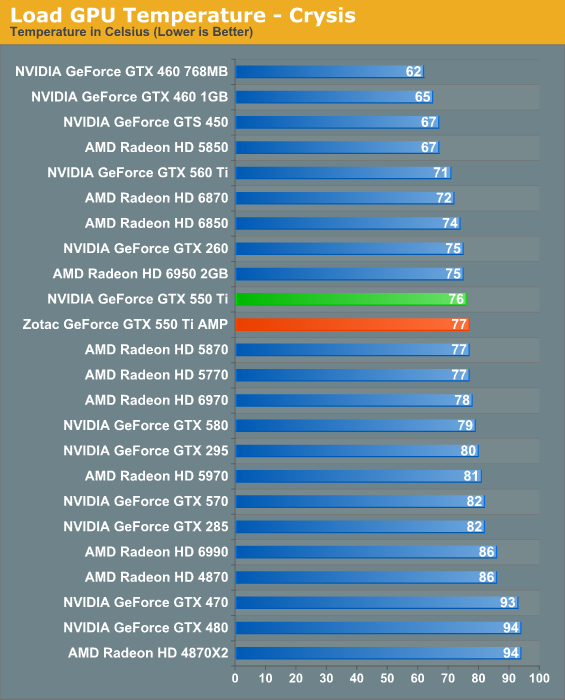 Under load, temperatures end up being middle the road, thanks once more to the card's higher power consumption. Funny enough it does beat the 5770 by 1C even after all of this, but one could just as well slap the GTX 460 cooler on here and get results that would undoubtedly be below 70C.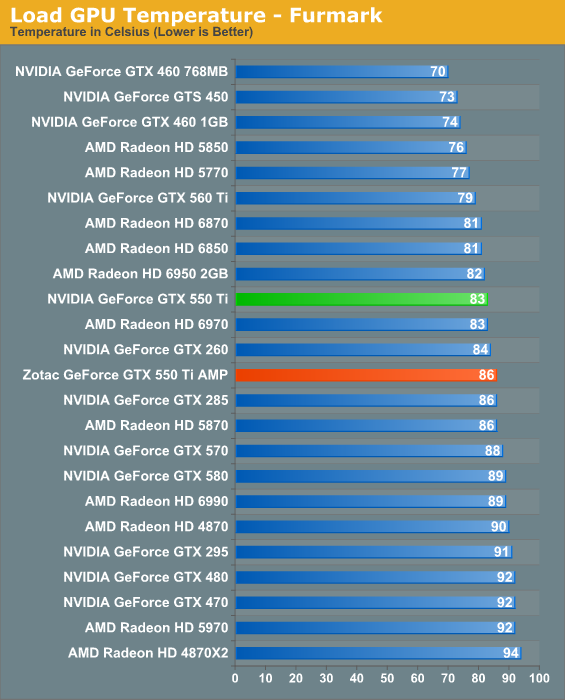 FurMark of course adds several C more to our temperatures. In fact for a lower power card like the Zotac GTX 550 AMP we're actually caught a bit off-guard. 86C at factory clocks means there's some thermal headroom to play with for overclocking, but not too much – the GTX 550 Ti's max temperature is only 95C.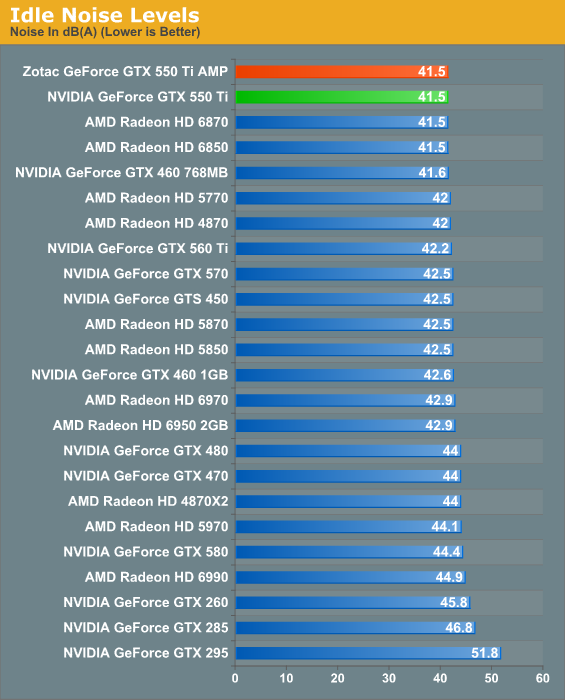 For cards in this performance category, idle noise is pretty consistent thanks to the common use of open coolers. The Zotac GTX 550 AMP doesn't disappoint here, offering a practically silent 41.5dbA as measured by our meter.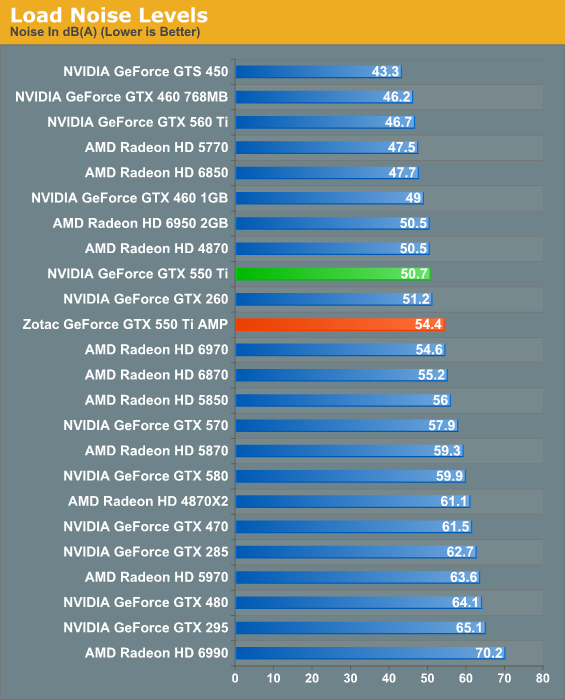 If you were hoping that higher temperatures would be a precursor to lower fan noise, you're going to come up empty handed here. 50.7 is by no means loud among all the cards we've tested, but we've seen better. In fact the 5770/6850 both do better, as does the GTX 460 and GTX 560. At the AMP's full factory overclock we get up to 54.4dbA, which is certainly going to be noticeable. Unfortunately the card doesn't have the performance even with the overclock to justify the noise.
Ultimately this is less a discussion of the GTX 550 Ti reference design, and more a discussion on the Zotac GTX 550 Ti AMP's design, which more likely than not takes a hit in cooling and temperatures thanks to the 2nd DVI port partially blocking the card's external exhaust. But for the time being, it's what we have to work with.