The launch drivers for the 6990 will be a preview version of Catalyst 11.4, which have been made available today and the final version launching sometime in April. Compared to the earlier drivers we've been using performance in most of our games is up by at least a few percent, particularly in CrossFire. For launching a dual-GPU card like the 6990, the timing couldn't be better.
Along with these performance improvements AMD is also throwing a few new features in to the Catalyst Control Center, making it the first time they've touched it since the introduction of the new design in January. Chief among these features – and also timed to launch with the 6990 today - is 5x1 portrait Eyefinity mode. Previously AMD has supported 3x1 and 3x2, but never anything wider than 3 monitors (even on the Eyefinity 6 series).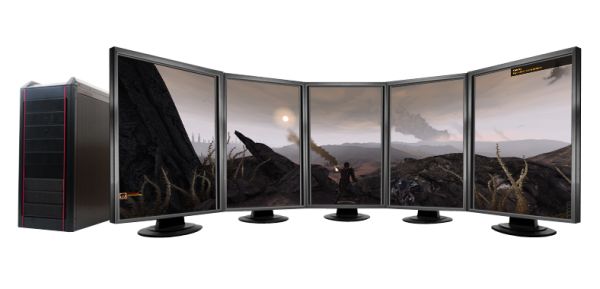 The 6990 is of course perfectly suited for the task as it's able to drive 4 + 1 monitors without any miniDP MST hubs, and indeed the rendering capabilities of this card are wasted a good deal of the time only driving one monitor. Other cards will also support 5x1P, but only E6 cards can work without a MST hub at the moment. Notably, in spite of requiring one fewer monitor than 3x2 Eyefinity this is easily the most expensive option for Eyefinty yet, as portrait modes require monitors with wide vertical viewing angles to avoid color washout – you'd be hard pressed to build a suitable setup with cheap TN monitors like you can the landscape modes.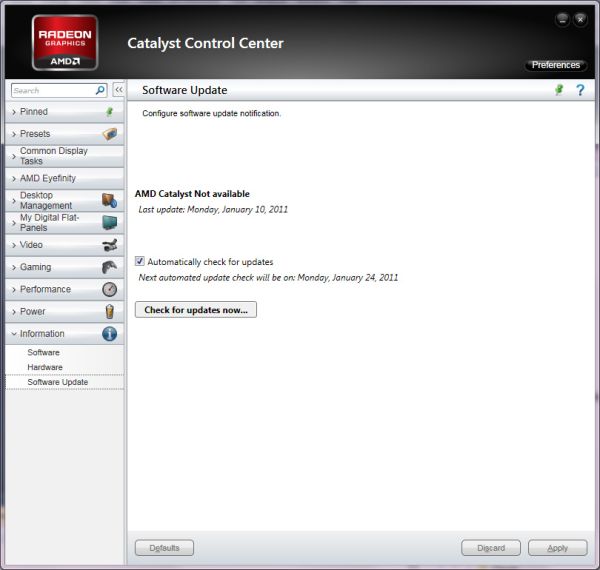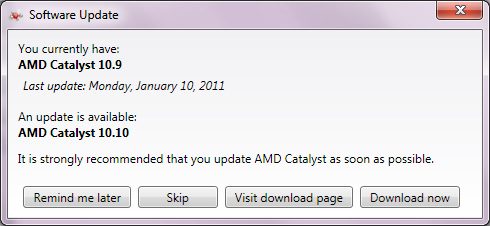 The other big change for power users is that AMD is adding a software update feature to the Catalyst Control Center, which will allow users to check for driver updates from within the CCC. It will also have an automatic update feature, which will check for driver updates every 2 weeks. At this point there seems to be some confusion over at AMD over whether this will be enabled by default or not – our drivers have it enabled by default, while we were initially told it would be disabled. From AMD's perspective having the auto update feature enabled improves the user experience by helping to get users on newer drivers that resolve bugs in similarly new games, but at the same time I could easily see this backfiring with users by being one more piece of software nagging for an update every month.
Finally, AMD is undergoing a rebranding (again), this time for the Catalyst Control Center. If you use an AMD CPU + AMD consumer GPU, the Catalyst Control Center is now the AMD VISION Engine Control Center. If you use an Intel CPU + AMD consumer GPU it's still the Catalyst Control Center. If you use a professional GPU (regardless of CPU), it's the Catalyst Pro Control Center.



The Test
Due to the timing of this launch we haven't had an opportunity to do in-depth testing of Eyefinity configurations. We will be updating this article with Eyefinity performance data in the next day. In the meantime we have our usual collection of single monitor tests.
CPU:
Intel Core i7-920 @ 3.33GHz
Motherboard:
Asus Rampage II Extreme
Chipset Drivers:
Intel 9.1.1.1015 (Intel)
Hard Disk:
OCZ Summit (120GB)
Memory:
Patriot Viper DDR3-1333 3 x 2GB (7-7-7-20)
Video Cards:
AMD Radeon HD 6990
AMD Radeon HD 6970
AMD Radeon HD 6950 2GB
AMD Radeon HD 6870
AMD Radeon HD 6850
AMD Radeon HD 5970
AMD Radeon HD 5870
AMD Radeon HD 5850
AMD Radeon HD 5770
AMD Radeon HD 4870X2
AMD Radeon HD 4870
NVIDIA GeForce GTX 580
NVIDIA GeForce GTX 570
NVIDIA GeForce GTX 560 Ti
NVIDIA GeForce GTX 480
NVIDIA GeForce GTX 470
NVIDIA GeForce GTX 460 1GB
NVIDIA GeForce GTX 460 768MB
NVIDIA GeForce GTS 450
NVIDIA GeForce GTX 295
NVIDIA GeForce GTX 285
NVIDIA GeForce GTX 260 Core 216
Video Drivers:
NVIDIA ForceWare 262.99
NVIDIA ForceWare 266.56 Beta
NVIDIA ForceWare 266.58
AMD Catalyst 10.10e
AMD Catalyst 11.1a Hotfix
AMD Catalyst 11.4 Preview
OS:
Windows 7 Ultimate 64-bit