Mostly No QuickSync
One of the most significant features of Intel's Sandy Bridge CPU is Quick Sync, the hardware assisted video transcode engine. In our review we found it to be better than any of the currently available GPU based transcoding methods and far better than just running the transcode operation on your CPU. While Quick Sync's performance/quality in the pro space is unproven, there's simply no better way of taking your existing video content and transcoding it for use on mobile devices like an iPhone or an iPad.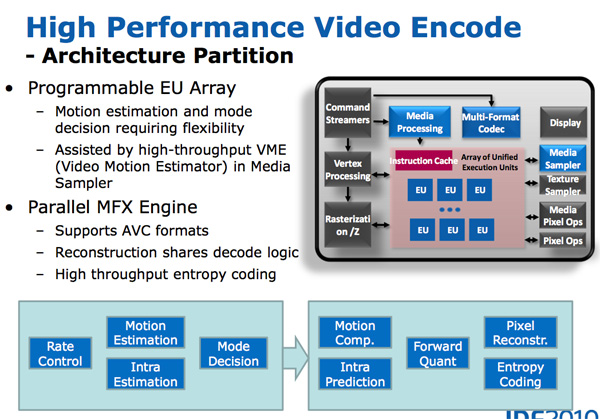 Given how well Quick Sync is suited for moving content between i-devices it's surprising that Apple doesn't tout it as a feature of the new 2011 MacBook Pros. Not only is Quick Sync not featured by Apple, it's not supported by any Apple application other than FaceTime.
That means iMovie and QuickTime rely on CPU based video encoding and not Quick Sync.
Apple has traditionally been very conservative with adopting new hardware features in software (ahem, TRIM). I'm worried that we may not see Quick Sync in iMovie until the 2012 version, however once the rest of the Mac lineup moves to Sandy Bridge maybe the incentive to introduce it sooner will be there.
Apple does claim support for Quick Sync in FaceTime however CPU utilization is still very high when using FaceTime HD:


Depending on available upstream bandwidth I saw between 50 and 100% CPU utilization of a single core while running FaceTime. According to Apple, FaceTime HD wasn't possible on a dual-core machine without the SNB video encoder. As to why we're seeing such high CPU utilization even with hardware accelerated encode and decode, your guess is as good as mine.