Thunderbolt
We wrote about Thunderbolt when the new MBPs launched, and about the differences between when it existed as Intel's codename Light Peak like we used to know it and saw at IDF. Thunderbolt differs technically and in practice in a number of ways. The short version of the story is that Thunderbolt is Light Peak sans light in this initial form (electrical right now), uses the mini DisplayPort connector on the MBP, and is capable of two channels of full duplex 10 Gbps traffic, for a theoretical 20 Gbps up and down. Thunderbolt requires a controller on the host and peripheral, uses 4 PCIe lanes, and connects to Display Port internally on the MBP's discrete GPU. One of the interesting things is where those 4 lanes come from on the 2011 MacBook Pro.
Thunderbolt can supply 10 watts of power and support up to 7 devices, up to two of which can be DisplayPort 1.1a devices. Just PCIe and DisplayPort are tunneled over Thunderbolt links. However, you can connect a standard DisplayPort monitor to the jack on the MBP and use it natively as well.
Sandy Bridge brings 16 lanes of PCIe really purposed for running a GPU. Interestingly enough, the discrete GPU on the 2011 MBPs uses just 8 PCIe lanes: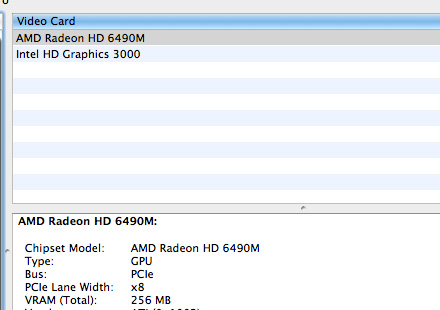 So where do the remaining 8 lanes get used for? They're split into 2 x 4x ports, one of which is for Thunderbolt. It's surprising, but this configuration is totally supported. Originally I speculated that the other 4x lane was being used for another PCIe interface device in the MBP (the SDXC card reader and BCM7765 are both 1xPCIe devices), but it appears they're unused.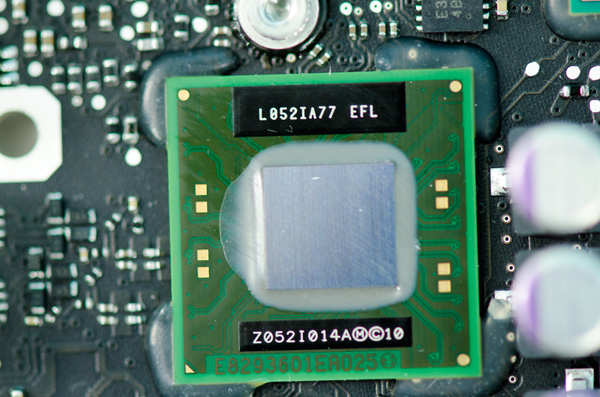 Intel's Thunderbolt controller
Thunderbolt launches with Apple, but isn't Apple exclusive. Intel reports that we just likely won't see adoption in the PC space until 2012. In addition, there's no per-port licensing fee or royalty for peripheral manufactuers wanting to use the port or controller, which are entirely Intel's. The controller is actually of appreciable size on the 2011 MBP:
Initially, Thunderbolt is electrical only, though the optical version of Thunderbolt is coming later this year. Optical cabling will be compatible with this electrical version through the use of electro-optical transceivers on the cable ends.

Bottom: 2011 MBP with Thunderbolt port, Top: 2010 MBP
We can't test and see whether Thunderbolt works or does anything right now, because there aren't any devices on the market with support. That said, Western Digital, LaCie, Promise, and other external storage manufacturers have stated that drives will arrive shortly, which we will surely take a look at. There are also rumors of various high end DSLRs shipping with Thunderbolt in the near future, though that's anyone's guess.
There's a field for Thunderbolt in system profiler, but even with a DisplayPort monitor attached, it shows nothing connected: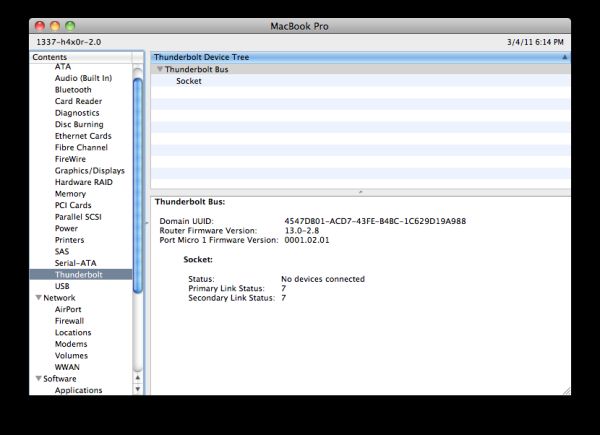 Interestingly enough, in Windows there's no trace of Thunderbolt at all. There aren't any unknown devices in the device manager, no device ID either. Hopefully Boot Camp drivers come along for Thunderbolt in Windows before devices start rolling out.