Sequential Read/Write Speed
To measure sequential performance I ran a 1 minute long 128KB sequential test over the entire span of the drive at a queue depth of 1. The results reported are in average MB/s over the entire test length.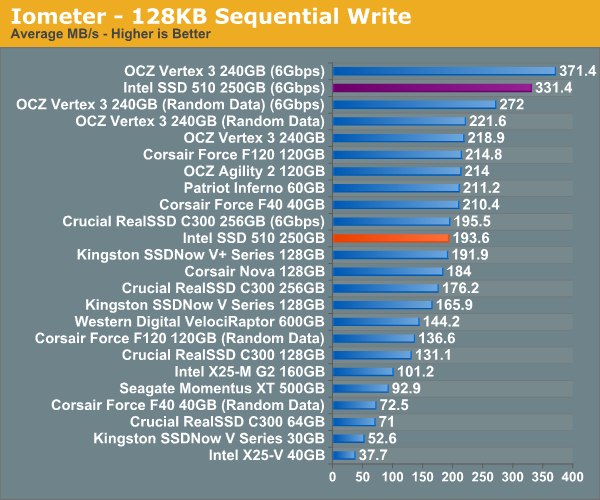 Sequential performance is another story entirely. When paired with a good 6Gbps SATA controller (in this case the H67's 6Gbps Port 1), the 510 is only 11% slower than the best case performance of the Vertex 3. Compared to the worst case performance for the Vertex 3, Intel's SSD 510 is 22% faster.
The comparison isn't as strong over a 3Gbps interface. Bound by the SATA interface, OCZ's Vertex 3's worst case performance is actually no different than its best case performance in 3Gbps mode. As a result, the Vertex 3 is consistently 13% faster than the Intel SSD 510.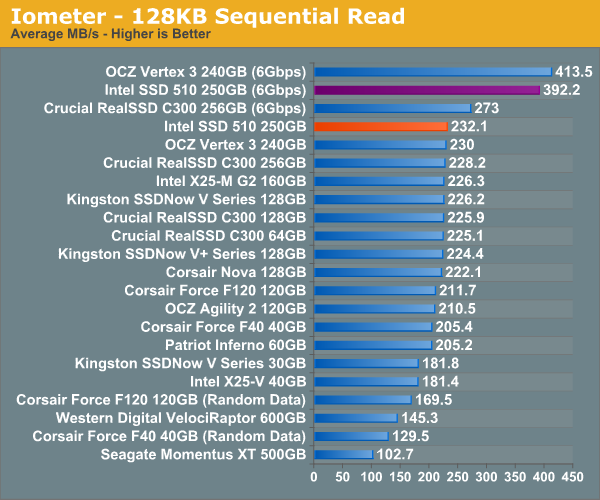 While the 510 isn't remotely competitive in random read performance, sequential read speed is within 5% of the OCZ Vertex 3 - without any real time compression/dedupe trickery. And over a 3Gbps interface the Intel SSD 510 equals OCZ's Vertex 3.