Fusion-Powered: Application and Futuremark Performance
This was my first experience with AMD's E-350 APU, a chip which has been the subject of some contention around here. Jarred and I are basically in agreement where performance is concerned and the general positive impact the chip can have on the mobile market: it's where netbooks probably needed to be all along, and should hopefully supplant Intel's lackluster Atom platform. Where we differ is our enthusiasm for it: Jarred feels Brazos was long overdue and isn't the quantum leap we were hoping for and expecting, which is a perfectly fair assessment. We needed Brazos a while ago, and AMD is late to this party.
That said, I'm happy AMD finally did show up. You'll see the E-350 isn't a massive jump forward from Atom, but it's enough of one to make the netbooking experience finally enjoyable instead of being a sluggish chore. Subjectively speaking, in regular use I found the dm1z to be nearly as responsive as my Lenovo ThinkPad X100e which is equipped with AMD's first generation Congo platform (though upgraded to an Intel X25-V SSD instead of the still-respectable Western Digital Scorpio Black mechanical drive.) So how does the E-350 actually fare when compared to mobile kit?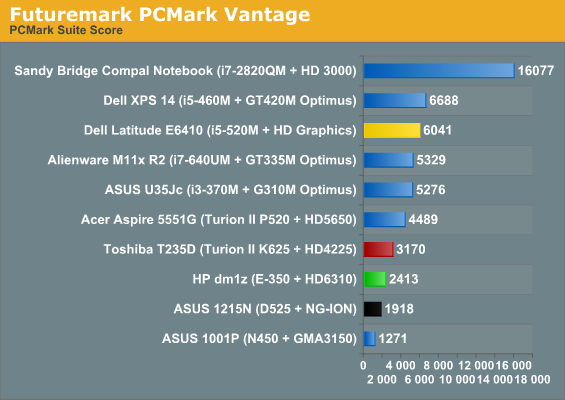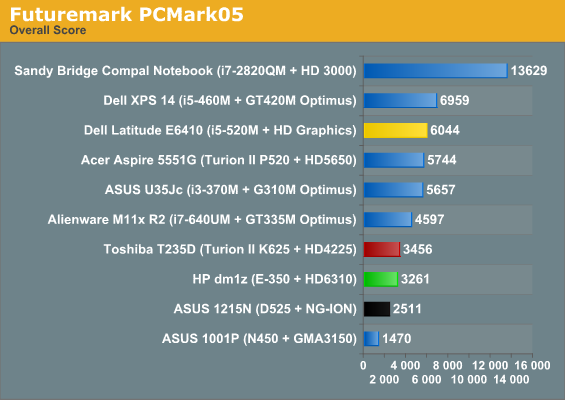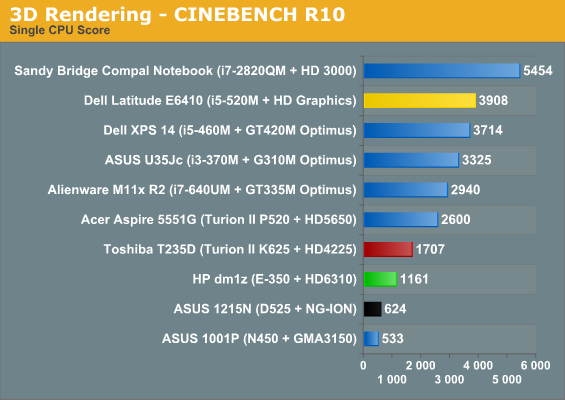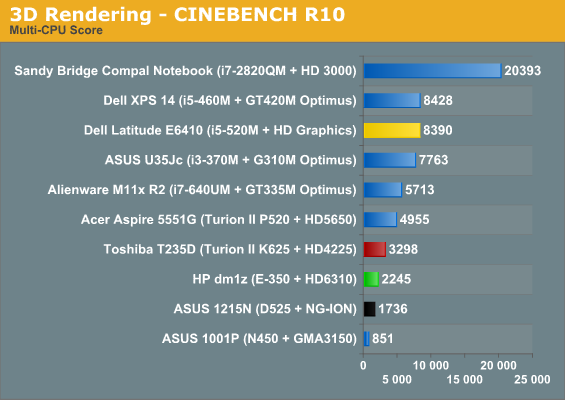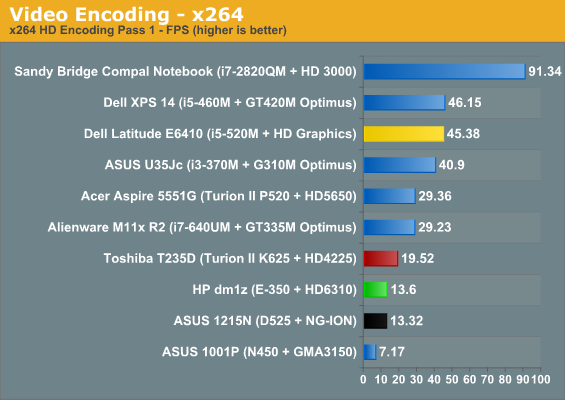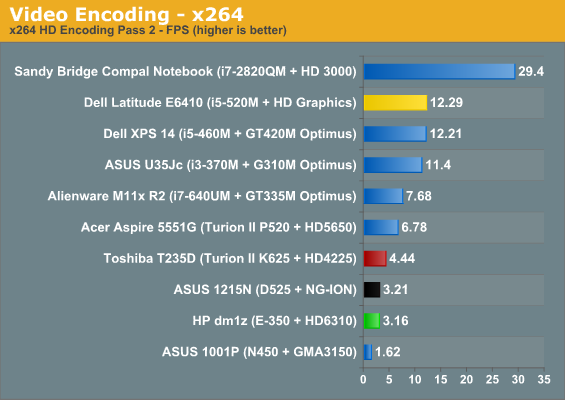 The first thing you'll notice is that while the E-350 generally cleans Atom's clock (the dual-core nettop D525 only comes out with a slight lead in the 2nd pass x264 encode), it's also generally about two-thirds as fast as the Nile platform's 1.5GHz Turion II K625. That's not too bad, but this is part of what Jarred's talking about, especially when you think about the Intel Core 2-based CULV kit that periodically kicks around the market (becoming stunningly rarefied). CULV hardware has also floated around the price point the dm1z is hitting shelves at, too, but it was fairly inconsistent. On the flipside, it does beat dual-core Atom equipped with NVIDIA's NG-ION, and this is a trend that's going to continue.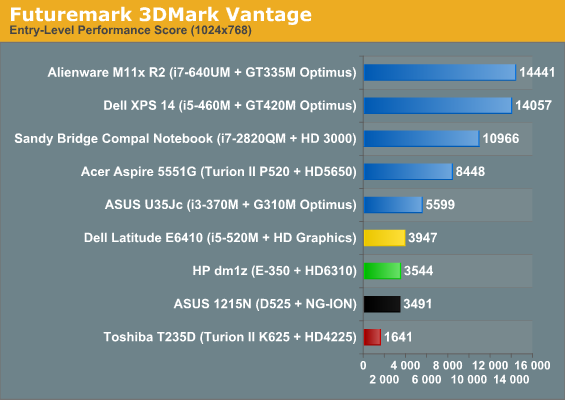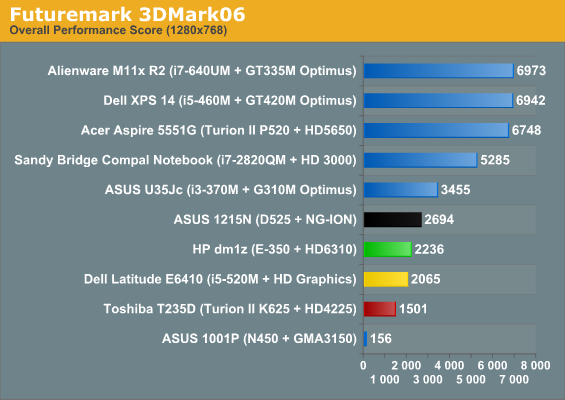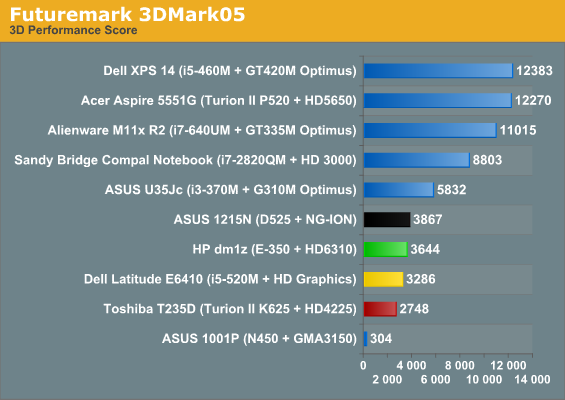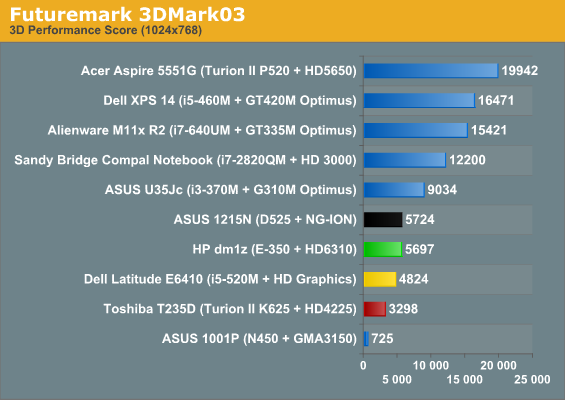 In 3DMark the E-350's integrated Radeon HD 6310 generally hangs out in the neighborhood of NG-ION, but it soundly beats Intel's last generation IGP (with better drivers and more stable performance to boot), and embarasses the Nile platform's Radeon HD 4225. That's not too surprising: in terms of raw GPU power the HD 6310 features twice the number of stream processors and a higher core clock.
If anything, the HD 6310 shows just how long in the tooth AMD's current IGP has really gotten: when it debuted as the 780G, it was a revelation, offering the best IGP performance bar none. The problem is that AMD just let it sit, offering new model numbers with no real performance increase outside of adding DirectX 10.1 support and bumping clocks slightly in some cases while serving us a warmed over Radeon HD 4550 in the form of the Radeon HD 5450 when they really should've just been integrating that hardware into their chipsets.
Ah well. With Brazos here now and Llano on the horizon, the era of AMD integrated graphics parts wearing out their welcomes should come to a close.