HTPC enthusiasts are rightly concerned about the noise factor, heat and power consumption, ease of usage and many other criteria. We will tackle each of these concerns one by one in this section.
Noise
While the Zino 410 is much better than both the ASRock Core 100 and Vision 3D in terms of noise levels, it is not the perfect ultra-quiet HTPC that some enthusiasts crave for. With performance comes the necessity to dissipate generated heat, and the Zino 410's capabilities and form factor mean that it can't be a passively cooled system.
Unfortunately, we don't have the exact noise levels for the Zino 410. However, listening to the Vision 3D, Core 100 and the Zino 410 separately in the same surroundings led me to the conclusion that the Zino 410 was the quietest of the lot.
Power Consumption
In order to get an idea of the power consumption numbers, the Prime95 and Furmark benchmarks were let run overnight to keep both the CPU and GPU completely loaded for an extended duration. Under these extreme conditions, we found the average power consumption to be 62.3 W. At idle, the average power consumption was 29.4 W.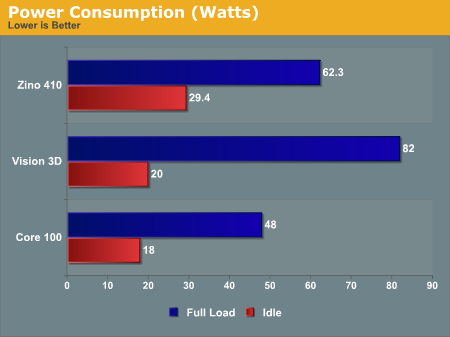 While load power conditions are better than the Vision 3D, it is not as efficient as the Core 100. As for idle power consumption, the system trails both the Core 100 and the Vision 3D.
Ease of Use
HTPC enthusiasts are concerned about how easy it is for their system to come out of standby. Existence of HDMI handshake issues upon return from standby is also a deal breaker for many. Fortunately, the Zino 410 has no issues in these two aspects.
Within Windows, the MCE remote can be made to work with a variety of applications such as XBMC, MediaPortal, MPC-HC and of course, Windows 7 Media Center. Blu Ray players such as PowerDVD and ArcSoft TMT can also be controlled with the help of the MCE remote. The wireless keyboard / mouse combo also supplants the remote for extended functionality.
One of the main drawbacks of pre-built PCs which come with Windows pre-installed is the bloatware. After the review unit finished booting up for the first time, I noticed that there were 67 processes active and 1.13 GB of RAM already utilized. On numerous occasions in course of the review, I was pestered to activate my McAfee subscription and also utilize Dell Backup and other such add-ons. It would have been nice to have some sort of switch to turn off the bloatware completely. Reinstalling the OS is also an option.