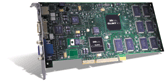 Right now, the 3D graphics market is in a bit of a mess. For years, there was a clear distinction between workstation level graphics cards and those that you would find in your own personal system. The distinction was made not only in performance but in price as well.
The idea of bringing workstation level graphics performance down to the desktop PC has been around for years and years, but recently, with the advancement of 3D graphics hardware technology, this has become a very possible reality. It was no longer necessary to spend tens of thousands of dollars in order to achieve that high level of performance on a $3000 PC. But this new technology wasn't the end of it.
The gaming industry has been pushing for higher fill rates, greater polygon throughput, and better image quality in order to make the overall gaming experience more pleasant. In the process, hardware manufacturers have been pushed to cope with 6 month product cycles and left with the task of taking the high end workstation level graphics performance and packaging it in a chip that can be sold on a card for less than $300.
The thought of the power of a high end graphics workstation being sold for under $300 is a scary thought to manufacturers that have based large amounts of their profit on expensive graphics accelerators that tailor to the needs of the professional community. However, this sort of intense competition is present throughout the industry, even within the high end community.