Final Words
It's still too early to draw any final conclusions about the Atrix 4G, I've got a lot more testing ahead of me in the weeks to come. I've shared quite a few of my thoughts in this preview already so the least I can do is recap them.
The build quality and form factor of the Atrix 4G are both excellent. I typically prefer large screen devices on Android and the 4-inch display in this case is perfectly matched. The Atrix isn't too thick and it doesn't feel cheap either. These are the things Motorola stands for and the Atrix 4G does not disappoint.
I have to take issue with the Atrix 4G name itself. As an HSPA+ phone you don't get the same network performance on the Atrix as you would from a WiMAX or LTE device.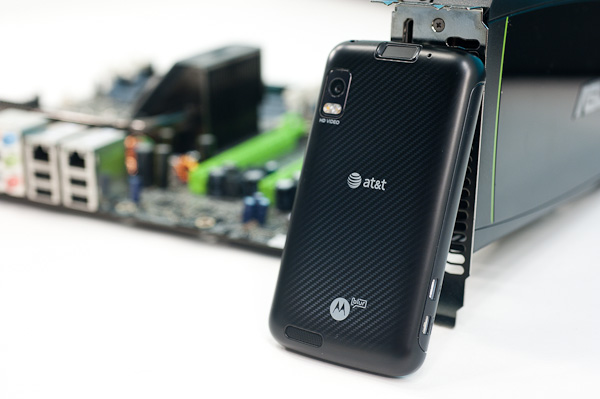 The PenTile LCD may be an issue for some. I'm mostly pleased with the display but I'm also not someone who is overly bothered by the PenTile grid. I do appreciate the 960 x 540 resolution in Android and that makes up for PenTile in my opinion. I realize that others won't feel the same way so if PenTile is an issue for you then this may be a deal breaker for the Atrix.
The Motoblur UI is ok. I don't consider it too much of a distraction but I also don't consider it a selling point over competing devices. I personally prefer it to the Optimus 2X UI, but I'd rather have something even closer to the stock Android interface/setup.
Motorola's Phone Portal is a neat idea. I like having the ability to look at my SMSes on my computer without having to get my phone. I'm not sure how frequently I'd use Phone Portal (I only really needed to use it for this article, so far I haven't had a real world use for it) but it's a nice feature to have.
Motorola also has the right mentality behind its hardware dock strategy for the Atrix, the only problem is pricing. The Laptop Dock is just too expensive - it realistically needs to be $199 at most. The HD Multimedia Dock is a little better if you have a HDMI monitor you can use, but it's not too useful for travel (since you have to still carry around a keyboard/mouse and you need a display with an HDMI input).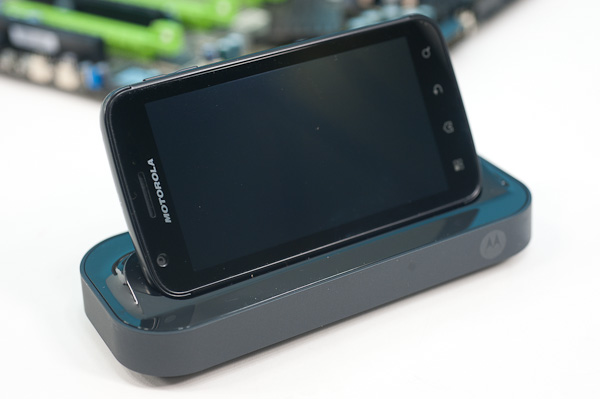 The webtop Linux environment has a lot of potential. I like the idea of being able to run a full blown desktop OS along with a desktop browser on your smartphone. Thanks to the Cortex A9s the performance surprisingly good for light browsing, but anything above and beyond that doesn't work well. While Motorola may add additional features here I'm betting we'll need a newer generation of SoCs before the webtop usage model makes practical sense.
Performance within Android is excellent thanks to NVIDIA's Tegra 2. My only complaint is the Atrix is still running Froyo and I want the GPU accelerated UI from Gingerbread. Other than some scrolling hiccups, the Atrix 4G is comfortably quick. It's my favorite Android smartphone I've used thus far. I realize that is typically how Android smartphones work. Each new flagship release is almost always the best until the next one comes along in a few months.
Minus the PenTile LCD and the arguably overconfigured Motoblur UI, I'd say the Atrix 4G is probably the best combination of build quality, feature set, battery life and performance I've seen in an Android smartphone thus far. I will reserve final judgement until I've spent more time with the device but so far that's what it feels like to me.
That being said, I am currently at MWC and I'm expecting a bunch of new Android smartphones to be announced based on TI's OMAP 4, NVIDIA's Tegra 2 and Qualcomm's 8660. While the Atrix 4G may be the best combination I've seen thus far, the year isn't even half over yet.