The performance of the Athlon has not changed since our last review, so feel free to visit our other CPU reviews such as the Pentium III 733 Review and the Athlon 700 Review for a full performance comparison of the Athlon to other CPUs. This article is mainly concerned with illustrating the performance advantage the Athlon 750 holds over the "slower" Athlon CPUs. For the sake of comparison, we have included two Intel CPUs in the tests at the bottom of each graph.
Making its first appearance in the AnandTech test setup is the ZD Content Creation Winstone 2000. As the name implies, Content Creation Winstone 2000 focuses on content creation applications such as Dreamweaver and Photoshop and is geared towards the more real world tests rather than running the same old business benchmarks over and over again. AnandTech will soon adopt a new standardized testing configuration, but until then here is a brief introduction to performance under the Content Creation Winstone 2000 tests.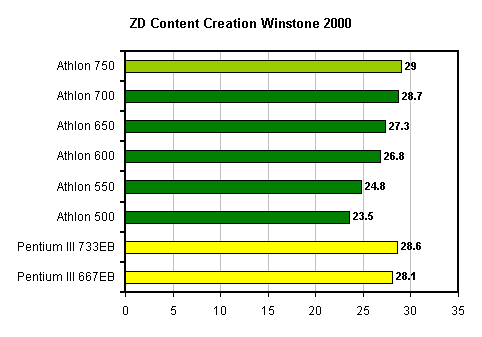 The Athlon 750 enjoys a small but noticeable lead over the Athlon 700, the reason for the small size of the lead is primarily because of the slower L2 cache of the Athlon 750 counteracting the benefits of the faster clock speed. In the end, the Athlon 750 comes out on top of the Athlon 700, but not by a large margin.