Sequential Read/Write Speed
To measure sequential performance I ran a 3 minute long 128KB sequential test over the entire span of the drive at a queue depth of 1. The results reported are in average MB/s over the entire test length.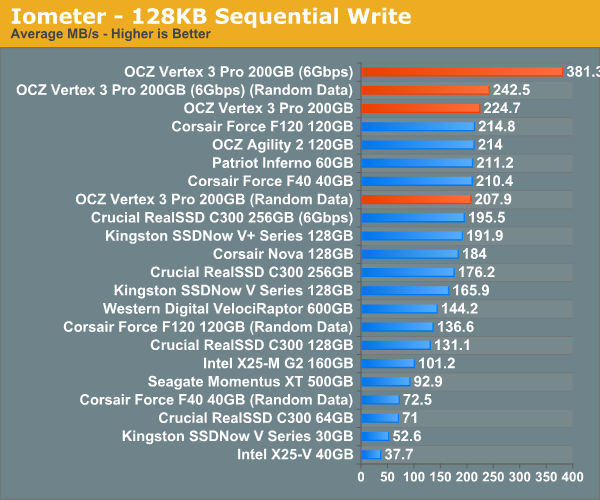 This is pretty impressive. The new SF-2500 can write incompressible data sequentially at around the speed the SF-1200 could write highly compressible data. In other words, the Vertex 3 Pro at its slowest is as fast as the Vertex 2 is at its fastest. And that's just at 3Gbps.
The Vertex 3 Pro really shines when paired with a 6Gbps controller. At low queue depths you're looking at 381MB/s writes, from a single drive, with highly compressible data. Write incompressible data and you've still got the fastest SSD on the planet.
Micron is aiming for 260MB/s writes for the C400, which is independent of data type. If Micron can manage 260MB/s in sequential writes that will only give it a minor advantage over the worst case performance of the Vertex 3 Pro, and put it at a significant disadvantage compared to OCZ's best case.
Initially, SandForce appears to have significantly improved performance handling in the worst case of incompressible writes. While the old SF-1200 could only deliver 63% of its maximum performance when dealing with incompressible data, the SF-2500 holds on to 92% of it over a 3Gbps SATA interface. Remove the SATA bottleneck however and the performance difference returns to what we're used to. Over 6Gbps SATA the SF-2500 manages 63% of maximum performance if it's writing incompressible data.
Note that the peak 6Gbps sequential write figures jump up to around 500MB/s if you hit the drive with a heavier workload, which we'll see a bit later.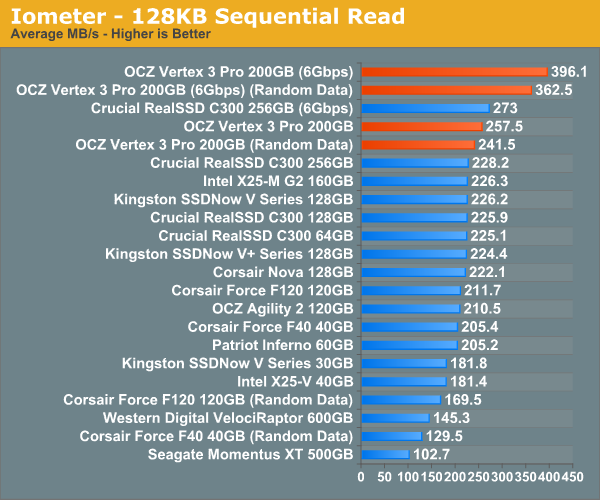 Sequential read performance continues to be dominated by OCZ and SandForce. Over a 3Gbps interface SandForce improved performance by 20 - 40%, but over a 6Gbps interface the jump is just huge. For incompressible data we're talking about nearly 400MB/s from a single drive. I don't believe you'd even be able to generate the workloads necessary to saturate a RAID-0 of two of these drives on a desktop system.