Unlike Sigma Designs, Atheros had no new silicon to show off at CES 2011. Instead, the focus was on increasing reliability and creating a better experience for consumers by making their current products run with better performance under adverse conditions.

Atheros termed this as 'Smart Link' technology. They indicated that this technology would roll out to all powerline adapters with 3 prongs. In simple terms, the current powerline adapters which are two pronged utilize the phase and the neutral wires for communication. The phase wire is affected by noise to a large extent. In case the ground wire is present, its usage over the phase wire can result in improved performance. Most surge protectors avoid any sort of filtering on the ground wire also. Smart Link technology determines dynamically whether the phase wire is affected with too much noise and decides to route through the ground wire.

Our biggest issue with Smart Link is that it will become available only on powerline adapters with three prongs. All the 500 Mbps offerings from Netgear and D-Link introduced at CES are two pronged versions. It appears that end users (who are purchasing the 500 Mbps powerline adapters in the North American market in the near future) will not be able to take advantage of 'Smart Link' even though it is only a firmware update.

When asked about next generation silicon in the powerline space, we were told that nothing new would be unveiled till the HomePlug AV2 standard gets ratified. In the meanwhile, Atheros is also working on their hybrid home network platforms (Hy-Fi) and the IEEE P1905 standard. While Atheros concentrates on HomePlug AV2 and IEEE P1905, it is the ideal time for G.hn silicon vendors to catch up.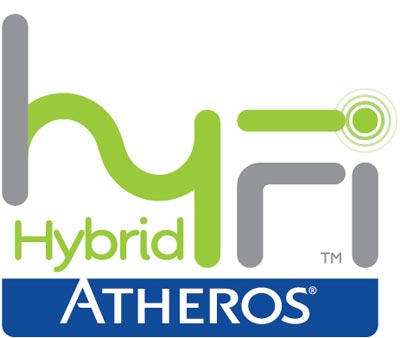 Atheros Hy-Fi for Hybrid Home Networks
The slow rollout of the AR7400 based 500 Mbps powerline adapters in the North American market is also puzzling. As Brian Dipert of EDN notes, the firmware in the North American versions don't seem to be optimized for performance yet. It remains to be seen as to how Atheros and its customers handle this issue.