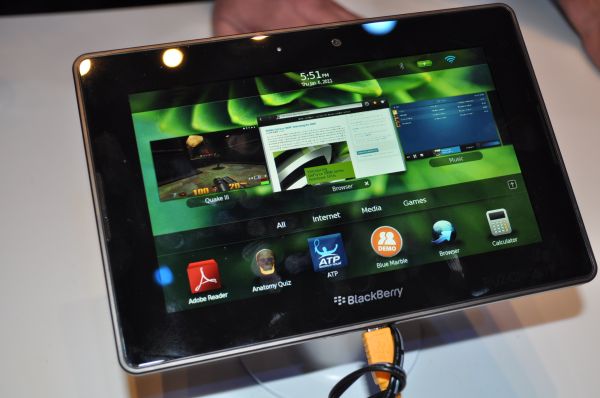 We were pretty eager to see the PlayBook, so we swung by RIM's booth to get our hands on the new tablet. Initial impressions of the 7" tablet show a lot of promise. RIM has done a great job with the BlackBerry Tablet OS, though most of the credit likely has to go to RIM acquisition QNX, whose real-time operating system provides the basis for the Tablet OS. The UI is very responsive and provides a clean break from the smartphone version of the BlackBerry OS.
RIM is being rather coy about the hardware, beyond saying that it has a 1GHz multi-core processor. However, we have heard very strong hints from multiple parties saying that there's a TI OMAP 4 SoC underhood, so you can basically pencil in the OMAP 4430's dual-core 1GHz Cortex A9 and PowerVR SGX 540. The 7" display has a 1024x600 resolution and appeared to have pretty decent viewing angles. There are two cameras here, a 3MP unit on the front and a 5MP unit on the back, as well as a micro-HDMI port. Dimensionally, the PlayBook is slightly larger and slightly thinner than the Galaxy Tab, as well as marginally heavier, but unless you have the two side by side like I did, you wouldn't be able to notice. The soft touch backing gives the device a very nice feel in hand.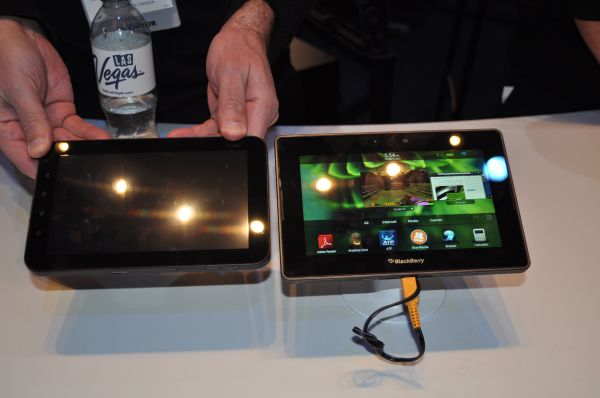 The PlayBook's interface is Apple-like in its grace and simplicity. Swiping your fingers left or right across the screen flips through multiple pages of the home screen. Sliding your fingers upwards gives you access to the multitasking menu with a live view of your running applications (similar to Win+Tab in Windows or Expose in OS X). In the web browser, the same action brings up a live view of the current tab set. Speaking of the browser, it has support for both HTML5 and Adobe Flash capability.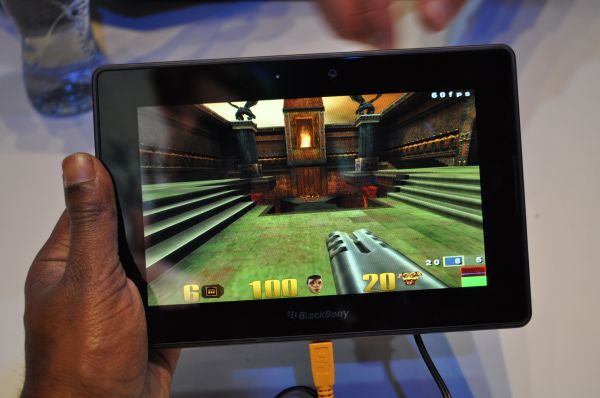 Multitasking performance is particularly impressive on the PlayBook. We were able to playback HD video, run a Quake 3 timedemo, and load a web page at the same time without any noticeable slowdown on the UI, and I saw another PlayBook unit running two 1080p videos simultaneously in the background with smooth browser performance and no dropped frames in either video.
We're looking forward to getting our hands on a production model of the PlayBook in the coming months, and RIM says that the WiFi-only model of the PlayBook should be out before April. A 3G/WiMAX-equipped PlayBook should be available later on this year. It looks like RIM is pretty serious about the tablet space, so it looks like Apple and Google will definitely have some solid competition in 2011.