Power Consumption: Better than Atom
Power efficiency was a big draw of Atom, but does AMD sacrifice any of that in order to deliver the performance it does with the E-350? To be blunt: no, not at all.
I don't have any pico PSUs or anything super efficient readily available so don't expect any of the numbers to be particularly impressive, but what they are is comparable to one another. I hooked up each one of the systems I'd been using to the same PSU and measured power in three conditions: idle, full CPU load (Cinebench 11.5) and while playing a 1080p H.264 video.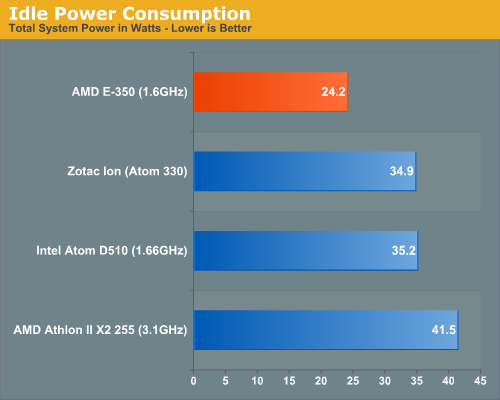 Pine Trail and the old ION platform consume just about the same amount of power at idle. The Athlon II system obviously draws more, in this case an increase of 17%. The E-350 uses less than 70% of the power of the Atom D510 system at idle.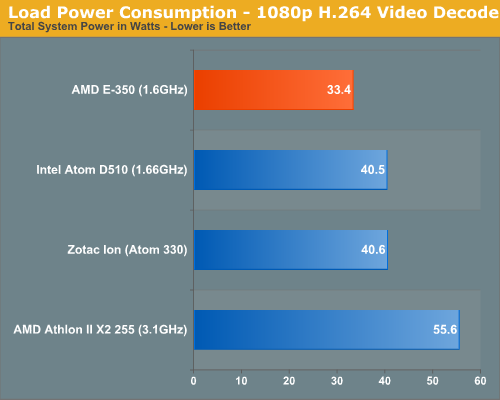 Under load the Brazos advantage shrinks a bit but it's still much lower power than Atom. While playing a H.264 you're looking at ~83% of the power of an ION system, and 85% under full CPU load.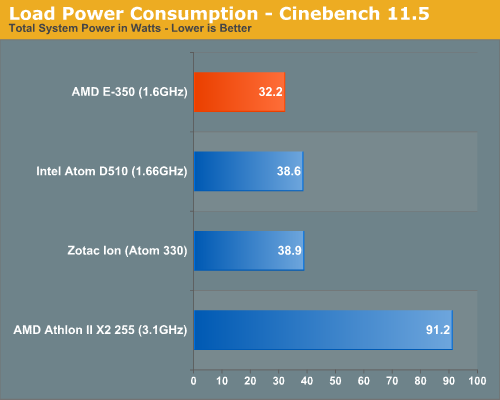 Say what you will about Intel's manufacturing process advantage, it's simply not put to use here with Atom. AMD's E-350 is higher performing and uses less power than Intel's 45nm Atom D510. Did I mention it's built on a smaller die as well?
I wanted to isolate the CP...err APU and look at its power draw exclusively. I ran the same three tests but this time I'm not measuring power at the wall, but rather just power over the ATX12V connector directly to the CPU.
At idle the E-350 APU only requires around 3W of power. That's actually not as low as I'd expect, especially given that Sandy Bridge is typically down at 4W when fully idle. AMD is apparently not being too aggressive with stopping clocks and gating when fully idle, at least on the desktop Brazos parts.
Power Consumption Comparison
ATX12V Power Draw
Idle
1080p H.264 Decode
Cinebench 11.5
AMD E-350
3W
8W
9W
AMD Athlon II X2 255
7W
12W
47W
Under load, either full CPU or when using the video decode engine, APU power consumption is around 8 - 9W. By comparison, an Athlon II X2 255 will use 12W when decoding video (this doesn't include the UVD engine in the 890GX doing most of the heavy lifting. The more interesting comparison is what happens when the CPU cores are fully loaded. The E-350 uses 9W running Cinebench 11.5 compared to 47W by the Athlon II X2.