Blu-ray & Flash Video Acceleration
Compatibility is obviously a strongpoint of Brazos. So long as what you're decoding can be hardware accelerated you're pretty much in the clear. But what about CPU utilization while playing back these hardware accelerated formats? The CPU still needs to feed data to the GPU, how many cycles are used in the process?
I fired up a few H.264/x264 tests to kick off the investigation. First we have a 1080p H.264 Blu-ray rip of Quantum of Solace, averaging around 15Mbps:
Quantum of Solace 1080p H.264 CPU Utilization (1:00 - 1:30)
Platform
Min
Avg
Max
AMD E-350
22.7%
27.8%
35.3%
Intel Atom D510
Fail
Zotac ION
14.6%
17.2%
20.1%
A standard Atom platform can't decode the video but ION manages a 17% average CPU utilization with an Atom 330. Remember that the Atom 330 is a dual-core CPU with SMT (4-threads total) so you're actually getting 17.2% of four hardware threads used, but 34.4% of two cores. The E-350 by comparison leaves 27.8% of its two cores in use during this test. Both systems have more than enough horsepower left over to do other things.
Next up is an actual Blu-ray disc (Casino Royale) but stripped of its DRM using AnyDVD HD and played back from a folder on the SSD:
Casino Royale BD (no DRM) CPU Utilization (49:00 - 49:30)
Platform
Min
Avg
Max
AMD E-350
28.1%
33.0%
38.4%
Intel Atom D510
Fail
Zotac ION
17.7%
22.5%
27.5%
Average CPU utilization here for the E-350 was 33% of two cores.
Finally I ran a full blown Blu-ray disc (Star Trek) bitstreaming TrueHD on the E-350 to give you an idea of what worst case scenario CPU utilization would be like on Brazos:
Star Trek BD CPU Utilization (2:30 - 3:30)
Platform
Min
Avg
Max
AMD E-350
29.0%
40.1%
57.1%
At 40% CPU utilization on average there's enough headroom to do something else while watching a high bitrate 1080p movie on Brazos. The GPU based video decode acceleration does work, however the limits here are clear. Brazos isn't going to fare well as a platform you use for heavy multitasking while decoding video, even if the video decode is hardware accelerated. As a value/entry-level platform I doubt this needs much more explanation.
Now let's talk about Flash.
I ran through a number of Flash video tests at both YouTube and Hulu ranging in resolution from 480p all the way up to 1080p. I used Flash 10.1, 10.2 beta as well as an unreleased version of 10.2 beta provided by AMD.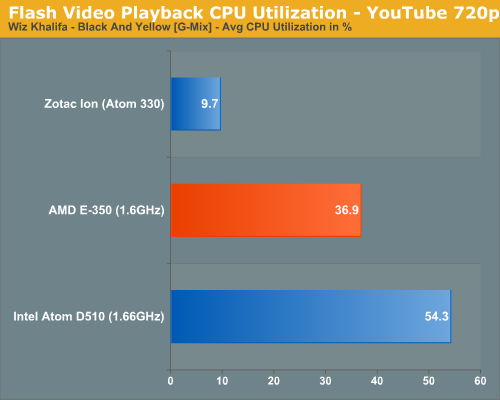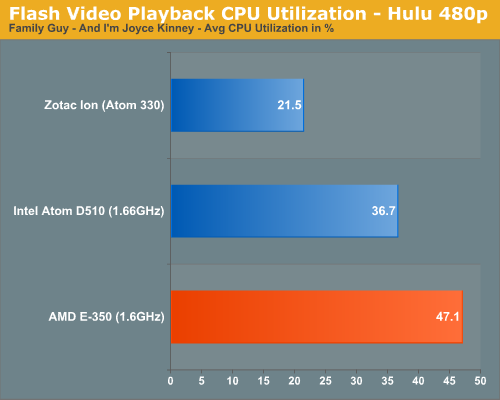 For the most part GPU accelerated Flash video does work well. Performance under both YouTube and Hulu was flawless, provided that I wasn't watching 1080p content. Watching 1080p content in YouTube wasn't entirely smooth on Brazos, despite posting very reasonable CPU utilization numbers.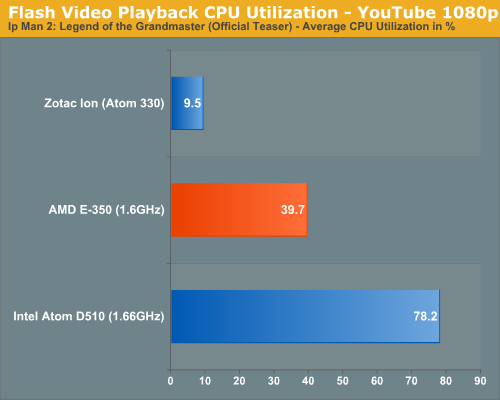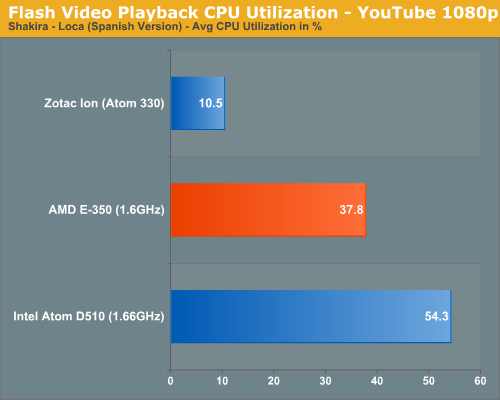 I took my concerns to AMD and was told that this was a known issue with Brazos and Flash 10.1 and that 10.2 should alleviate the issue. AMD then supplied me with an unreleased version of Flash 10.2 to allow me to verify its claims. While 1080p playback improved with AMD's 10.2 beta, it wasn't perfect (although it was very close). AMD wouldn't tell me the cause of the problem but it's currently working on it with Adobe. At the end of the day I don't believe it's a dealbreaker, but early Brazos adapters should expect some stuttering when playing back 1080p YouTube videos. Note that 720p and lower resolution videos were perfectly smooth on Brazos.