Gigabyte has five P67 motherboards up for the US Sandy Bridge release – the P67A-UD3, the P67A-UD3P, the P67A-UD4, the P67A-UD5 and the P67A-UD7. At least the naming scheme is as easy to follow as previous generations – the higher the last number, the more expensive the board and the more features on offer:
P67A Series
P67A-UD3
P67A-UD3P
P67A-UD4
P67A-UD5
P67A-UD7
Price
$130
$160
$190
$260
$320
SATA 6 Gb/s
SATA 3 Gb/s
eSATA
2
4
0
2
4
0
2
4
2
2
4
2
4
4
2
CrossFireX
SLI
Yes
No
Yes
No
Yes
Yes
Yes
Yes
Yes
Yes
USB 3.0
USB 2.0
2
12
4
14
4
14
8
10
10
8
LAN
1
1
1
1
2
PCIe
2 x16
(1 x16, 1 x4)
2 x16
(1 x16, 1 x4)
2 x16
(2 x8)
3 x16
(2 x8, 1 x4)
4 x16
(2 x16 or 4 x8)
Visual Inspection
One of the first things I noticed about the P67A-UD4 was that it was not blue and white, like the majority of the Gigabyte motherboards have been recently that I have worked with. Predominantly featuring a black PCB, black PCIe connectors, black DIMM slots, black SATA 3Gb/s ports, a splash of white for SATA 6GB/s, silver chipset/FET coolers and a hint of old Gigabyte blue on those coolers is what we get this iteration. Not the whole range is like this – I have a H67 Gigabyte board on my desk here and that retains the blue and white credentials, as does the P67A-UD3.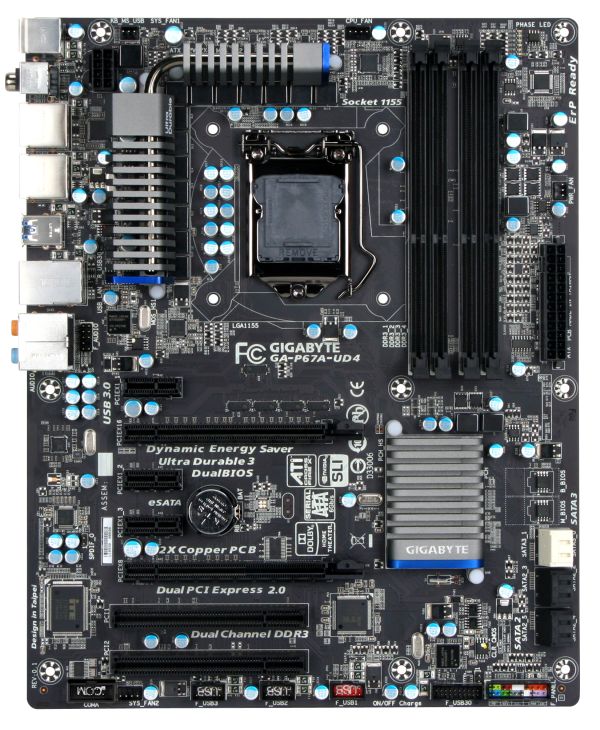 The PCIe layout is slightly different to other P67 boards I have reviewed – with only two PCIe x16 slots (going to x8/x8 in dual GPU mode), there is an extra PCIe x1 slot on the board. In a dual GPU setup, this leaves two PCIe x1 and a PCI slot still free on the board, as well as a gap between dual slot GPUs to aid in cooling.
Fan headers on the board are located near the 8-pin power connector, one above the socket, one above the 24-pin power connector, and one below the PCIe slots, which would only be covered if you have a dual slot PCI card.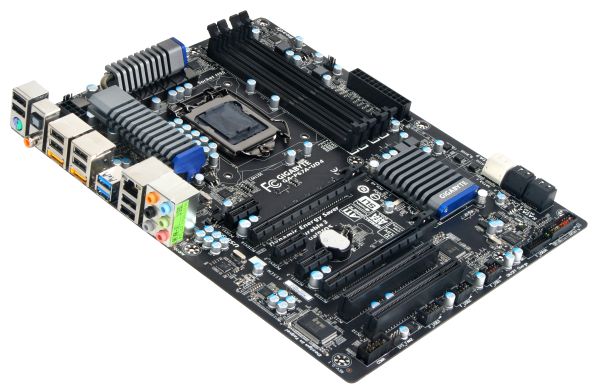 Gigabyte's dual BIOS system is on this board. Yes, that is right – BIOS. No UEFI here. Well, that's not strictly true, as one of the latest BIOS updates at the time of writing (F6) implements an EFI into the BIOS, reportedly allowing bootable access to hard drives over 2.2TB. This is due to, as Gigabyte explained, that their board is actually UEFI, but without a proper GUI interface like other boards. They've used the old BIOS-style interface for now, as after years of plugging away they believe it's quick, stable and recognisable for consumers to understand. So underneath, it's truly 64-bit, meaning 2.2TB+ partition support is possible, and could also suggest that a new GUI is coming in the future. I asked about time-scale for this, but Gigabyte were undoubtedly tight-lipped about dates and implementations.
Visually, in terms of the board, there is not much else to say – the space between the socket and the PCI slots is virtually clear. There are no power, reset or clear CMOS buttons on board, neither is there a debug LED, and which is a real shame given that ASRock can do it on a $150 motherboard. Compared to the ASUS board, all the energy saving and turbo performance options are all software based – no easy flick of switches here.

Like the other P67 boards, the back panel is regular as well. Only a single PS/2 connector, 8 USB 2.0 ports, 2 USB 3.0 ports, 2 eSATA ports, S/PDIF Out connectors, a single gigabit Ethernet, and audio I/O.