Everyone, say hello to Raj Talluri.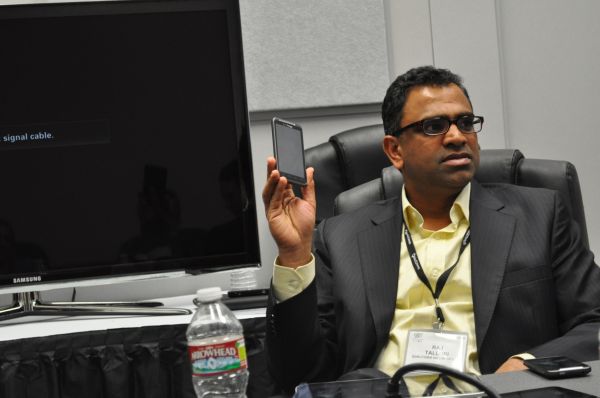 Raj works for Qualcomm, and his job description basically reads "like a boss." He's the VP of Product Management, so he's in charge of overseeing the development of the entire Snapdragon chip, from the Scorpion CPU to the Adreno GPU, as well as Qualcomm's other application processors. He started off the roundtable with a demonstration of the next generation Snapdragon development platform, with a Snapdragon MSM8x60 processor inside.
The MSM8x60 has two Scorpion cores clocked at 1.2GHz and the Adreno 220 GPU, is built on the 45 nm process, and is set to show up in smartphones and tablets later this year. Like other Qualcomm SoCs, there are two variants - the 8260 and the 8660. The 8260 has GSM, UMTS and HSPA+ support, while the 8660 adds support for CDMA2000, EV-DO Rev. 0, Rev. A, and Rev. B. Like we've seen with nearly all Qualcomm SoCs, 2 denotes GSM/UMTS and that suite of technologies, 6 adds CDMA2000 and EV-DO support.

The development platform is just a square handset, there's no real industrial design to speak of. It's mainly there to give developers a platform to use before handset manufacturers release the final hardware to market. Using that reference hardware, Qualcomm demoed a lot of different things, including physics-enabled games on the new Adreno 220 graphics processor, high definition stereoscopic 3D video, and multi-party video conferencing. Unlike Tegra 2, which can clock gate cores but cannot power gate the second core, scorpion cores can be independently turned off to conserve power as well as be clock gated. Qualcomm showed multi-page web-browsing with the second core enabled and disabled to illustrate the performance difference.

During this entire thing, Qualcomm was taking video of Raj and the rest of us bloggers talking, as well as post-roundtable interviews of the crew. There's a great clip in here about Anand's shoes that you really don't want to miss!