File Compression/Decompression Performance
Par2 is an application used for reconstructing downloaded archives. It can generate parity data from a given archive and later use it to recover the archive
Chuchusoft took the source code of par2cmdline 0.4 and parallelized it using Intel's Threading Building Blocks 2.1. The result is a version of par2cmdline that can spawn multiple threads to repair par2 archives. For this test we took a 708MB archive, corrupted nearly 60MB of it, and used the multithreaded par2cmdline to recover it. The scores reported are the repair and recover time in seconds.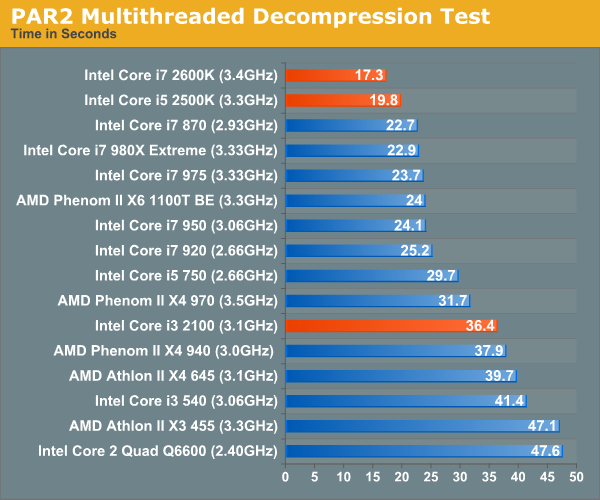 Here both the K-series SKUs are faster than the 980X. The Core i3 2100 manages a 13% lead over the Core i3 540.
In all of our compression tests, Sandy Bridge does very well. The 2600K is faster than the 980X in the real world compression tests, while the 7-Zip algorithm benchmark is fully threaded and shows you what would be possible with 6-cores.