Test Setup
Processor
Intel i5-2500K ES—3.3GHz (3.7GHz Turbo)
4 Cores, 4 Threads, 6MB L3
Motherboards
ASRock P67 Extreme4
Cooling
Corsair H50-1 Water Cooler
Power Supply
Enermax Modu87+ 600W 80PLUS
Memory
Patriot Viper Xtreme DDR3-2000 9-10-9-27 2x4GB Kit, 1.65V
Patriot Viper Xtreme Division 2 DDR3-2133 9-11-9-27 2x2GB Kit, 1.65V
Memory Settings
Patriot Viper Xtreme Division 2 2x2GB @ DDR3-1333 9-9-9-27
Video Cards
XFX HD 5850 1GB
Video Drivers
Catalyst 10.12
Hard Drive
Intel X25-M 80GB SSD Gen2
Optical Drives
LG GH22NS50
Case
Open Test Bed—CoolerMaster Lab V1.0
Operating System
Windows 7 64-bit
USB 2/3 Testing
Patriot 64GB SuperSonic USB 3.0
Each motherboard received a fresh operating system install before testing and benchmarking. For multi-GPU comparisons, dual XFX HD5850 GPUs at stock clocks were used with Catalyst 10.12 drivers. Memory is set at DDR3-1333 C9 to allow comparison to future H67/H61 motherboards.
Many thanks to Patriot Memory for sending their Viper Xtreme DDR3 kits to use in reviews. The 2x4GB kit, specifically for dual-channel operation, is rated at 2000MHz, CAS 9-10-9-27 at 1.65V and retails for $175. The 2x2GB Division 2 kit, also for dual-channel, is a newly released part by Patriot, specifically for P67, and runs at 2133MHz, CAS 9 11-9-27 at 1.65V. I am informed that this kit will retail for around $100.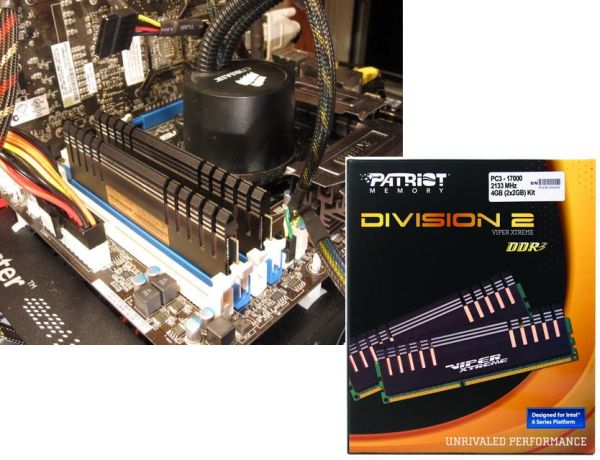 Another comparison point for this review is an X58, socket 1366 system, based on the ASRock Extreme3 board that I reviewed in 2010. Quite a lot of people will have invested in an X58 system over the past twelve months, in the pursuit of performance, and it will be interesting to see how the stock i7-920 processor, and the P67 systems with the i5-2500K processor, compares.
Test Setup
Processor
Intel i7-920 d0—2.67GHz (2.93GHz Turbo)
4 Cores, 8 Threads, 8MB L3
Motherboards
ASRock X58 Extreme3
Cooling
Akasa Nero
Power Supply
Enermax Modu87+ 600W 80PLUS
Memory
Corsair Vengeance DDR3-1600 9-9-9-24 3x4GB Kit, 1.50V
Memory Settings
Corsair Vengeance DDR3-1333 9-9-9-24 3x4GB
Video Cards
XFX HD 5850 1GB
Video Drivers
Catalyst 10.12
Hard Drive
Samsung PB22-J SSD 60GB
Optical Drives
LG GH22NS50
Case
Open Test Bed—CoolerMaster Lab V1.0
Operating System
Windows 7 64-bit
The results for other P67 motherboards are included also in this review to provide points for comparison. Full reviews for these boards will be published shortly. A note on the Gigabyte P67A-UD4 board - the latest BIOS at time of writing (F5) seems to have issues with its Turbo mode, resulting in a 1x multiplier increase rather than the expected 4x when one core is active. As such, results from the UD4 in single threaded benchmarks may be lower than expected. These results will be updated if the BIOS is fixed by the time that review is published. Update: The F7 Beta BIOS for the UD4 implements turbo correctly - the graphs have been updated.
UEFI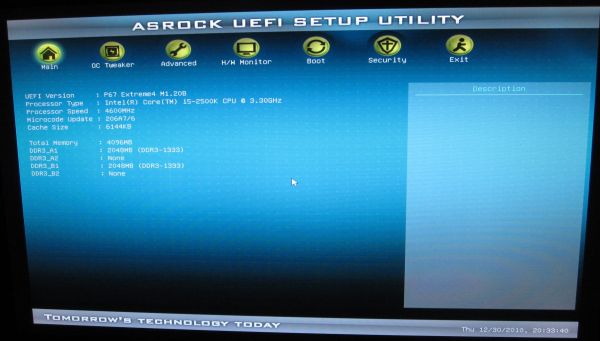 One of the main features of the Sandy Bridge platform is the new BIOS interface, the Unified Extensible Firmware Interface (UEFI). Almost everything about the UEFI is similar to the BIOS system of old—the menus and the options are identical. The only difference is the GUI—we now get colors and images (which I can see getting more elaborate as the system grows in time), and the use of the mouse. Each vendor's UEFI implementation will be visually quite different, if they've implemented it at all.
Initially, you will find that in the Extreme4 UEFI, the mouse wheel does not work. This is not a massive deal-breaker, by any means. I still prefer using the keyboard to navigate all the options, and I had no issues in using the arrow keys. You can't use the number pad to put in voltages and such, which would be a nice touch.
The main menu option of choice is the optimized CPU OC setting. In general, it is best not to trust this option on any motherboard, but ASRock have done a good job here. It offers auto-overclocking settings from 4.0GHz to 4.8GHz in 0.2GHz steps, which as I'll talk about below, the 4.6GHz setting is the preferential setting for our 24/7 overclock.
The CPU multiplier and BCLK are fully adjustable. The memory timings are linked for every memory stick in the board—as this isn't the highest end board, we didn't expect the ability to set every channel independently. The board also allows saving up to three profiles, and OC recovery worked when we overclocked to 5GHz while setting a low voltage.
One thing of note is that the ASRock UEFI version 1.20B sets the BLCK over the 100MHz standard. ASRock have set this at 100.4MHz (even though this isn't visible in the UEFI, only in the OS), meaning that they hope to gain a 0.4MHz BCLK advantage over other manufacturers at stock speed. We experienced no instability due to this, so we will see how this affects the results against other motherboards.
As a first go, the ASRock UEFI interface isn't radically different, but it works well. We're more interested in seeing the UEFI system enhancements over the coming months! It opens up a lot of new options if anyone puts the necessary effort into it, so we could see some very cool additions down the road.