Kinectimals
Kinectimals isn't really a title marketed at me, but no doubt will sell Kinect to the younger crowd. The frustration in Kinectimals is really only one thing - there's a big long cutscene at the beginning you can't skip, and the disadvantage to not having a controller is that you simply lack controls to mash and skip ahead with. Even after the long cutscene, there's a monologue from about all the backstory. I guess I'm wondering how a child is going to sit through all that if even I found myself wishing I could reach out and hit skip.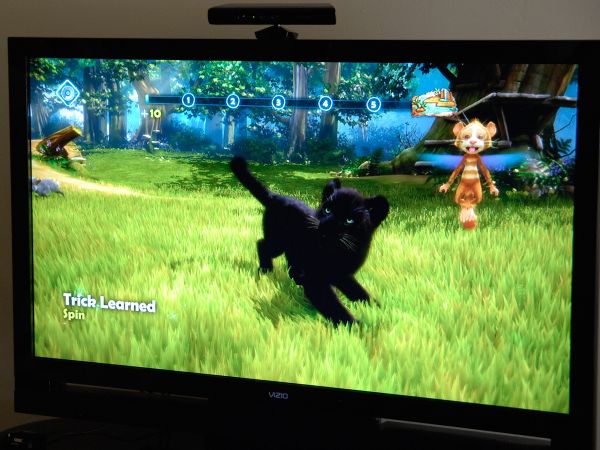 There are driving minigames which employ the same two-fists-out steering techniques that Kinect Joy Ride does, and other minigames with underhand and overhand tosses which punctuate long periods of playing with your chosen animal. Actually interacting with your pet is unnervingly well done, but it seems like that portion of the game is frequently punctuated by events and circumstances that yank you away to do other things.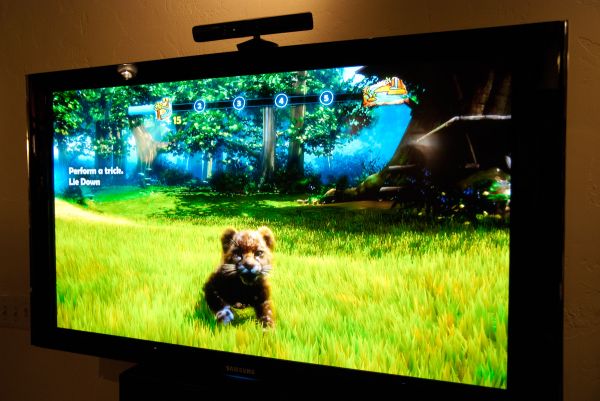 Kinectimals also has the only instance (at least that I've seen) of object-identification and profiling. Back in the E3 videos for Kinect, I remember someone scanning an object, then using it inside the game - unfortunately that's all but removed in the Kinect being sold now, but there's a tiny bit of it left in Kinectimals. When you select an animal, you're given the opportunity to associate it with a real world object - a trinket, a picture, something within arm's reach.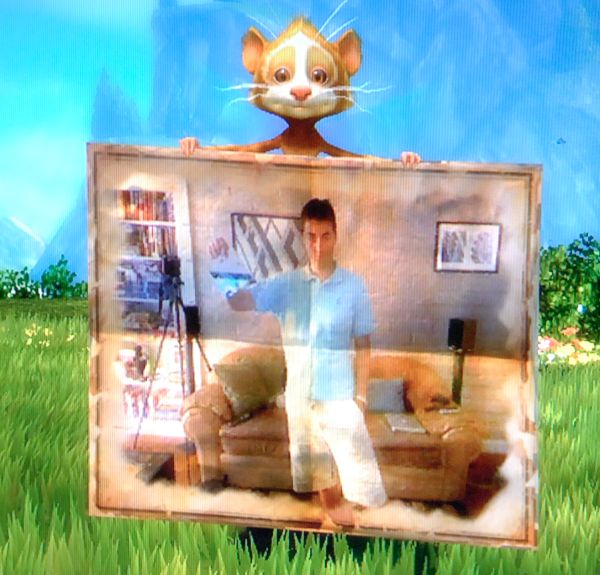 You can see me holding up the coaster here for training
The first thing I grabbed was one of my coasters (which I made from some old 10 cm wafer masks), which basically look like square mirrors or glass depending on what layer they were taken from (solder mask, e.t.c.).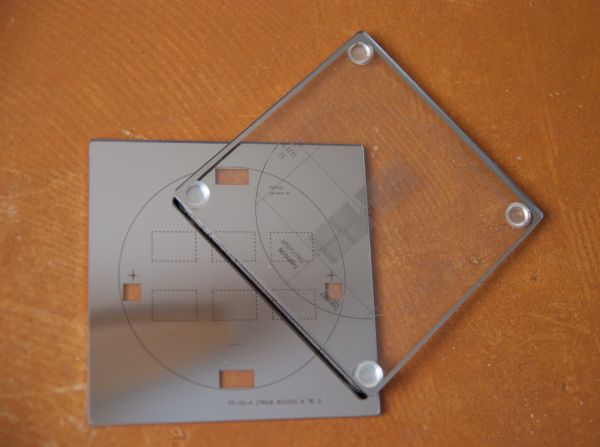 Admittedly, that isn't exactly the fairest of objects to try with this kind of recognition, but it was honestly what was on my coffee table within arm's length. That didn't go down so well, so I grabbed something else, which did work. You can then hold this object out and select the animal associated with it.
Kinect Joy Ride
Kinect's driving game is probably the least favorite title of mine in the Kinect launch roundup. When I first saw the Joy Ride demo videos online, I knew that the title would have to emply a significant amount of assists to actually get you around corners. For one, gas and brakes are completely out of the question, and Joy Ride is at least forthcoming about how the go fast and slow down bits of the game are totally handled for you. However, the game employs a substantial amount of auto-steering to get you around the track - your input essentially trims out the driving direction a bit more.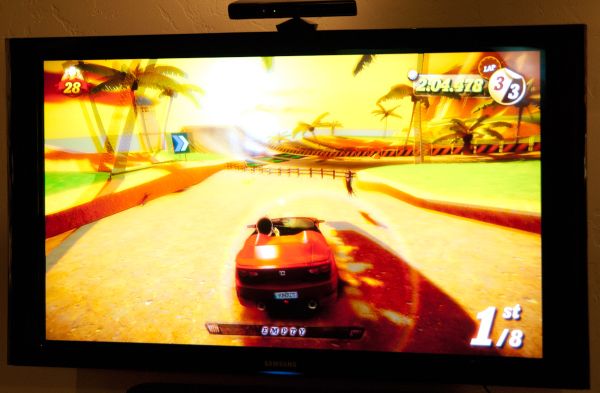 The steering gesture involves keeping two fists out in front of you, and turning an imaginary wheel in midair. You can lean and pull your hands back to charge a boost, and push forwards to temporarily go faster, but most of the actions that will determine your performance in the race are how well you drive over acceleration strips and do tricks midair from leaning side to side.