Civilization V
The other new game in our benchmark suite is Civilization 5, the latest incarnation in Firaxis Games' series of turn-based strategy games. Civ 5 gives us an interesting look at things that not even RTSes can match, with a much weaker focus on shading in the game world, and a much greater focus on creating the geometry needed to bring such a world to life. In doing so it uses a slew of DirectX 11 technologies, including tessellation for said geometry and compute shaders for on-the-fly texture decompression.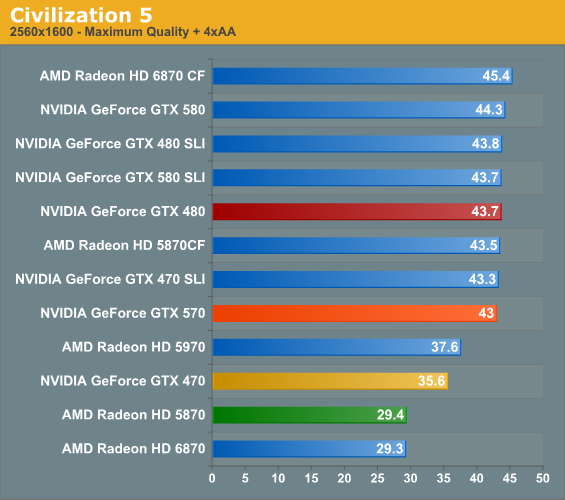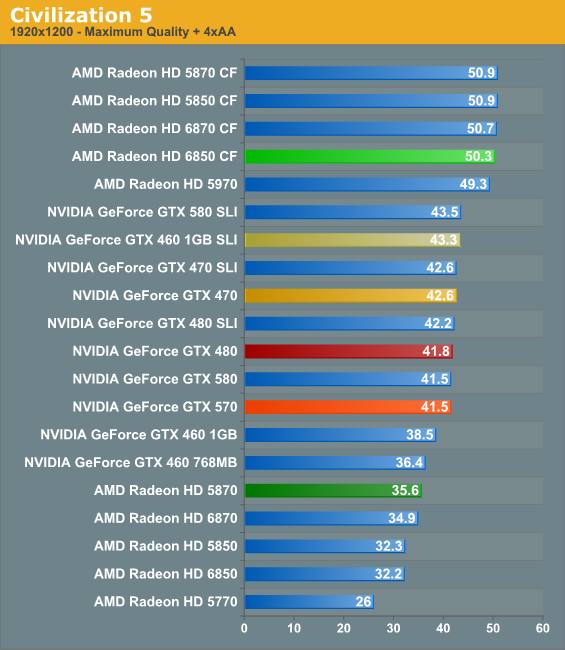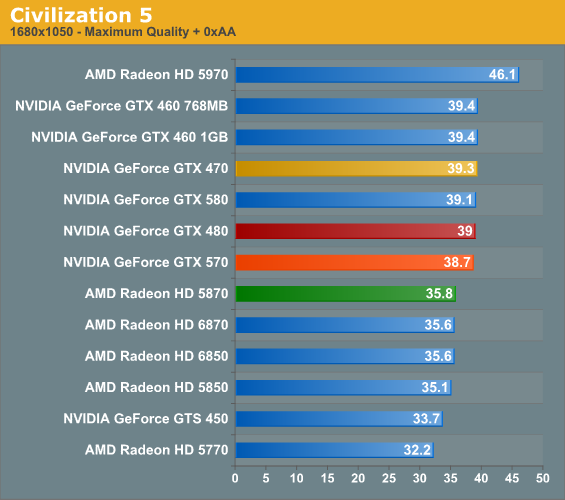 Civ 5 is a very interesting game for us. It's one of the few games we've ever tested where performance increases with resolution, something we're content to attribute to its unique use of DX11 features and what may be a better match between tessellated triangles and 16 pixel quads at higher resolutions. The result is that while it's CPU limited most of the time, there's very little reason to not crank up the resolution to your monitor's native resolution.
Because we're CPU limited several things are going on. Until we hit 2560 the 470, 480, 570, and 580 are all effectively tied with each other, with the 470 finally falling behind in the end. As a result at 2560 it appears that a GTX 570 is all that's necessary to take full advantage of the game. Meanwhile NVIDIA has always done better than AMD here in single-GPU scenarios, so the Radeon 5870 is nearly 20% behind the GTX 570. On the flip side the 6850CF shoots well ahead of the GTX 570, hitting what appears to be the cap for AMD cards at around 51fps.