The Boxee Remote
You have two options for controlling the Boxee Box. You can use the Boxee iPhone Remote app (free) or the bundled Boxee remote.
It's surprising that Boxee/D-Link were the first to build a remote like this. You have a simple remote control on one side, and a full QWERTY keyboard on the other. Pure genius. As a result the remote is pretty large - taller than your average smartphone, but incredibly versatile.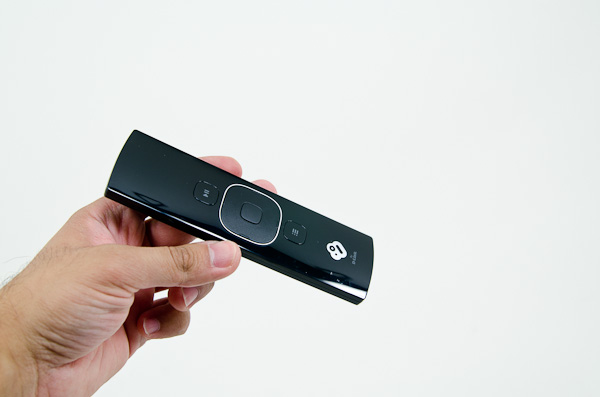 The actual remote side has three buttons and a directional pad. The topmost button is a play/pause button, that is only useful for playing or pausing content. The bottom button is a menu button which doubles as a back button depending on context. The directional pad is used for menu navigation, as well as volume output on the box. With your TV already on, you can effectively control everything you need to via the Boxee remote alone as a result. In the center of the dpad is a third button used to select menu items (and also to bring up a playback menu in certain situations). The multiple roles the buttons have to play can be frustrating for new users because there's often little consistency. Try adjusting volume up/down before you take a web video full screen and you'll get an error telling you that the video you're watching doesn't support the skip ahead function. Then there's the Pandora app which uses up/down on the dpad for menu navigation and there are a separate set of -/+ controls for adjusting the volume.
Because of the simple front, the remote is easy to hold the wrong way. Whenever I grabbed the remote without looking I often found myself holding it upside down. Button feel is disappointing. All of the buttons feel very cheap and they've got this plasticky click to them.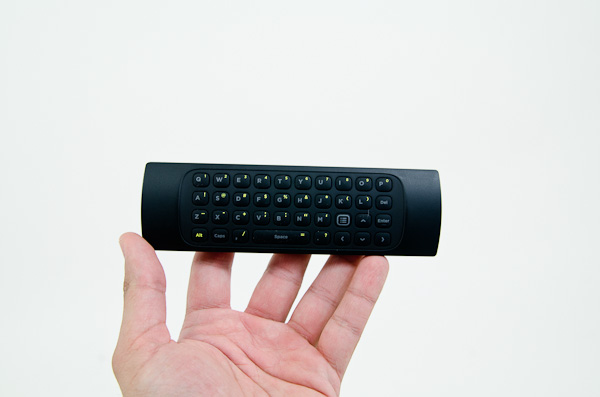 The QWERTY keyboard is a wonderful addition to the remote as it makes all text entry a non-issue. You can fill text input fields you encounter with the remote's keyboard. It's much easier than hunting for letters via the onscreen keyboard, although you do have that option if you like torturing yourself. The remote's keyboard is super convenient and avoids the silliness that we've seen with Sony's Google TV remote/keyboard/Atari-Jaguar-controller-imitation.
The Boxee remote communicates with the box via RF and not IR, so you don't have to point it at the box. Range is also good over RF, I measured about 50 feet through a wall and down a hall before the remote stopped responding.