Thermal and Noise Testing
For testing the 600T, I actually used the components from my personal system in the Antec P182. Noise was measured using an Extech SL10 sound meter, while temperatures were measured conventionally using HWMonitor. The test system specs are as follows:
Test Configuration
CPU
Intel Core i7-930 overclocked to 3.6GHz, undervolted to 1.125v
Motherboard
Gigabyte GA-X58A-UD3R rev. 2.0
Graphics Card
XFX Radeon HD 5870 1GB GDDR5
Memory
3x4GB Corsair Value Select DDR3-1333
Drives
Memorex DVD+/-RW Combo Drive
LG HD-DVD/Blu-ray/DVDRW Combo Drive
2x Western Digital Caviar Blue 640GB (RAID 1)
2x Samsung SpinPoint F3 1TB (RAID 0)
Kingston SSDNow 64GB
CPU Cooler
Xigmatek Dark Knight S1283 w/ Nexus Silent 120mm Fan
Power Supply
Corsair 750HX Modular Power Supply
My machine isn't particularly noisy to begin with, but it's reasonably powerful and the Core i7-930 can still generate its share of heat. To generate load temperatures and noise, I ran 3DMark06 in a loop with Prime95 in the background and left it running for fifteen minutes at a time. The system was tested with the fan controller at its lowest and highest settings, and the sound meter was positioned one foot away from the tower, on a tripod, pointed directly at the side of the case.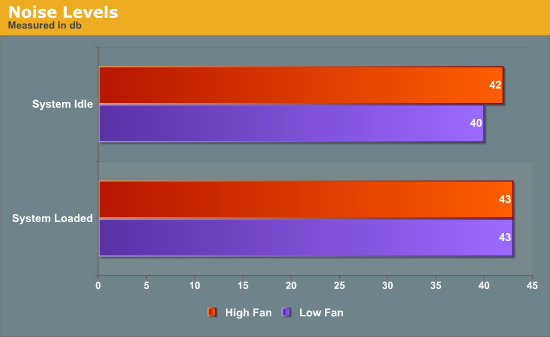 Right away we can tell the fan noise isn't appreciably higher with the controller maxed, but these numbers are also excellent. Subjectively, it has to be nearly dead silent in the apartment for me to be able to hear the tower running, idle or under load. And for those that are curious, the Nexus 120mm fan produces temperatures comparable to the Xigmatek's stock fan at substantially lower RPMs and noise levels.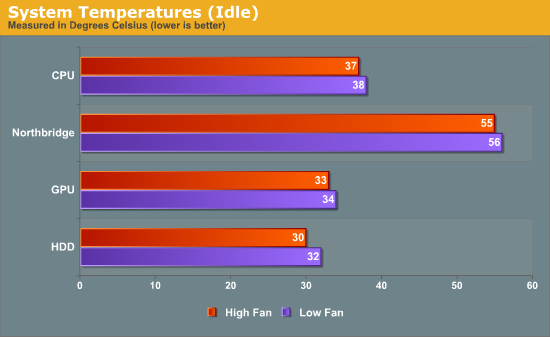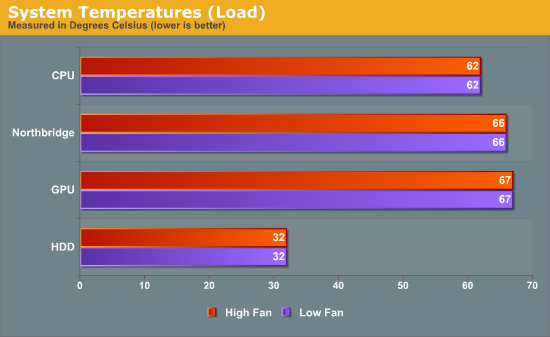 Once we move into temperature testing, we can see that temperatures are generally pretty solid and that yes, all the other reviews are right: the fan controller and differing fan speeds just don't matter that much. The 200mm fans do seem to move enough air to keep everything fairly cool given the extreme load the system was placed under for stress testing. Since the hard drives are directly behind the front intake, they also remain exceptionally cool. As Martha Stewart would say, it's a good thing.