ASUS UL80Jt Gaming Performance
The UL80Jt has an NVIDIA G 310M, with NVIDIA's Optimus graphics switching technology enabled. It's a dedicated graphics card, but really that's not saying much. As far as dGPUs go, it's basically as slow as you can get and at the end of its lifecycle. NVIDIA has already announced its 400M series, and we sincerely hope that the GT 415M that replaces the G 310M at the bottom of the lineup can improve performance significantly (and it should, with three times as many cores and a 128-bit memory interface). More than that, we hope ASUS will quit with the 310M and use the faster 415M sooner rather than later.

We already have integrated graphics solutions nipping at the heels of the G 310M, and with Sandy Bridge and AMD's Zacate on the horizon, they can only get closer or maybe even surpass it. And let's face it—the current 11" MacBook Air (yeah, that 0.68" thick, 2.3lb paragon of industrial design) can run rings around anything with a G 310M inside. When you're being beaten out by glorified netbooks, you know your GPU is ripe for replacement.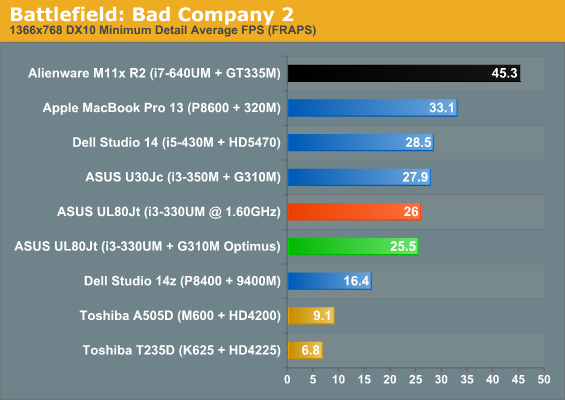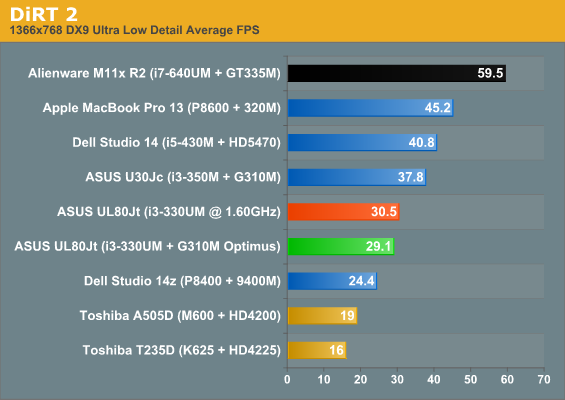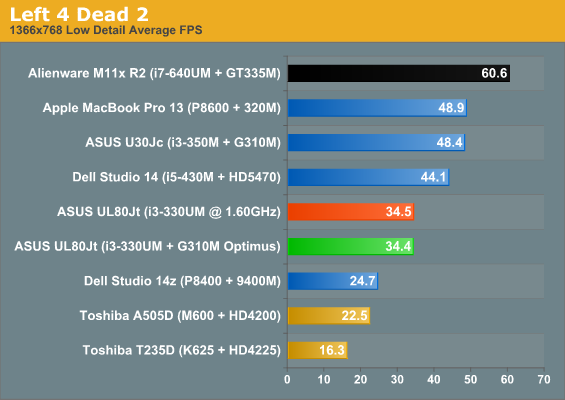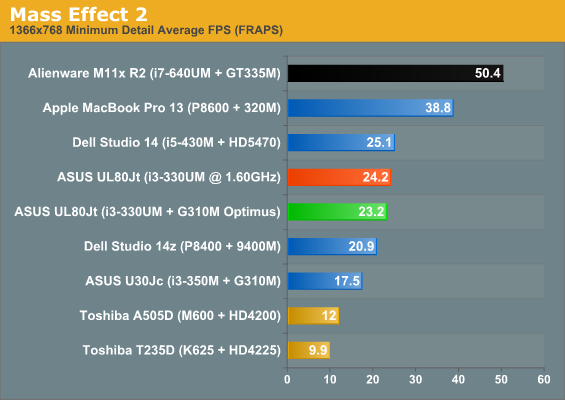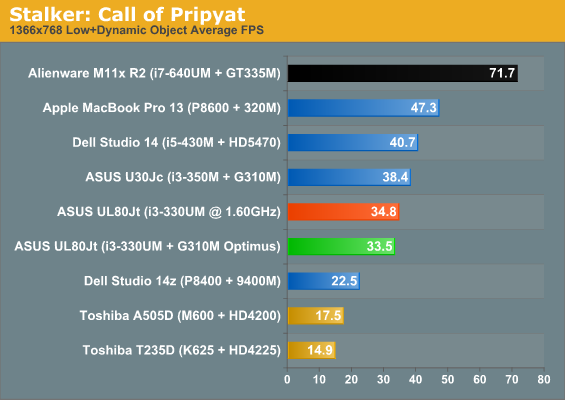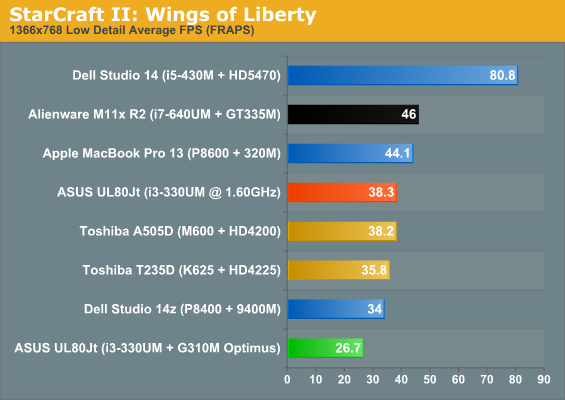 Performance-wise, it's not too far off the U30Jc that we also tested, with maybe a 10% decrease in performance due to CPU bottleneck. The Turbo33 mode doesn't do much outside of StarCraft 2 (which is much more CPU reliant than the rest), giving a 1 or 2 FPS boost at most. At low settings, we see the G 310M playable in most of the games, but when you bump it to medium settings it's all gone. The only game even approaching 30 FPS is STALKER, with the rest being pretty poor.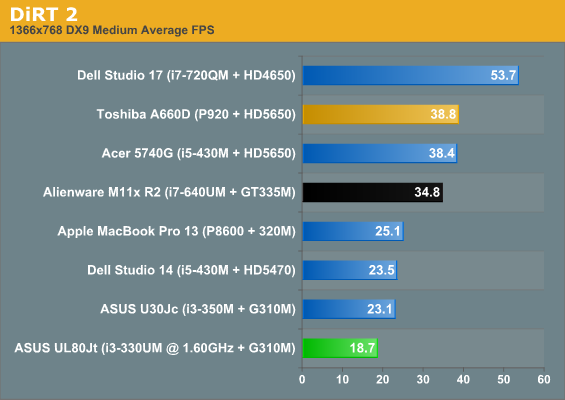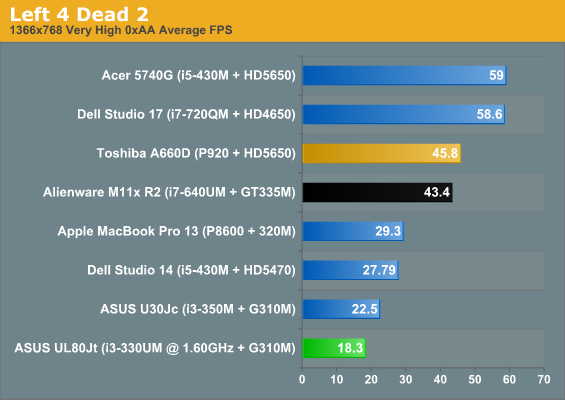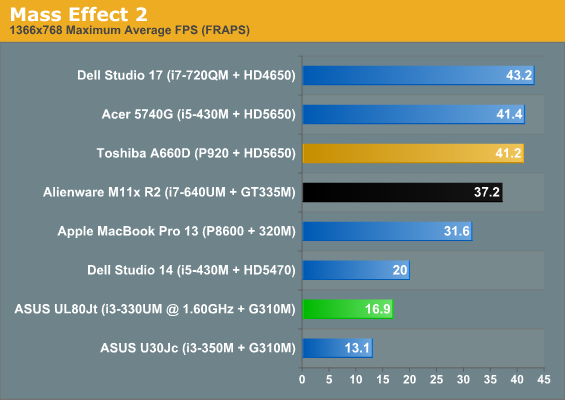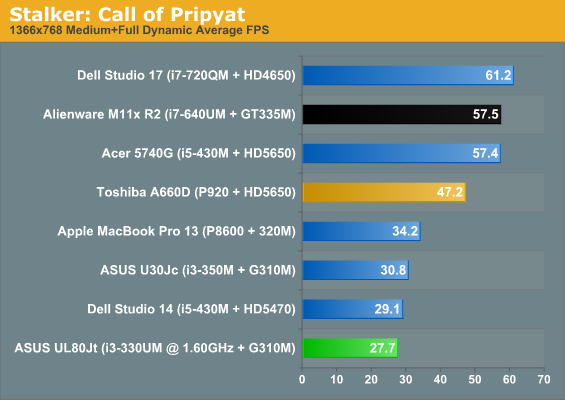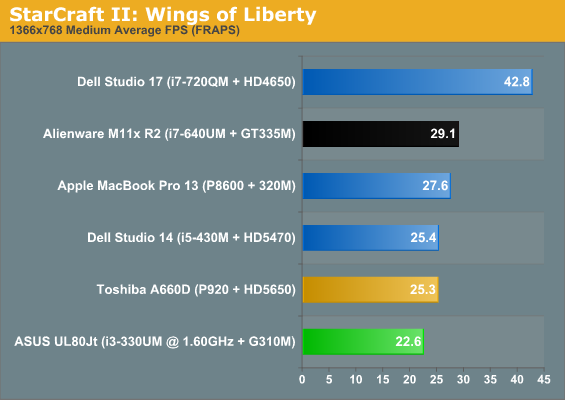 But really, the G 310 is a low end card rapidly approaching the end of its life, so I guess I can't judge it too harshly. It's better than integrated graphics (but not by much), but it's not really a huge factor—if you're looking for a portable notebook with a dedicated graphics card for the purpose of gaming, you should either look into the M11x or wait for the next generation of graphics chips to hit market. And the sad thing is, G 310M performance is what the next-gen IGPs appear to be targeting, rather than setting their sites a little higher (i.e. GeForce 320M).