The Test & Stock Gaming Performance
For our testing we're using the 6800 series launch drivers: AMD Catalyst 10.10.
CPU:
Intel Core i7-920 @ 3.33GHz
Motherboard:
Asus Rampage II Extreme
Chipset Drivers:
Intel 9.1.1.1015 (Intel)
Hard Disk:
OCZ Summit (120GB)
Memory:
Patriot Viper DDR3-1333 3 x 2GB (7-7-7-20)
Video Cards:
AMD Radeon HD 6870
AMD Radeon HD 6850
AMD Radeon HD 5870
AMD Radeon HD 5850
AMD Radeon HD 5770
AMD Radeon HD 4870
NVIDIA GeForce GTX 480
NVIDIA GeForce GTX 470
NVIDIA GeForce GTX 460 1GB
NVIDIA GeForce GTX 460 768MB
NVIDIA GeForce GTX 285
NVIDIA GeForce GTX 260 Core 216
XFX Radeon HD 6850
MSI R6850 OC
Asus EAH6850
Video Drivers:
NVIDIA ForceWare 260.89
AMD Catalyst 10.10
OS:
Windows 7 Ultimate 64-bit
As we do have a couple of overclocked cards in today's roundup we've gone ahead and quickly run a subset of our benchmarks. There won't be any surprises here, as the MSI card is the only card with a significant overclock, pushing it ahead of the reference card, the XFX, and the Asus 6850s but not being enough to significantly chance the performance of the card.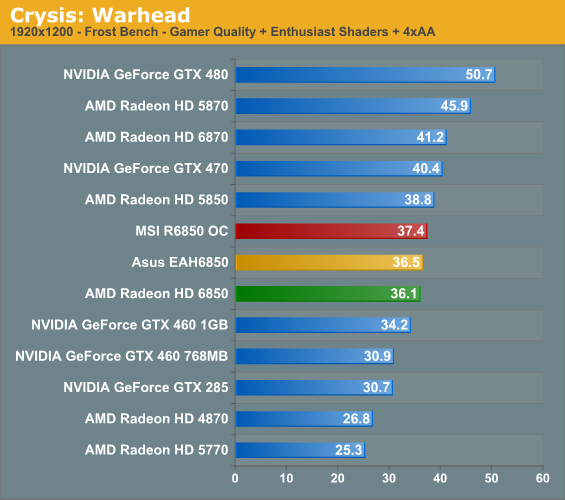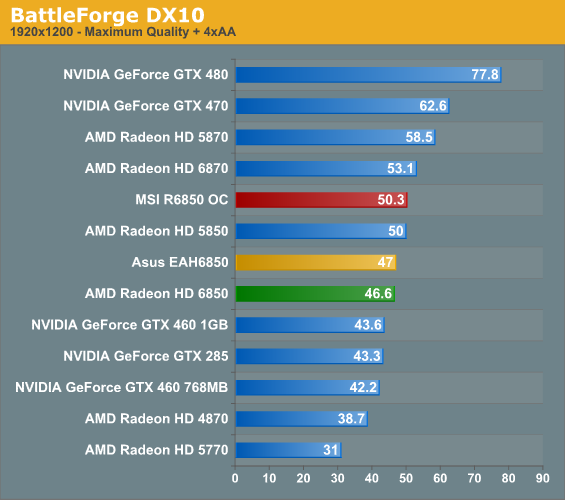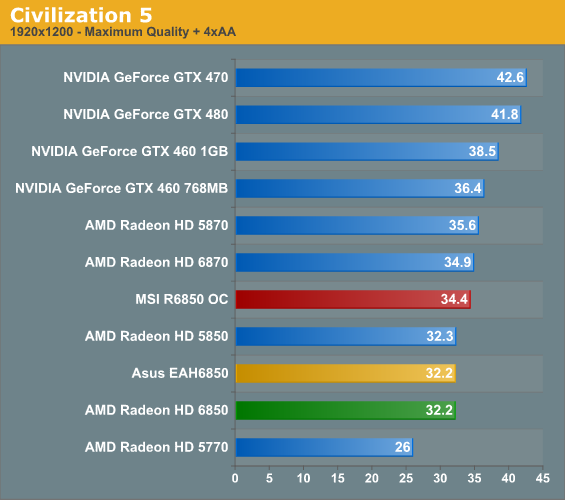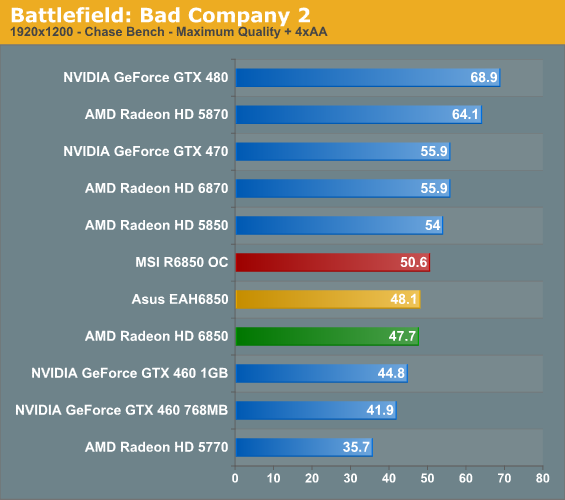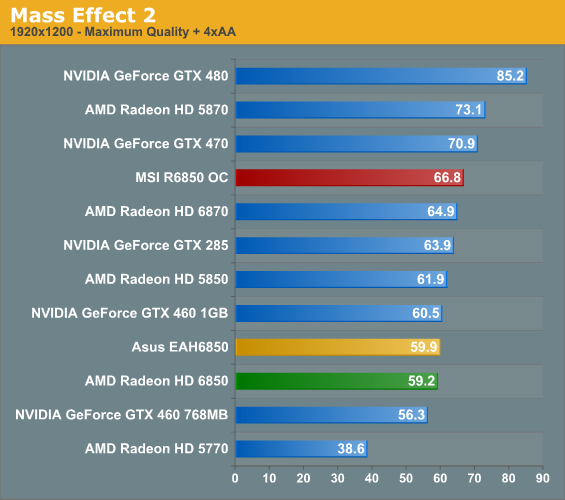 The Asus with its sub-2% overclock doesn't make any notable headway here. Meanwhile the MSI R6850 OC with its higher overclock does manage to top the Radeon HD 5850 at times, depending on how big the gap was in the first place. Whereas the stock 6850 is undeniably slower than the stock 5850, we'd be comfortable calling the R6850 OC comparable to the 5850.