Meet The XFX Radeon HD 6850
Kicking of our look at 6850s is XFX's Radeon HD 6850 (HD-685X-ZNFC), a card we've had since the 6850 launch two weeks ago and provided to us by XFX to allow us to test 6850 CrossFire performance.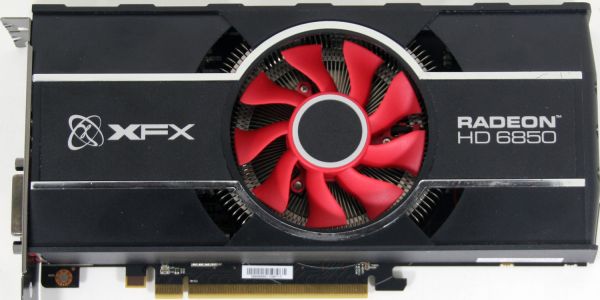 In terms of design the XFX 6850 only bears little resemblance to the reference 6850. The PCB runs half an inch shorter than the reference 6850, measuring 8.5", while among other differences the XFX 6850 has a second unused set of pads for a second 6pin PCIe power socket. Unfortunately the PCIe power socket is still rear facing, meaning while the card is shorter than the reference 6850, you need to factor in space needed for a PCIe power cable. Meanwhile in terms of build quality the card is fairly normal for a mainstream video card; along with the usual solid capacitors, XFX is also using solid state ferrite core chokes here.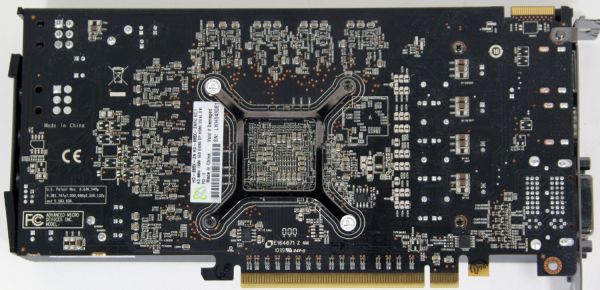 Attached to the top of the card is a completely custom cooler. As is common with cards in this price range and performance level, XFX has ditched the 5850/6850 blower for a more open design that features a center-mounted fan that blows air out the front and the rear of the card. These open designs are both cooler and quieter as air doesn't need to be forced through several inches of heatsink & shrouding, at a cost of relying more on a case's cooling abilities. XFX is using a partially shrouded design in order to keep hot air from blowing out of the bottom of the card & towards the motherboard, along with providing some structural stability to the card.
Interestingly, XFX is using a vapor chamber cooler here, which is uncommon for cards at this price range. As you may recall, vapor chambers are effectively flattened heatpipes that sit between a GPU and heatsink, and offer better cooling than a simple solid-metal heatsink base. We've never been able to get a solid idea on pricing, but it's our belief that vapor chamber coolers end up costing more to build than similar heatpipe coolers, which makes the inclusion of a vapor chamber on a sub-$200 card an unusual choice. In any case, the vapor chamber is then attached to a fairly typical circular aluminum heatsink, with fins running up to the top of the card and the fan embedded in the middle. As we'll see in our test results, the cooling design on the XFX 6850 keeps the card exceptionally cool, but XFX has turned the card for cooling performance at the cost of noise.


Cross-Sectional Diagram Of XFX's Cooler
For the port configuration, XFX has deviated from AMD's new Eyefinity port configuration in place of the older 5800-series port configuration. This means along with the two DVI ports and the HDMI port there's only one full-size DisplayPort, versus the two mini-DP ports that AMD has been pushing for these cards. This is a DP 1.2 port, so the XFX 6850 can still drive up to 3 monitors from it, but the card will be unable to drive 6 monitors (instead being limited to 5) as it lacks the necessary outputs.

As far as packed-in items are concerned, as the 6850 is a mainstream card you won't find any significant included with the card. XFX includes the usual collection of a quick start guide, warranty guide, and driver CD along with a XFX-banded doorknob hanger. However you won't find any dongles, cables, or power adapters here – in fact XFX doesn't even officially support using a 2x Molex to 6pin PCIe power adapter.
Finally, XFX is providing their standard double lifetime warranty for the card; 2 years if unregistered with the double lifetime warranty taking effect if the card is registered. Not surprisingly this along with XFX's design choices have pushed the price of the card up a bit, with the XFX 6850 available for around $190, $10 over the AMD baseline MSRP.