Performance
Adobe Photoshop CS4 Performance
The Retouch Artists Speed Test we use for our CPU testing under Windows also works under OS X. We're running the exact same benchmark here, basically performing a bunch of image manipulations and filters and timing the entire process.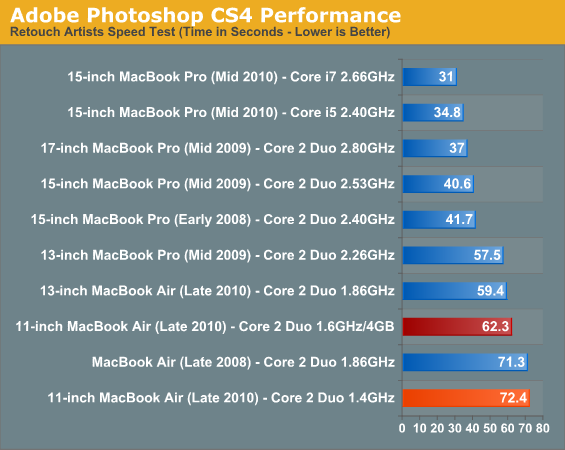 Photoshop benefits tremendously from the upgrade to 4GB. The application takes advantage of both the faster CPU and larger memory size. The combination of the two bring the 11-inch system within 5% of the 1.86GHz, 2GB 13-inch MacBook Air. A 16% increase in performance over the base 11-inch configuration. Definitely, a tangible improvement.
Aperture 2 RAW Import
For my Aperture test I simply timed how long it took to import 203 12MP RAW images into the library.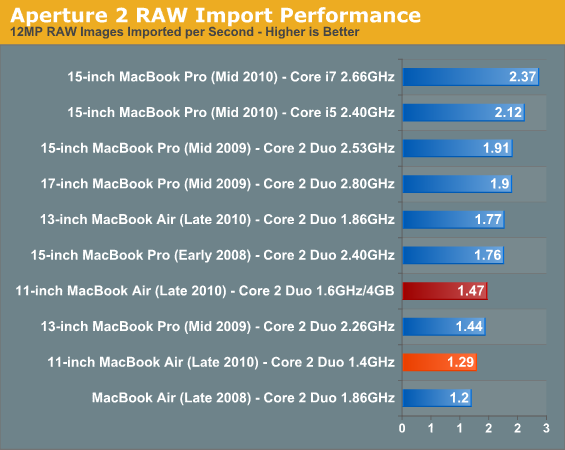 Our Aperture import test is equally impressive. We measured a 14% increase in performance over the base configuration. Although in this case, the 13-inch MBA was still 20% faster than the upgraded 11. Once more, the system didn't only benchmark quicker, but it felt faster in use.
Cinebench R10
I'm a fan of the Cinebench test because it lets me show off both single and multithreaded performance in the same workload.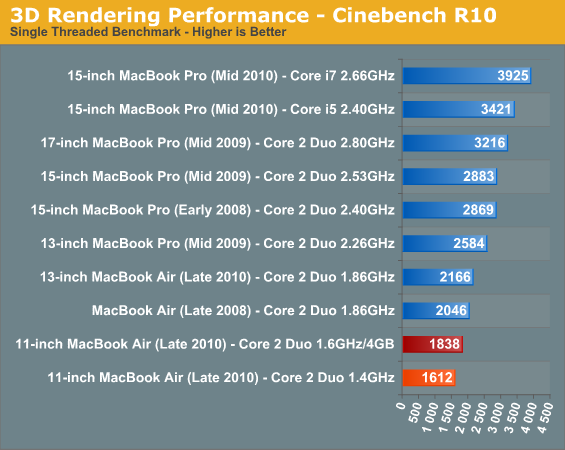 Cinebench is perfect for isolating the potential for CPU improvement. These tests are entirely CPU bound and as a result we see a ~14% improvement from the upgraded 11 vs. the base model. This is important to confirm because it means that despite the higher clock speed, Apple isn't aggressively throttling the Core 2 in the upgraded system. If you pay for the extra 200MHz, Apple gives it to you - no strings attached.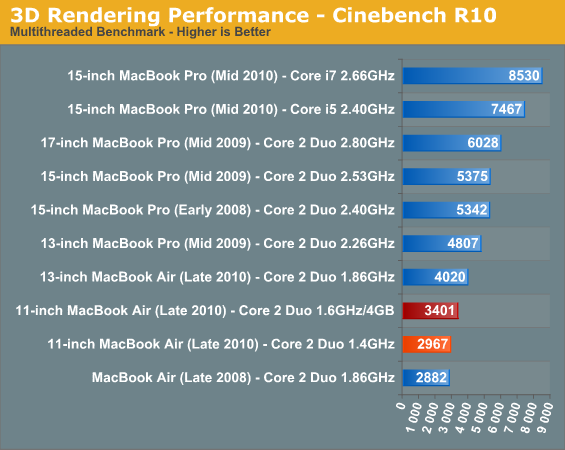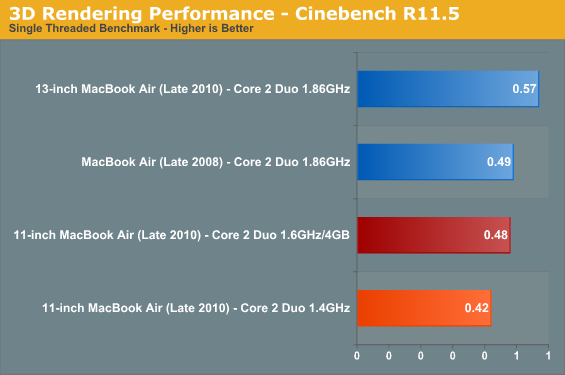 The only indication of something funny going on was our run through Cinebench 11.5. The multi-threaded score was only 13.5% higher than the 1.4GHz model, indicating that the chip most likely pulled back below 1.6GHz (likely only down to 1.5GHz).
Quicktime H.264 & Handbrake Video Encoding
Our Quicktime benchmark is more consumer focused. Here I'm taking an XviD and converting it to an iPhone-supported H.264 format.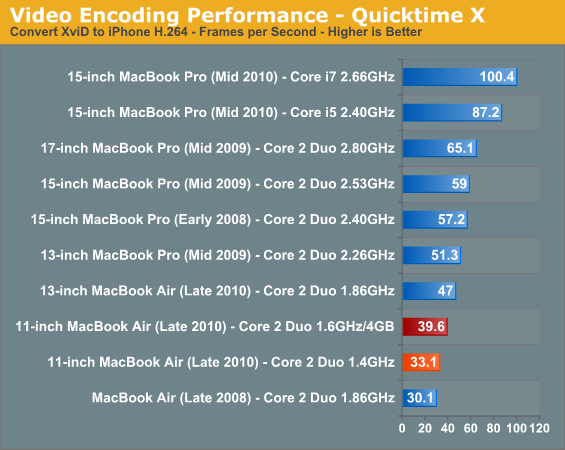 Our Quicktime transcode test proved to stress both the CPU and memory upgrades, resulting in a total performance increase of 19.4%. These are significant gains, definitely noticeable in real world use. Despite the huge improvement however, the 13-inch MacBook Air is still 18.8% faster - partly due to clock speed, and partly due to its larger L2 cache.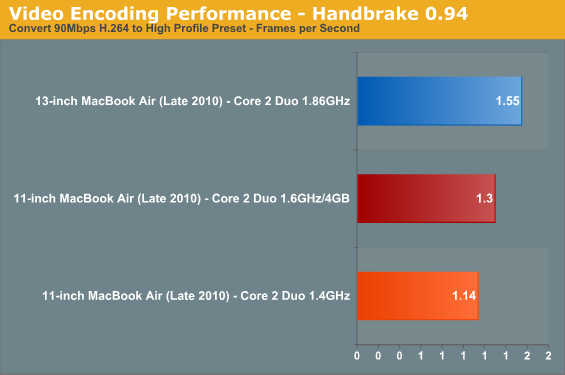 On average the upgraded system was 15% faster than the base 11-inch MacBook Air. The base 13-inch MBA averaged around 19% faster across the board, however in applications/usage models with large memory footprints the faster CPU had effectively no benefit.