Cougar GX G1050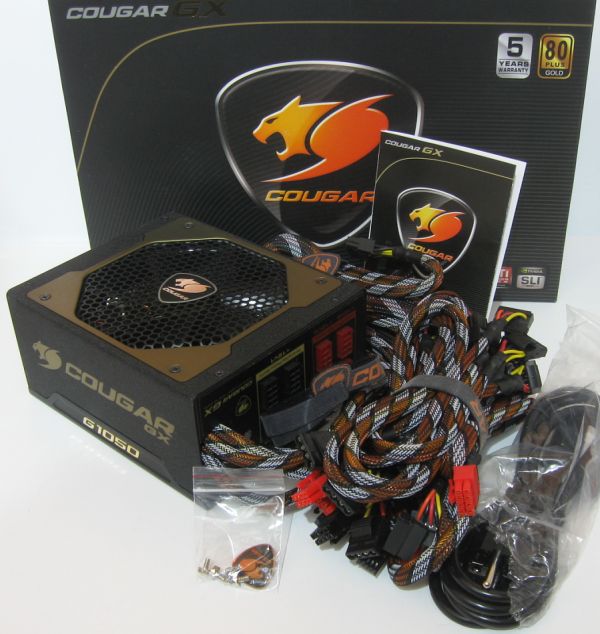 Cougar is a retail brand from HEC, and they sell some cases as well as many PSUs in EMEA. To export their products to the USA they started a marketing campaign a few months ago, which is why various tech sites have seen samples of late. AnandTech received their newest 80Plus Gold PSU from the GX-series (G for Gold). This series has PSUs rated at 600, 700, 800, 900 and 1050 watts; our test unit is the highest rated G1050 model. Cougar has two designs, one with a single transformer and two transistors, the other with two transformers (one switcher each) and an interleaved PFC; we will be looking at the latter.
In the GX G1050 box we find some mounting screws, cable ties, a power cord, a manual, and the modular connection cables. Besides the high efficiency, their robust case and special cable sleeving are the most interesting features. Moreoever Cougar told us that ripple and noise is low because of the CLC filtering; we'll test that claim shortly. The PSU case has a length of 18cm.
Cables and Connectors
Fixed/Modular
Main
24-pin 60cm
ATX12V/EPS12V
8-pin 60cm + 4+4-pin 30cm + 4-pin 30cm
PCIe
6x 6/8-pin 50cm
Peripheral
4x SATA 50-95cm + 1x Molex 15cm / 4x SATA 50-95cm + 1x Molex 15cm / 4x SATA 60-110cm
3x Molex 50-95cm + Floppy adapter 15cm
Two peripheral cables have SATA and Molex connectors; overall Cougar offers 12x SATA and 5x Molex. There is a very long cable with three different types of CPU connectors. This is good for just about any kind of mainboard, but three separate cables would be better. Most readers don't need more than one 4+4-pin connector and want to disconnect the other cables.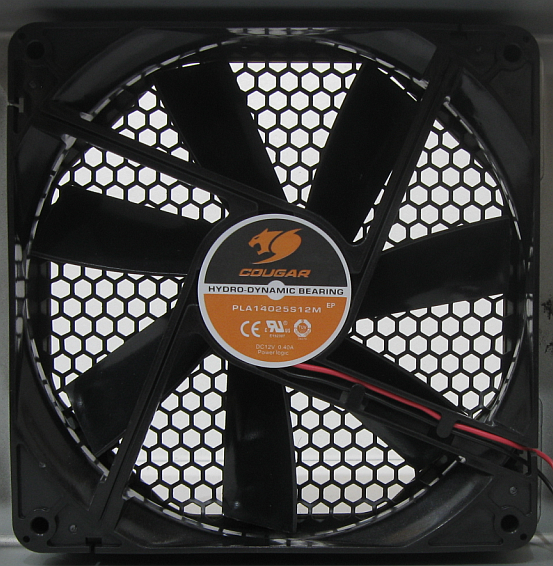 The GX fan has seven thin fan blades and comes from Power Logic, with the product number PLA14025S12M. It's a 140mm fan with a fluid dynamic bearing to provide increased longevity.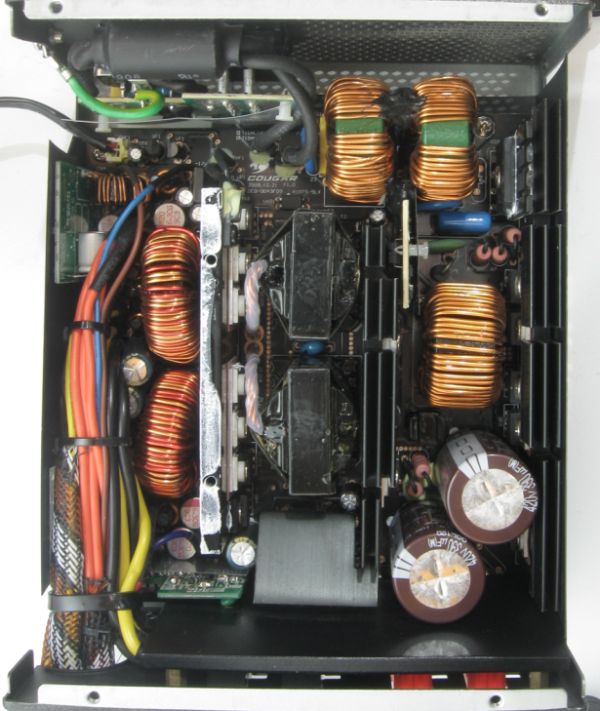 We have dismounted one part from the heatink on the secondary side to show more of the circuit. This Cougar design has DC-to-DC, synchronous rectifying, and more components than the smaller design used for the GX 600W. The main caps are from Japan while the other ones come from Teapo, a standard choice for HEC. There are many similarities to the AeroCool unit, largely because of the same EMI- and output-filtering. The rectifier bridge from Diodes Incorporated has its own heatsink and the wire cross-section of most cables is big.