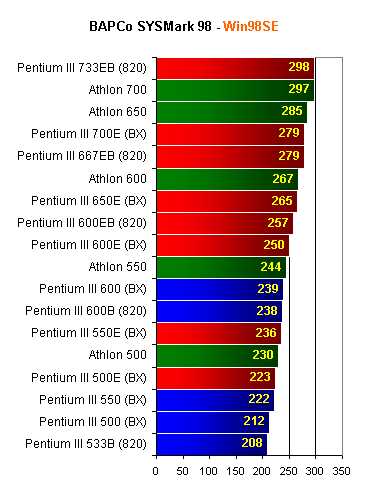 BAPCo's SYSMark 98 paints a vivid picture of what the overall performance of a system will be excluding any gaming performance tests. The result is that the Pentium III 733EB barely edges out the Athlon 700, offering AMD's giant the first real competition it has had since its introduction in August.
At lower clock speeds the Pentium III E remains just as competitive although the Athlon generally outperforms it on a clock for clock basis. Once again the benchmarks do not provide a noticeable performance improvement offered by the i820/133MHz FSB platform over the BX/100MHz FSB platform.
The Pentium III E slowly shapes into a viable upgrade path for BX owners looking to squeeze more performance out of their systems without having to upgrade more than just their processor.
| | |
| --- | --- |
| | SYSMark 98 |
| Pentium III 733EB (820) | 298 |
| Pentium III 700E (BX) | 279 |
| Pentium III 667EB (820) | 279 |
| Pentium III 650E (BX) | 265 |
| Pentium III 600EB (820) | 257 |
| Pentium III 600E (BX) | 250 |
| Pentium III 600B (820) | 238 |
| Pentium III 600 (BX) | 239 |
| Pentium III 550E (BX) | 236 |
| Pentium III 550 (BX) | 222 |
| Pentium III 533B (820) | 208 |
| Pentium III 500E (BX) | 223 |
| Pentium III 500 (BX) | 212 |
| Athlon 700 | 297 |
| Athlon 650 | 285 |
| Athlon 600 | 267 |
| Athlon 550 | 244 |
| Athlon 500 | 230 |