Kicking things off as always is Crysis: Warhead, still the toughest game in our benchmark suite. Even 2 years since the release of the original Crysis, "but can it run Crysis?" is still an important question, and the answer continues to be "no." One of these years we'll actually be able to run it with full Enthusiast settings…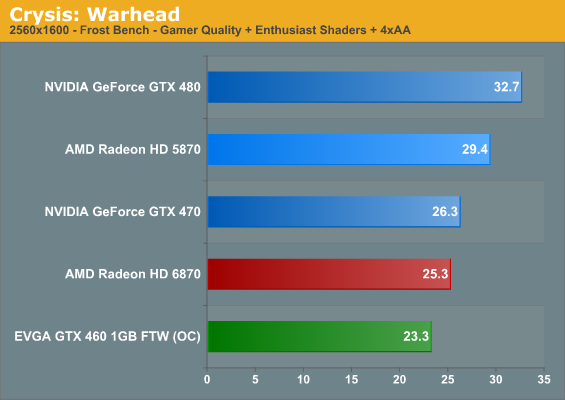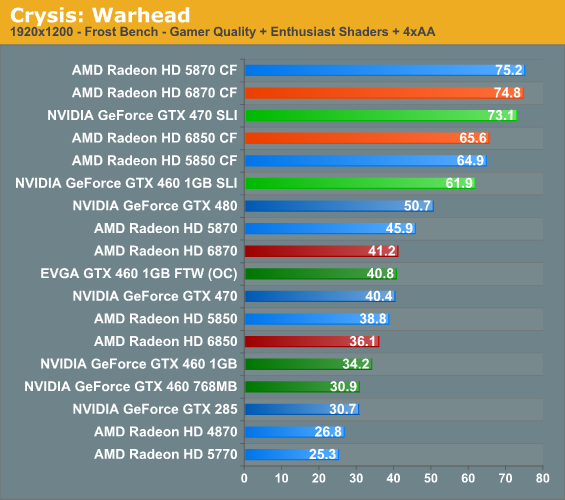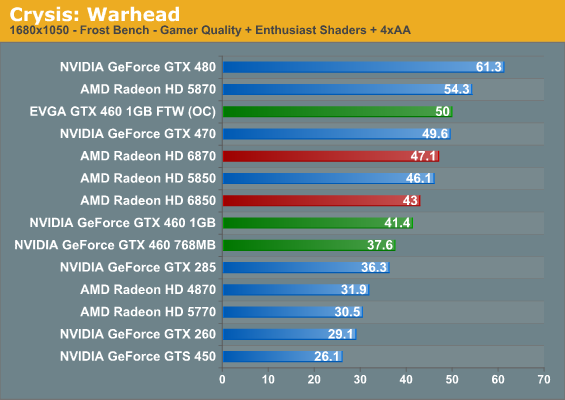 For reasons we've yet to determine, Crysis continues to do a very good job serving as an overall barometer for video card performance. Much of what we see here will show up later, including the order that cards fall in.
As we've been expecting, the 6800 series cannot keep up with the 5800 series – Barts is still a "rebalanced" Cypress after all. The performance gap isn't too severe, and it certainly couldn't justify 5870 prices at today's prices, but the 6870 and 6850 definitely aren't perfect replacements for their 5800 series counterparts.
Focusing on 1920x1200, we have a 3-way race between the GTX 470, EVGA GTX 460, and the 6870. The 6870 comes out ahead, with the EVGA and then the GTX 470 bringing up the pack at under a frame behind. Meanwhile near the 6850 is the GTX 460 1GB, and it's 2fps behind; while even farther down the line is the GTX 460 768MB, which officially is only $10 cheaper than the 6850 and yet it's well behind the pack. As we'll see, the 6850 will quickly assert itself as the GTX 460 1GB's peer when it comes to performance.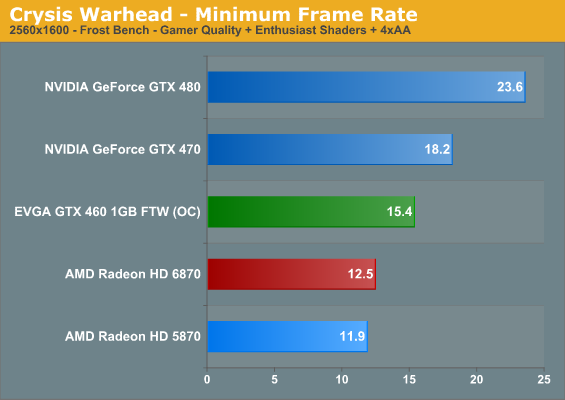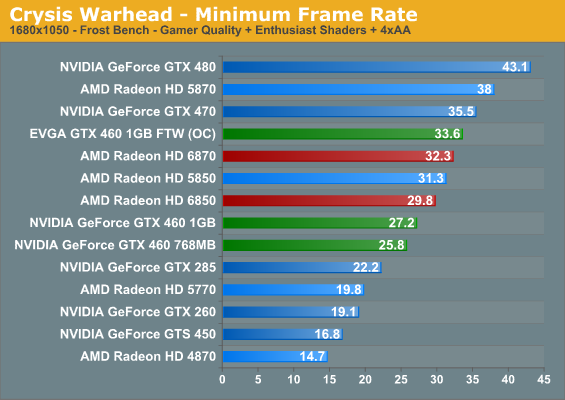 Meanwhile taking a quick look at Crossfire performance we see an interesting trend: the 6800 series cards are much closer to their 5800 series counterparts than they are in single card mode. Here the 6850CF even manages to top the 5850CF, an act that nearly defies logic. This is something we'll have to keep an eye on in later results.
Moving on to our minimums, the picture changes slightly in NVIDIA's favor. The 6870 drops to the bottom of its pack, while the 6850's lead narrows versus both GTX 460 cards. Meanwhile in CF mode now both 6800 series cards top their 5800 series counterparts. Crysis' minimum framerate has always been a bit brutal to AMD cards due to how AMD's drivers manage their memory, a problem compounded by Crossfire mode. Perhaps something has changed?