NVIDIA's 6870 Competitor & the Test
As we mentioned on the front page of this article, AMD and NVIDIA don't officially have competing products at the same price points. The 6870 and 6850 are more expensive than the GTX 460 1GB and 768MB respectively, and above the 6870 is the GTX 470. However NVIDIA is particularly keen to have a competitor to the 6870 that isn't a GTX 470, and so they're pushing a 2nd option: a factory overclocked GTX 460 1GB.
As a matter of editorial policy we do not include overclocked cards on general reviews. As a product, reference cards will continue to be produced for quite a while, with good products continuing on for years. Overclocked cards on the other hand come and go depending on market conditions, and even worse no two overclocked cards are alike. If we did normally include overclocked cards, our charts would be full of cards that are only different by 5MHz.
However with the 6800 launch NVIDIA is pushing the overclocked GTX 460 option far harder than we've seen them push overclocked cards in the past –we had an EVGA GTX 460 1GB FTW on our doorstep before we were even back from Los Angeles. Given how well the GTX 460 overclocks and how many heavily overclocked cards there are on the market, we believe there is at least some merit to NVIDIA's arguments, so in this case we went ahead and included the EVGA card in our review. As a reference point it's clocked at 850Mhz and 4GHz memory versus 675MHz core and 3.6MHz memory for a stock GTX 460, giving it a massive 26% core overclock and a much more moderate 11% memory overclock.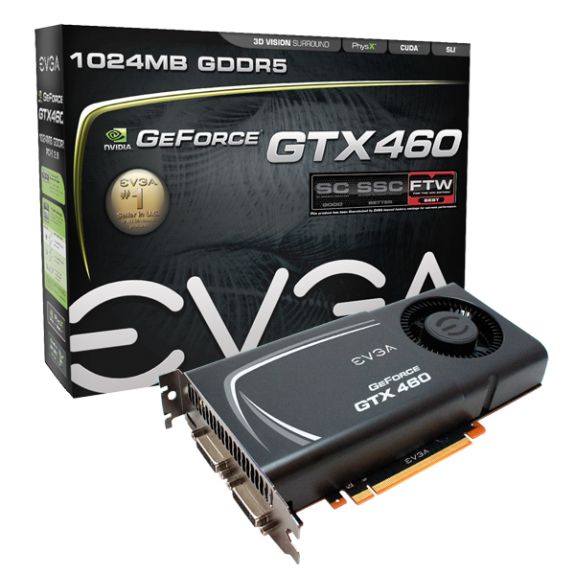 However with that we'll attach the biggest disclaimer we can that while we're including the card, we don't believe NVIDIA is taking the right action here. If they were serious about having a higher clocked GTX 460 on the market, then they need to make a new product, such as a GTX 461. Without NVIDIA establishing guidelines, these overclocked GTX 460 cards can vary in clockspeed, cooling, and ultimately performance by a very wide margin. In primary reviews such as these we're interested in looking at cards that will be around for a while, and without an official product from NVIDIA there's no guarantee any of these factory overclocked cards will still be around.
If nothing else, pushing overclocked cards makes for a messy situation for buyer. An official product provides a baseline of performance that buyers can see in reviews like ours and expect in any cards they buy. With overclocked cards, this is absent. Pushing factory overclocked cards may give NVIDIA a competitive product, but it's being done in a way we can't approve of.
Moving on, for today's launch we're using AMD's latest beta launch drivers, version 8.782RC2, which is analogous to Catalyst 10.10. For the NVIDIA cards we're using the WHQL version of 260.89.
Keeping with our desire to periodically refresh our benchmark suite, we've gone ahead and shuffled around a few benchmarks. We've dropped Left 4 Dead (our highest performing benchmark) and the DX11 rendition of BattleForge for Civilization 5 and Metro 2033 respectively, both running in DX11 mode.
With the refresh in mind, we've had to cut short our usual selection of cards, as we've had under a week to (re)benchmark everything and to write this article, shorter than what we usually have for an article of this magnitude. We'll be adding these new cards and the rest of our normal lineup to the GPU Bench early next week when we finish benchmarking them.
CPU:
Intel Core i7-920 @ 3.33GHz
Motherboard:
Asus Rampage II Extreme
Chipset Drivers:
Intel 9.1.1.1015 (Intel)
Hard Disk:
OCZ Summit (120GB)
Memory:
Patriot Viper DDR3-1333 3 x 2GB (7-7-7-20)
Video Cards:
AMD Radeon HD 6870
AMD Radeon HD 6850
AMD Radeon HD 5870
AMD Radeon HD 5850
AMD Radeon HD 5770
AMD Radeon HD 4870
NVIDIA GeForce GTX 480
NVIDIA GeForce GTX 470
NVIDIA GeForce GTX 460 1GB
NVIDIA GeForce GTX 460 768MB
NVIDIA GeForce GTS 450
NVIDIA GeForce GTX 285
NVIDIA GeForce GTX 260 Core 216
EVGA GeForce GTX 460 1GB FTW
Video Drivers:
NVIDIA ForceWare 260.89
AMD Catalyst 10.10
OS:
Windows 7 Ultimate 64-bit