The last new game in our benchmark suite is Civilization 5, the latest incarnation in Firaxis Games' series of turn-based strategy games. Civ 5 gives us an interesting look at things that not even RTSes can match, with a much weaker focus on shading in the game world, and a much greater focus on creating the geometry needed to bring such a world to life. In doing so it uses a slew of DirectX 11 technologies, including tessellation for said geometry and compute shaders for on-the-fly texture decompression.
It's also one of the few games banned at AnandTech, as "one more turn" and article deadlines are rarely compatible.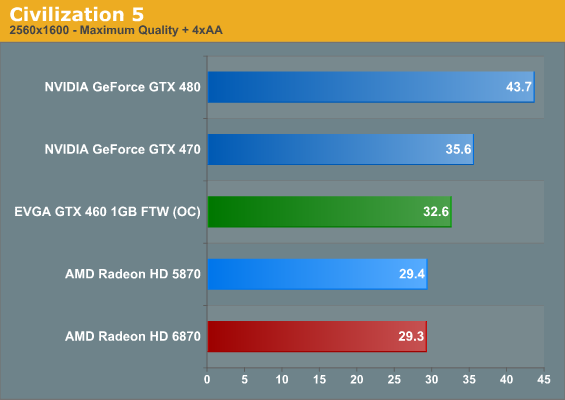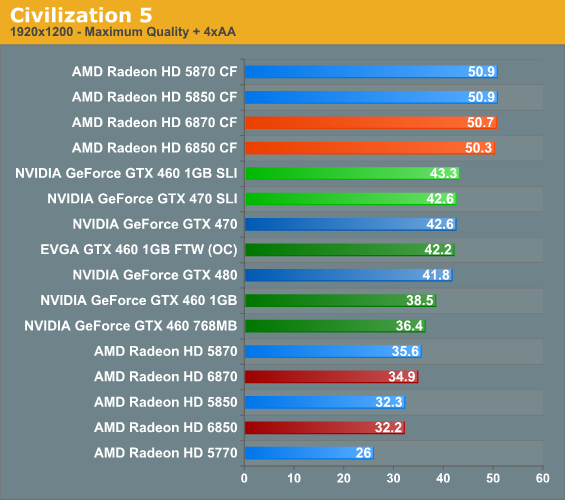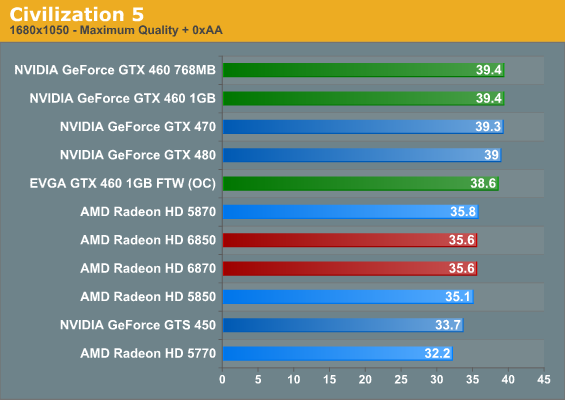 Civ 5 has given us benchmark results that quite honestly we have yet to fully appreciate. A tight clustering of results would normally indicate that we're CPU bound, but the multi-GPU results – particularly for the AMD cards – turns this concept on its head by improving performance by 47% anyhow. The most telling results however are found in the GTX 460 cards, where there's a clear jump in performance going form the 768MB card to the 1GB card, and again from the 1GB card to the EVGA card. The 1GB GTX only improves on memory, memory bandwidth, and ROPs, greatly narrowing down the factors. No one factor can explain our results, but we believe we're almost simultaneously memory and geometry bound.
With that in mind, this is clearly a game that benefits NVIDIA's GPUs right now when we're looking at single-GPU performance. This likely comes down to NVIDIA's greater geometry capabilities, but we're not willing to rule out drivers quite yet, particularly when a partially CPU-bound game comes in to play. In any case NVIDIA's advantage leads to their wiping the floor with AMD here, as even the mere GTX 460 768MB can best a 5870, let alone the 6800 series.
Crossfire changes things up, but only because NVIDIA apparently does not have a SLI profile for Civ 5 at this time.