You Get what You Pay for!
Perhaps our conclusion should also include the warning: caveat emptor (let the buyer beware), because it's clear that some PSUs should never see retail shelves. The Techsolo Black Mamba 550W belongs in this classification if you want a 550W PSU; in fact, the Techsolo is a ~250 watts power supply without an acurate working power factor correction—not to mention the fact that the efficiency is always below 75%.
If you just need a cheap power supply that will function at loads under 250W, perhaps budget products will fit the bill, but we'd suggest looking elsewhere as long-term power costs (and the risk of damaged components) makes this a gamble at best. In our case, the PSU died at 50% load, and there are no real safety functions—not even an MOV in the entrance. Both main switches are undersized and exploded. The protective ground wire is connected to a mounting screw of the main PCB. Again: Bad idea!
While the product looks decent, Techsolo offers nothing more than a few cables ties, one PCIe connector, and very short cables (40-45cm for the main cables). The cable sleeving is a nice extra, but we'd rather have the cost put elsewhere. Nothing else even suggests that this is a quality power supply. The noise for example is always over 22dBA and reached up to 28dBA at "50%" load. Another problem is the noisy PFC-choke, which is really loud and emits a high-pitched squeal. Passive PFC is always a noisemaker. In any case, Antec and OCZ are quieter and better, so just give this one a pass if you happen to be in Europe.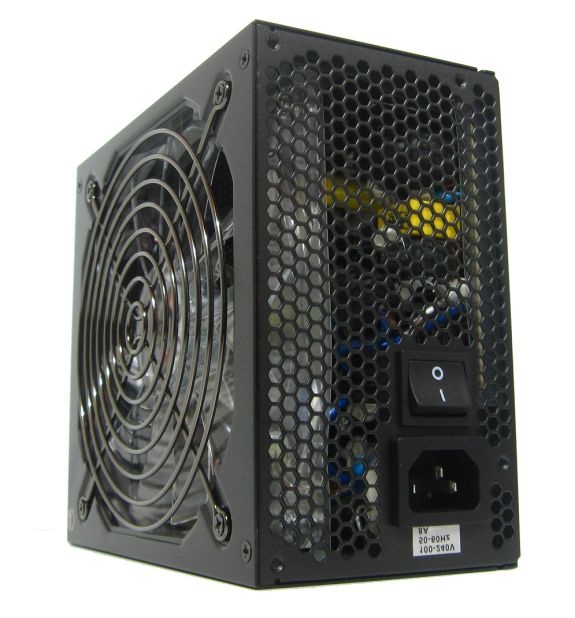 The OCZ Fatal1ty 550W is no superhero on the market, failing to stand out from the crowd. Your system won't run faster, and we have to wonder how much Fatal1ty gets paid for the use of his name—and if it even helps with increased sales, considering he's been quiet of late. This is a minor upgrade of the older OCZ ModXStream Pro 500W, with slightly improved internal devices, but that's about it. The EMI filtering has most necessary components, excluding an MOV. OCZ has switched to Teapo (LH, SC), after the Chinese caps weren't helpful for their public image. We can't say that they have the best characteristics, but they do a good job in power supplies. Now there are more protective foils against short circuits as well. This progress is absolutely welcome.
The downside of the PSU is that the ripple and noise results are very high for an "actual" product. More than 70mV on +12V and about 41mV on +5V can be measured. The efficieny is low at 10% load and not to remarkable at 50% load. Otherwise the voltage regulation is satisfying (never below -2% on all rails) and the power factor is high (above 0.840). The 45cm 24-pin cable should be long enough for small and mid-size cases, while the 4-pin and 4+4-pin ATX12V cables for the CPU could be much longer; we wouldn't recommend this PSU for use in cases where the PSU is at the bottom. Six SATA and HDD connectors are provided and there is a floppy connector at 90cm. The red cable sleeving is cheap but at least it's something.
What about the noise level? It's not bad at all. At low load there is no more than 18-19dBA. Even at full load the fan stays below 30dBA. Overall it is as quiet as the Antec TruePower New, but takes a small lead at high loads. This isn't a bad power supply, and it's reasonably efficient, but the high amount of ripple on the various rails is a concern for long-term stability, particularly if you're actually running this on a higher performance gaming system. Outside of noise levels the Antec is a far better PSU; you just have to decide if it's worth the additional cost.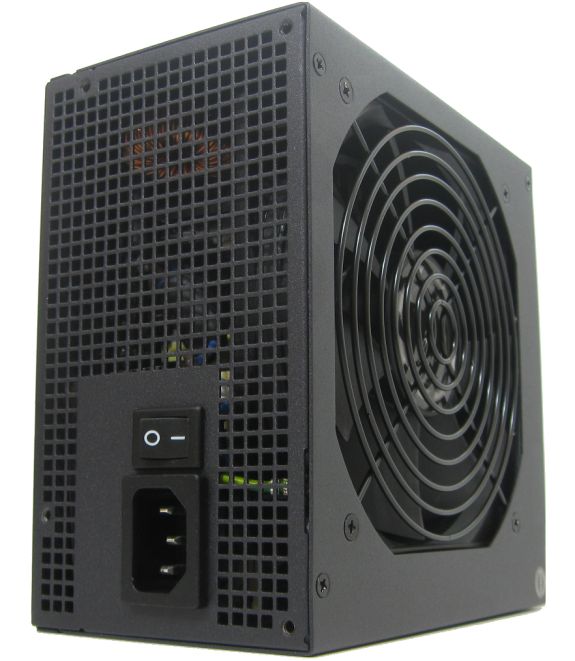 When we look at the Antec TruePower New 550W, we can see good capacitors (Nippon Chemi-Con), many components for filtering in the entrance including an MOV, and well dimensioned +12V rails. The TruePower New has 55cm connectors for graphics cards and a 50cm 24-pin cable. The cable sleeving is again done rather cheaply, but the number of peripheral connectors gives no occasion for criticism. There is only one real problem: with a limited number of plugs you can't connect all the modular cables—even though this 550W unit should easily be able to handle such a configuration.
As for performance and quality, all the results from our tests are very impressive. The voltage is always over or near the ideal value and there is hardly any ripple and noise on any of the rails: less than 35mV on +12V, and less than 20mV on +3.3V and +5V. Up to 87% efficiency and a high power factor (above 0.850) is the primary reason for the cost; such results can only be reached with high quality devices, and those devices cost more than lesser offerings. In every case, Antec performs better than the OCZ and comes out the clear leader of this trio. And if you've ever wondered what the difference is between "budget" power supplies like the Techsolo and quality offerings like the Antec, hopefully we've managed to shed some light on the discussion.
So what's the overall conclusion? The gap between OCZ and Antec is far shorter than the gulf between OCZ and Techsolo, but you can definitely see why the Antec costs more. Long-term, the increased efficiency of the OCZ will easily pay for itself relative to a budget PSU, though we can't say the same for the Antec vs. OCZ. However, the Antec has much better characteristics elsewhere, and high ripple can put extra stress on your PC's components making the Antec a better choice for enthusiasts and anyone looking for maximum reliability. Is it worth the added cost? That's up to you, but we'd recommend spending as much on your PSU as you can afford; there's no reason to pair quality components (i.e. your motherboard, CPU, RAM, GPU, and SSD) with substandard power supplies. As our results here show, you clearly get what you pay for—though we'd recommend reading reviews to help choose between similarly priced, similarly specced PSUs.