The First Phones: Samsung Focus
The Focus is a launch device on AT&T. It's a Windows Phone Galaxy S. The Samsung Focus is incredibly thin and very easy to pocket. It's very lightweight thanks to its all plastic construction. The Focus doesn't feel like it'll fall apart, but it doesn't inspire the same confidence as the LG Optimus 7.
The screen is the best looking out of the three we've got here today. The 4-inch Super AMOLED display delivers vibrant colors (a perfect match for WP7's color based themes) and perfect black levels. Overall brightness leaves much to be desired. We only measured 234 nits at its brightest setting. Medium is more than bright enough for indoor or use at night (thanks to the excellent contrast ratio), but outdoors during the day you need to leave the device on high.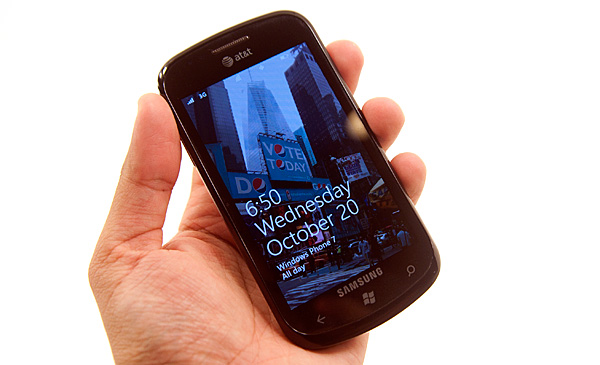 Battery life is absolutely abysmal, thanks to that Super AMOLED display. We measured 4.6 hours on WiFi, 3.75 hours on 3G but a respectable 6.4 hours of talk time (the display is shut off for our talk tests). This translates into a single charge lasting well under a full day's worth of heavy use, or just under a day of moderate use.
Personally I prefer the 3.8-inch form factor of the LG to the 4.0-inch Focus. Unlike Android, Windows Phone 7 seems better suited for smaller displays thanks to its very simple UI and the fact that everything you need to tap on is already ginormous.
If you want more of a balance between size, screen and battery life you'll want to look at the final phone in our trio: the HTC Surround.