Introducing the Clevo X7200 UPS
If you're after raw performance in a transportable notebook, clearly the Clevo X7200 can deliver. We've shattered every notebook benchmark in our test suite—hardly surprising since the system manages to keep pace with full size desktops! But some will inevitably ask, "What about battery life?" We ran our standard set of tests just for fun, because let's be honest: no one expects a DTR system to deliver great battery life, and when you start stuffing multiple GPUs and desktop CPUs into a notebook the battery life is laughable. Ready for the shortest battery life result we've ever measured?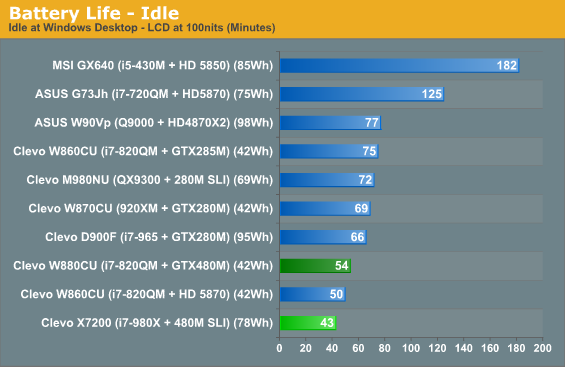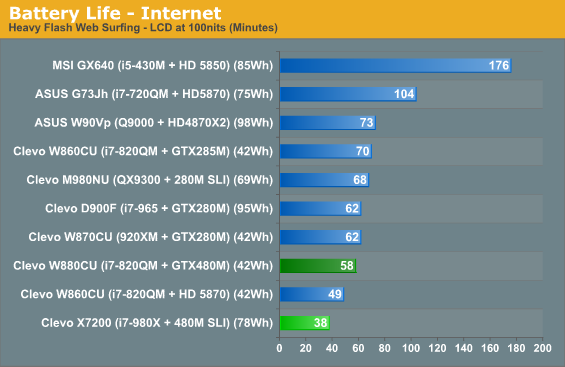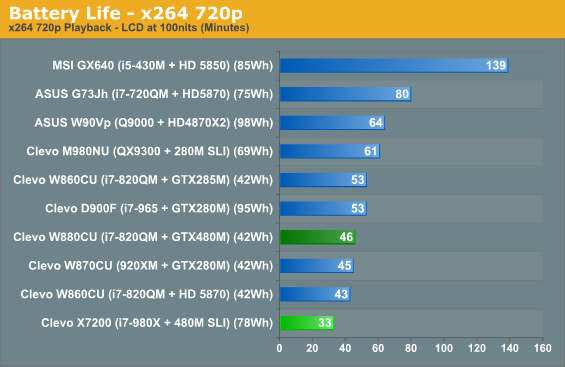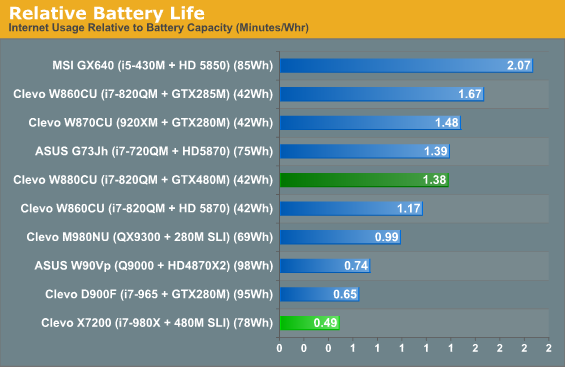 Yes, we top out at a maximum battery life of 43 minutes—doing nothing beyond sitting at the desktop. We've set the CPU to 0% maximum (i.e. run at the minimum clock speed), the display is at 100nits (42% brightness), and the HDD/SSDs are set to power down after 1 minute of inactivity. So we're essentially looking at an integrated UPS (Uninterruptible Power Supply). Do some Internet surfing and battery life drops to 38 minutes, and we come up with just over a half hour of video playback time. Even the old D900F with a desktop i7-965 gets 33% more battery life per Wh, but then it only supports a single GPU. Similarly, the W880CU with a single 480M and a puny 42Wh battery bests the X7200. With .49 minutes per Wh, you'd have to carry around a massive 240Wh battery just to surf the Internet for a couple hours…but it would be great exercise!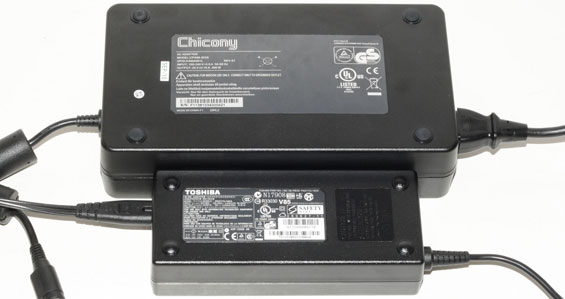 If you're curious about the size of the power brick, that's a 120W power adapter from the Toshiba A665-3DV. It's relatively large compared to many bricks but dwarfed by the X7200 adapter! Dimensions on the Clevo power brick are 8.13" x 4.44" x 1.94" (L x W x H). We don't have a scale that's accurate for objects this size, but we'd estimate the weight at close to three pounds.