Power Consumption
The big advantage of Westmere is power consumption. If we compare last year's Mac Pro with the GeForce GT 120 idle power consumption is actually lower than the new Westmere system thanks to the Radeon HD 5770 drawing more power at idle. If you look at the 2009 Mac Pro with a GeForce GTX 285 however, the 5770/2010 Mac Pro has a significant idle power advantage.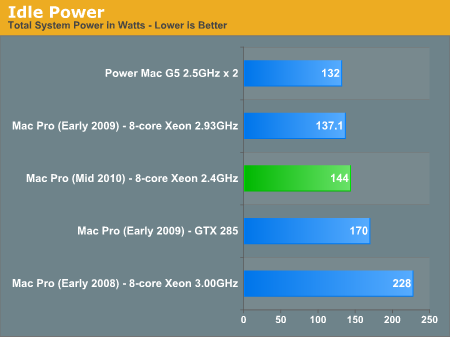 The same is true under load, although the GPU plays less of a role in our Cinebench render test for load power. The Mac Pro we're testing here is clocked much lower than our 2009 Mac Pro, which explains some of the power advantage but not all of it.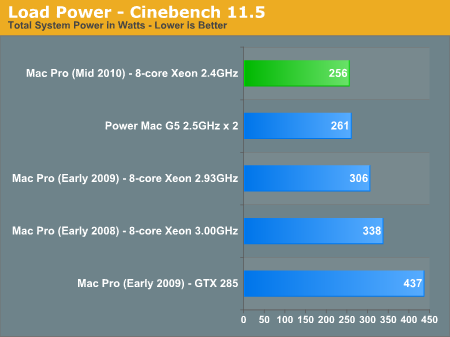 We've been tracking Mac power consumption in OS X vs. Windows for quite a while now. I decided to see how power consumption changed under Boot Camp. As expected, idle power was a bit higher while load power consumption was identical:
Power Consumption Comparison
Mac Pro (Mid-2010)
Mac OS X 10.6.4
Windows 7 x64
Idle
144W
159W
Load (Cinebench 11.5)
256W
253W
The 15W difference in idle power usage is significant, but honestly it matters a lot less in a system like the Mac Pro than a mini or MacBook Pro. The Cinebench scores are identical under both OSes in case you were wondering. This wasn't always true, Apple has significantly improved OS X performance with 10.6.x vs Leopard.