Nexenta
Nexenta is to OpenSolaris what OpenFiler is to Linux or FreeNAS is to FreeBSD. It is a purpose built version of OpenSolaris designed primarily around storage networking including NFS, CIFS, and iSCSI/FC block based storage. Nexenta has taken a lot of time building a great front-end to manage ZFS enabled storage and integrate a plug-in manager that can extend the abilities of a standard x86 platform to rival the best SAN systems that are available.
Nexenta comes in three flavors, Nexenta Core, Nexenta Community, and Nexenta Enterprise. The availability of these three versions allows you to select what kind of product you want, and what kind of expenditures that you will incur.
Nexenta Core is the most basic of the options, but it is also the most forgiving in terms of licensing. Nexenta Core is a command line interface platform only. It is based on an OpenSolaris kernel, and an Ubuntu Userland. There is no limit to the amount of storage that you can configure or use with Nexenta Core, and it is completely free. Nexenta Core can be found here.
Nexenta Community is the next step up. Nexenta Community is based on Nexenta Core, and includes a great GUI interface for managing all aspects of the storage platform. Nexenta Community is also free, but it is limited to 12TB of used storage. Nexenta Community Edition can be found here.
Nexenta Enterprise is the top-level offering. Nexenta Enterprise is a superset of Nexenta Community with many Enterprise level features, including support options. Nexenta Enterprise is licensed based on RAW storage capacity. You can find pricing information here.
Screenshots of web GUI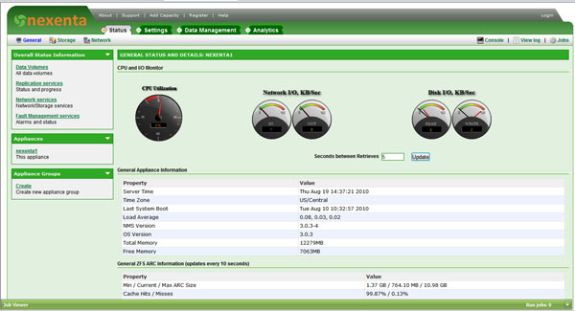 Click to enlarge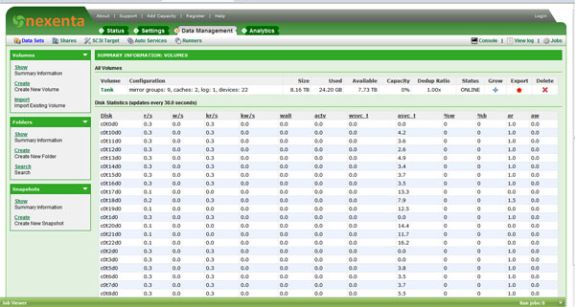 Click to enlarge
Nexenta has been very easy to use in our testing. After a few minutes of familiarization with the interface everything is pretty straight forward. You can go from a bare installation to something that has an array configured, an iSCSI target configured, and is ready to take data in a matter of 5-10 minutes. All of the features for sending out notifications and for lighting up indicator lights work as expected and are easy to configure. With just a few menu clicks you're ready to enter all of the information that the system needs to notify you about any problems that it encounters.
Some of the shortcomings that we saw in the Nexenta Enterprise offering were in the reporting and support areas of the product. We did not investigate the reporting problem in depth, as it was not pertinent to the performance data of the system. We would expect that with a little troubleshooting it would be something that would be easily resolved. Throughout the testing process though the daily reports stated that there was no network traffic being generated even though we were loading the interface quite heavily during testing.
This brings us to our next issue that we had with Nexenta, and that was the support channels. We would have gladly troubleshot the issues with reporting if we thought it was going to be done in a timely manner. Since we were using the Enterprise Trial license the support was lackluster at best. We were assured by sales representatives that paid-for support is much faster and much better than the "free trial" support. Free Trial support is treated as their lowest priority support queue. We were not impressed with this as we have always thought of a time-limited free trial period to be pre-sales. If you want to convert someone from a non-paying free trial to a paid product, show them how good the product and support is during that period.