Cables and Connectors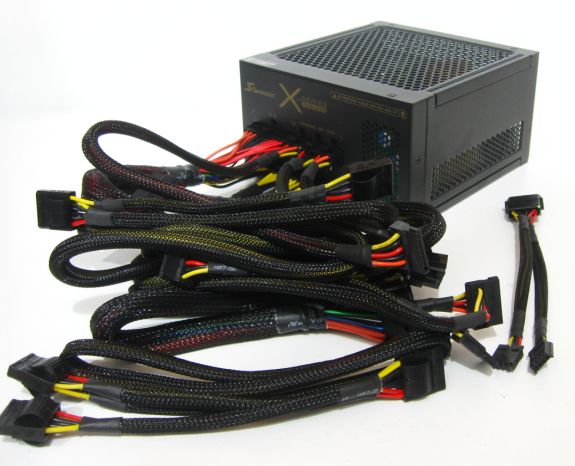 The 4+4 pin ATX12V, the 6-pin, as well as the 6/8-pin-PCIe connector are 65cm long, which is awesome for anyone with a larger computer case. The 24-pin motherboard connector is 60cm, which is also nice. Seasonic believes in their power ratings and they provide two PEG connectors for high-end graphic cards. A Molex-to-2x Floppy adapter (15cm) can optionally be connected to the peripheral cables if needed.
The first peripheral cable offers three SATA connectors from 55cm to 85cm in 15cm steps. Another harness provides two SATA connectors from 35cm. The same lengths are available for the two PATA cables. Unfortunately it is not possible to use the complete assortment of cables simultaneously; fill all the connections on the front of the PSU and you're still left with one harness.
Cable sleeving is also present, of the standard black mesh variety. It works well and provides a cleaner look than bare cables, and for a PSU in this price bracket it's expected. We've seen some better sleeving on competing PSUs, but unless you're really obsessed with internal wiring the sleeves get the job done.
Cables and Connectors
Modular
Main
24-pin 60cm
ATX12V/EPS12V
4+4-pin 65cm
PCIe
1x 6-pin 65cm / 1x 6/8-pin 65cm
Peripheral
3x PATA 55-85cm / 2x PATA 35-50cm / 2x Floppy 15cm
3x SATA 55-85cm / 2x SATA 35-50cm