Netflix
The Netflix interface is fast and easy to use. It takes a little over 3 seconds to get into the Netflix menus. When actually playing content I went from selection to first frames in anywhere from 8 - 13 seconds depending on the video. You can search and add items to your instant queue, although there's no way to add to your DVD/Blu-ray queue. The biggest issue I had with Netflix support on the Apple TV is how it handles streaming episodes of TV content.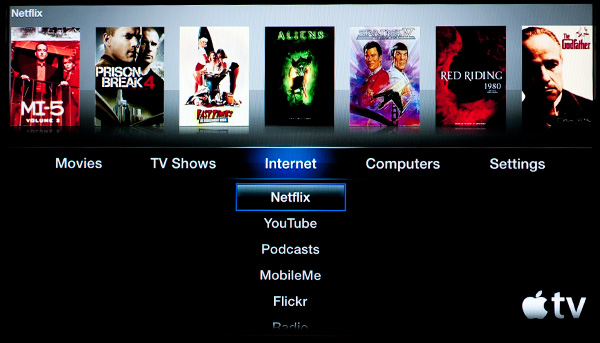 When you pull up a TV season on the Xbox 360 you get a nice listing of all of the episodes broken down by disc. Each episode also has an indicator of how much you've watched, which is very useful for quickly determining what episode you need to watch next.
On the Apple TV there's no such indicator of what you've watched or how much of it you've watched. It's a problem if you happened to leave off in the middle of an episode and don't remember which one. The Apple TV presents you with a start over/resume playback dialog only after you've selected an episode to play.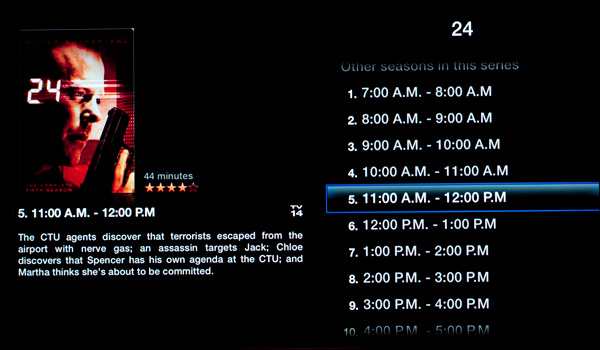 Er, I don't remember where I left off
Unlike the Xbox 360, the Apple TV doesn't tell you when it has to switch quality in order to maintain frame rate while streaming Netflix. The quality appears to adjust dynamically although there's no indication of what triggers it or when. I understand the design decision on Apple's behalf - the goal is to make the platform just work as well as possible.
I'd say other than the missing watched indicator, the Apple TV's Netflix implementation gets the job done.
YouTube, Music and Photos
The Apple TV also has support for YouTube, podcasts and of course tight iPhoto integration. You can use your photos as a screensaver or play your iTunes as background music while you flip through photos. The iPhone/iPod Touch work as great navigational tools when viewing photos, swipe on your screen to flip through your albums.