Speakerphone Volume
We've been testing speakerphone volume regularly on devices using a decibel meter 6" away from the device turned face up. In addition, we've been testing audio quality subjectively. The Fascinate is decently loud.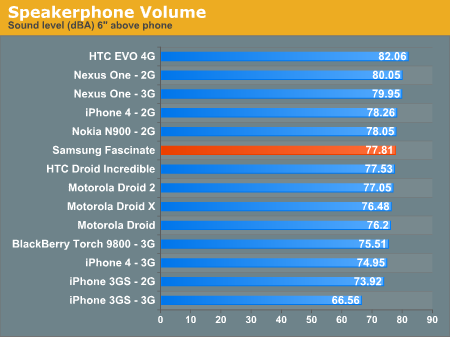 There's a raised bit right over the speaker output, so sound makes it out and around even if you've got the phone laying on a flat surface.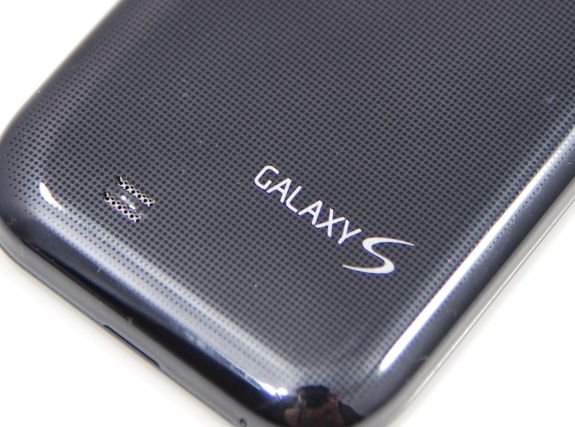 Earpiece performance and volume is adequate - voice quality is as good on the Fascinate as I've seen on other CDMA handsets in the testing I performed. One place I noticed the Fascinate being a bit quieter than I would've liked was Google Navigation.
Battery Life
The Fascinate doesn't really set any records for battery life, but then again that's partly due to the combination of Super AMOLED and the more power hungry SGX 540. For 3G and WiFi web browsing battery life tests, we run through a series of just over 20 pages every 10 seconds with the screen set at 50% brightness until the device dies. Obviously during 3G testing, WiFi is disabled. During WiFi testing, cellular is enabled. Background applications are also all killed before launching the browser and starting our test. For call time testing, we initiate a call and play music on both ends and wait for the phone to die.
The Fascinate does best the Epic 4G quite handily though.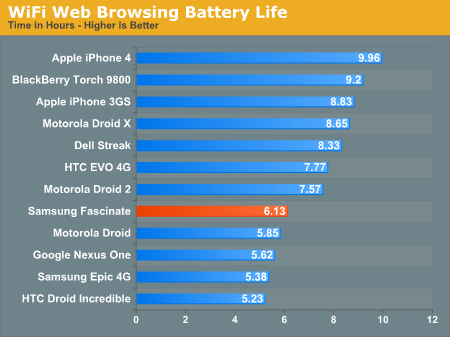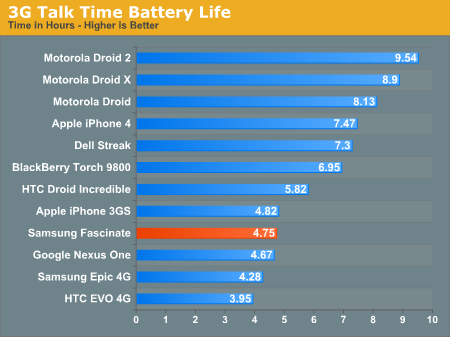 The Fascinate does have a relatively beefy 1500 mAh, 5.55 Whr removable battery (same as the Epic 4G), but it still doesn't come close to its brethren in some areas. It's still better than the Epic fared with its 4G stack, but it's hard to really nail down why battery life isn't quite as good as the competition, even its Android competition. Either way, it seems like the Fascinate is designed to compete with the Nexus One and Motorola Droid, where it comes close. It can't hold a candle to the Droid 2 or Droid X. Perhaps when we finally get the Captivate and Vibrant - each with GSM/UMTS stacks - we'll be able to tell more about where this battery life deficiency lies.